[ { "image": {"alt": null, "src": "//hiholden.com/cdn/shop/files/hammered_wedding.png?v=1672944491&width=1440", "srcset": "//hiholden.com/cdn/shop/files/hammered_wedding.png?v=1672944491&width=352 352w, //hiholden.com/cdn/shop/files/hammered_wedding.png?v=1672944491&width=832 832w, //hiholden.com/cdn/shop/files/hammered_wedding.png?v=1672944491&width=1200 1200w, //hiholden.com/cdn/shop/files/hammered_wedding.png?v=1672944491&width=1440 1440w", "width": 1440, "height": 620 }, "desktopImage": {"alt": null, "src": "//hiholden.com/cdn/shop/files/desktop_hero_wedding.jpg?v=1668452580&width=1920", "srcset": "//hiholden.com/cdn/shop/files/desktop_hero_wedding.jpg?v=1668452580&width=352 352w, //hiholden.com/cdn/shop/files/desktop_hero_wedding.jpg?v=1668452580&width=832 832w, //hiholden.com/cdn/shop/files/desktop_hero_wedding.jpg?v=1668452580&width=1200 1200w, //hiholden.com/cdn/shop/files/desktop_hero_wedding.jpg?v=1668452580&width=1920 1920w", "width": 1920, "height": 1008 }, "buttonText": "Wedding Rings", "buttonLink": "\/collections\/wedding-rings" }, { "image": {"alt": null, "src": "//hiholden.com/cdn/shop/files/eternity_solitaire_engagement.png?v=1668452562&width=1440", "srcset": "//hiholden.com/cdn/shop/files/eternity_solitaire_engagement.png?v=1668452562&width=352 352w, //hiholden.com/cdn/shop/files/eternity_solitaire_engagement.png?v=1668452562&width=832 832w, //hiholden.com/cdn/shop/files/eternity_solitaire_engagement.png?v=1668452562&width=1200 1200w, //hiholden.com/cdn/shop/files/eternity_solitaire_engagement.png?v=1668452562&width=1440 1440w", "width": 1440, "height": 620 }, "desktopImage": {"alt": null, "src": "//hiholden.com/cdn/shop/files/desktop_hero_engagement.jpg?v=1666102177&width=1920", "srcset": "//hiholden.com/cdn/shop/files/desktop_hero_engagement.jpg?v=1666102177&width=352 352w, //hiholden.com/cdn/shop/files/desktop_hero_engagement.jpg?v=1666102177&width=832 832w, //hiholden.com/cdn/shop/files/desktop_hero_engagement.jpg?v=1666102177&width=1200 1200w, //hiholden.com/cdn/shop/files/desktop_hero_engagement.jpg?v=1666102177&width=1920 1920w", "width": 1920, "height": 1008 }, "buttonText": "Engagement Rings", "buttonLink": "\/collections\/engagement-rings" } ]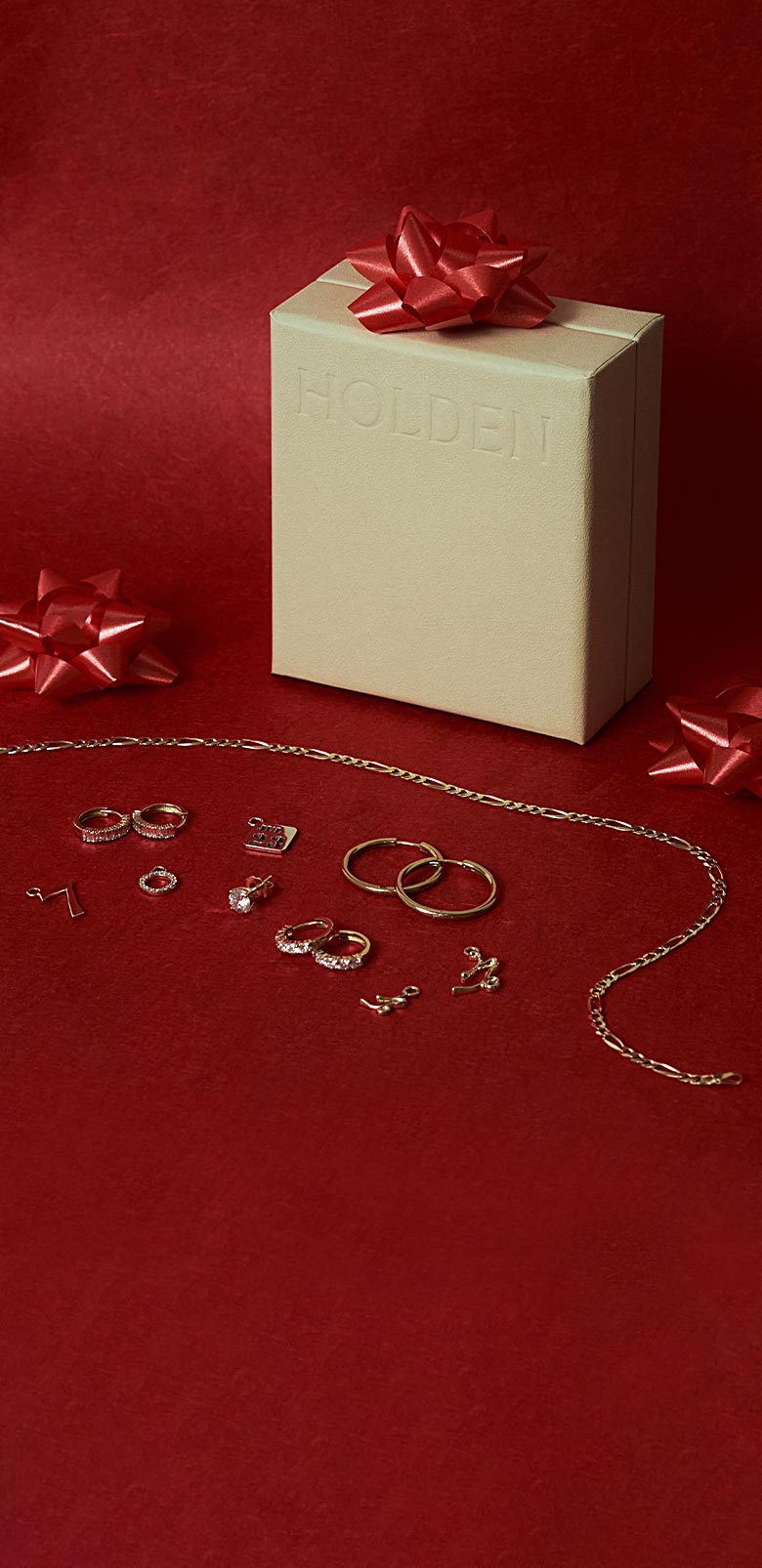 SELECT A RING STYLE TO BEGIN CUSTOMIZING
Designed for your tomorrows
Holden rings are a promise to the tomorrows that come. You make a vow to each other and we make one to you: we're contributing to a tomorrow that you can be proud to step into as a couple. Our gender-neutral rings are Climate Neutral Certified and custom made in NYC from recycled precious metals and ethical, lab-grown diamonds. With 1% of all sales donated to The Trevor Project, your ring means something more. Here's to wherever your tomorrows may take you.
DESIGNER QUALITY WITHOUT THE MARKUP
By partnering with local workshops and delivering rings directly to your doorstep, we're able to offer custom-made rings at a fraction of the price of traditional designer rings.
Our partner workshops have over 75 years of combined experience working with top designer brands like Tiffany & Co. and Harry Winston.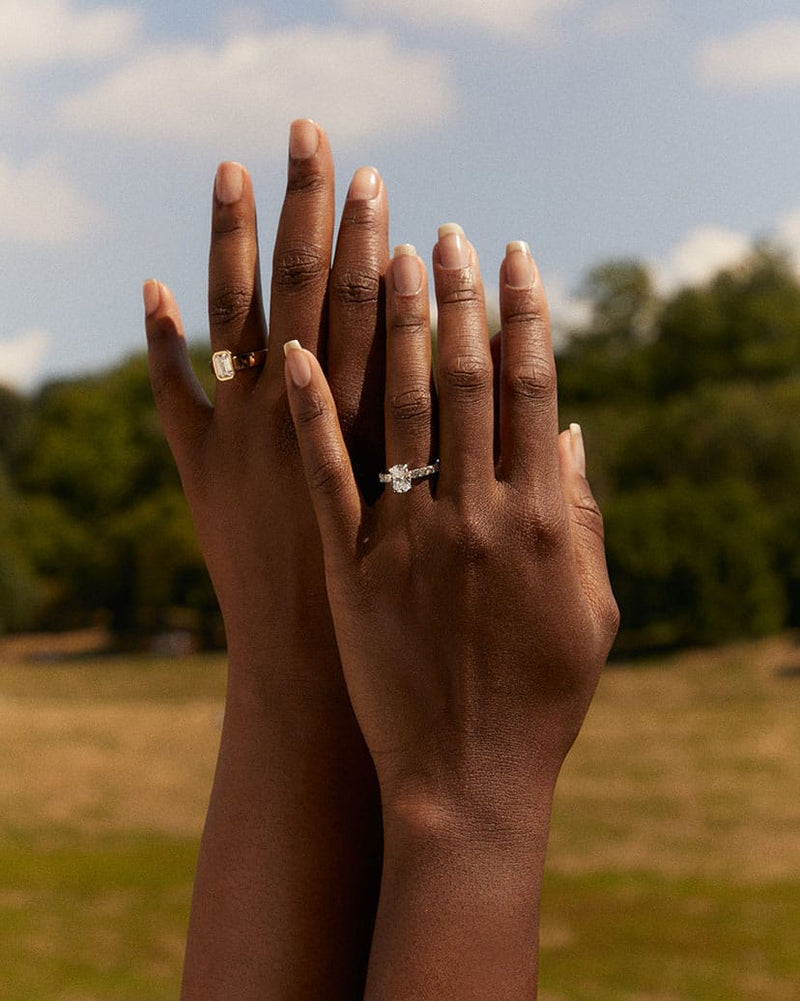 [ { "image": "\u003cimg src=\"\/\/hiholden.com\/cdn\/shop\/files\/vogue.png?v=1668829102\u0026amp;width=200\" alt=\"\" srcset=\"\/\/hiholden.com\/cdn\/shop\/files\/vogue.png?v=1668829102\u0026amp;width=200 200w\" width=\"200\" height=\"128\" loading=\"lazy\"\u003e", "link": null }, { "image": "\u003cimg src=\"\/\/hiholden.com\/cdn\/shop\/files\/brides.png?v=1668829124\u0026amp;width=200\" alt=\"\" srcset=\"\/\/hiholden.com\/cdn\/shop\/files\/brides.png?v=1668829124\u0026amp;width=200 200w\" width=\"200\" height=\"128\" loading=\"lazy\"\u003e", "link": null }, { "image": "\u003cimg src=\"\/\/hiholden.com\/cdn\/shop\/files\/the_knot.png?v=1668829133\u0026amp;width=200\" alt=\"\" srcset=\"\/\/hiholden.com\/cdn\/shop\/files\/the_knot.png?v=1668829133\u0026amp;width=200 200w\" width=\"200\" height=\"128\" loading=\"lazy\"\u003e", "link": null }, { "image": "\u003cimg src=\"\/\/hiholden.com\/cdn\/shop\/files\/refinery29.png?v=1668829150\u0026amp;width=200\" alt=\"\" srcset=\"\/\/hiholden.com\/cdn\/shop\/files\/refinery29.png?v=1668829150\u0026amp;width=200 200w\" width=\"200\" height=\"128\" loading=\"lazy\"\u003e", "link": null } ]
[ { "body": "\u003cp\u003e "As soon as the ring arrived and I opened the box, I knew I had chosen a kick-ass ring."\u003c\/p\u003e", "name": "SETH P." }, { "body": "\u003cp\u003e"...their service goes beyond what is ordinary or even expected!! They really go the extra mile to make sure everything is perfect."\u003c\/p\u003e", "name": "Anthony S." }, { "body": "\u003cp\u003e"10\/10 would recommend this company to everyone looking for beautiful, responsibly sourced, and ethically made jewelry."\u003c\/p\u003e", "name": "Paxton H." }, { "body": "\u003cp\u003e"I gasped when I opened the box…it is gorgeous and sparkles soooo well."\u003c\/p\u003e", "name": "Bridget A." }, { "body": "\u003cp\u003e"It's literally what my wedding jewelry dreams were made of."\u003c\/p\u003e", "name": "Chrissy S." } ]
WHAT OUR COUPLES ARE SAYING