[ { "buttonText": "Our Story" }, { "buttonText": "How It's Made" }, { "buttonText": "Sustainability" }, { "buttonText": "Giving Back" } ]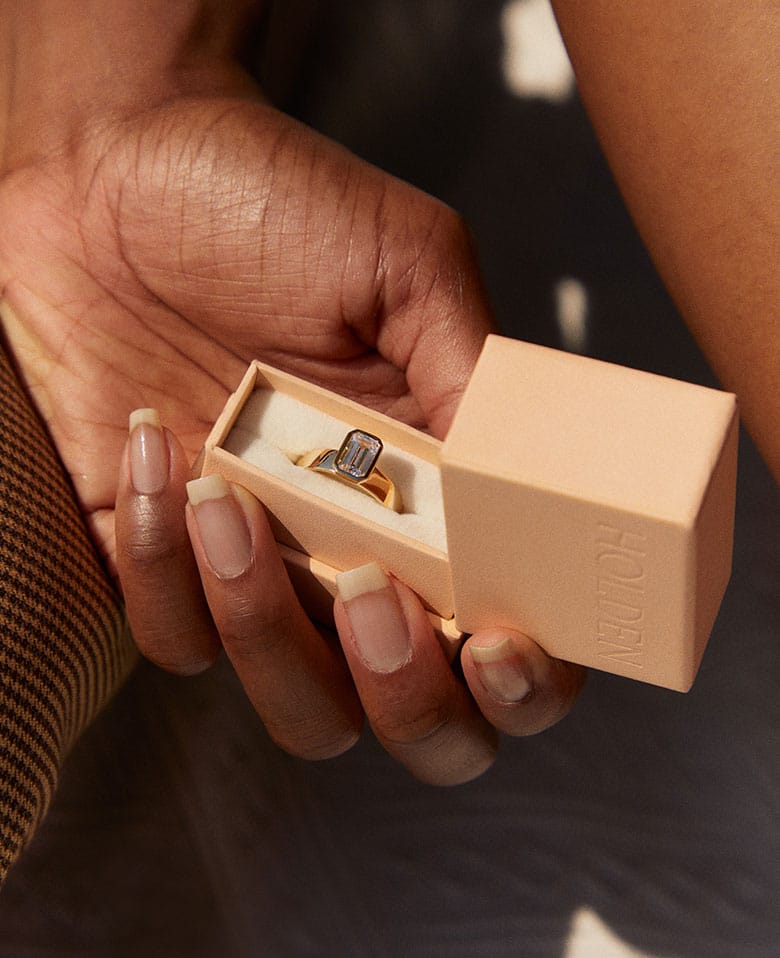 Wedding and engagement rings
for your tomorrows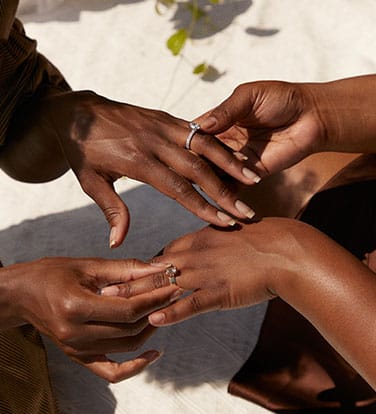 The beauty of partnership is finding somebody who loves you exactly as you are, so we set out to create a company that does the same.

Having worked in the jewelry industry for many years, we heard stories over and over from friends who felt judged, pressured, or excluded altogether while wedding ring shopping.

At Holden, we're making a vow to offer the best ring shopping experience possible. Each ring is custom made just for you in our NYC workshops and guaranteed for life. No matter where your tomorrows take you, we're here for you every step of the way.
We're committed to reducing our environmental impact throughout every step of the ring-making process. Our rings are handcrafted in family-owned NYC workshops using recycled precious metals and ethical lab-grown diamonds. Because we make every ring to order, we hold no wasteful excess inventory. We offer a lifetime guarantee on every ring and melt down returns to make new rings.
Learn More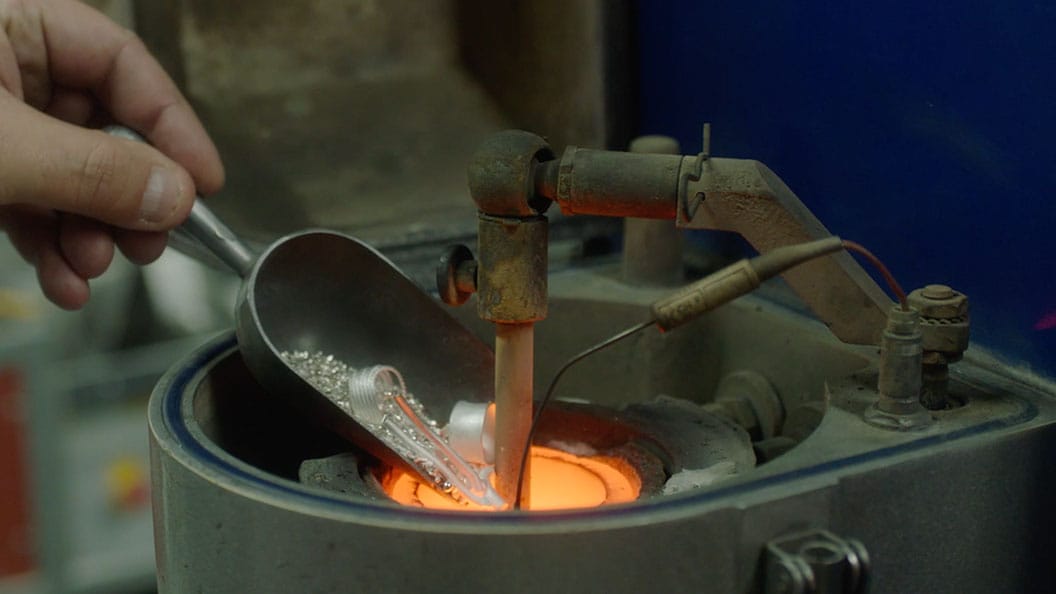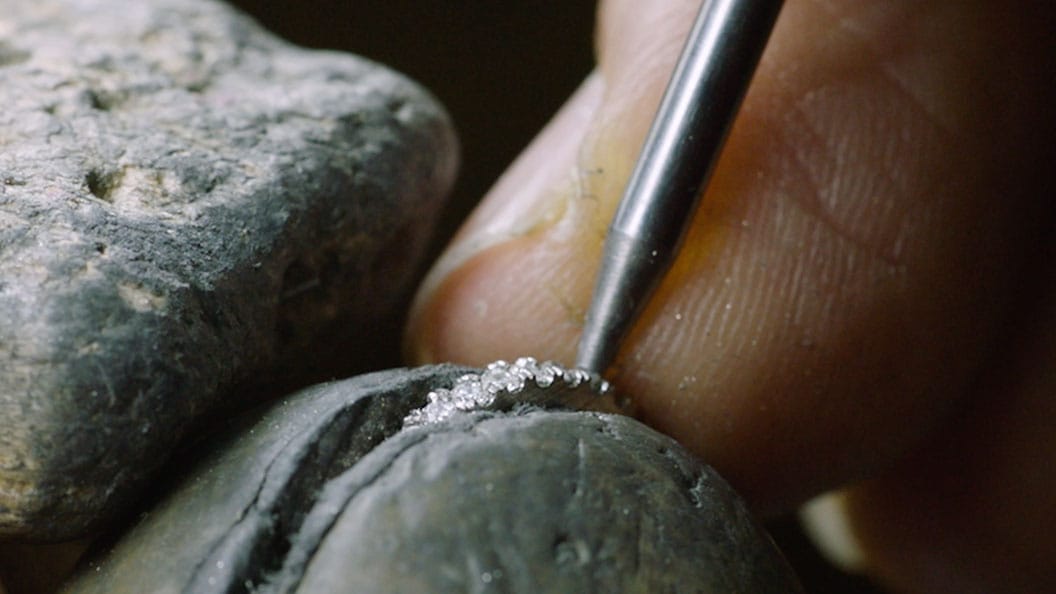 for our planet's tomorrows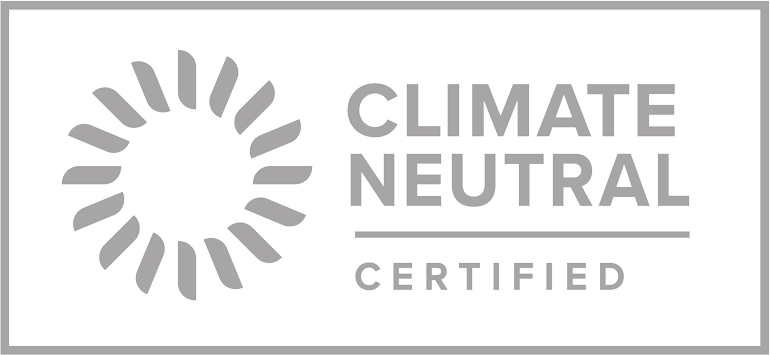 We are proud to be a Climate Neutral Certified brand, meaning we measure and offset 100% of our carbon emissions each year. Part of our work with Climate Neutral includes making a plan to reduce our emissions year-over-year. You can follow along with our yearly reduction plan on our Climate Neutral page.
DESIGNER QUALITY WITHOUT THE MARKUP
By partnering with local workshops and delivering rings directly to your doorstep, we're able to offer custom-made rings at a fraction of the price of traditional designer rings.
Our partner workshops have over 75 years of combined experience working with top designer brands like Tiffany & Co. and Harry Winston.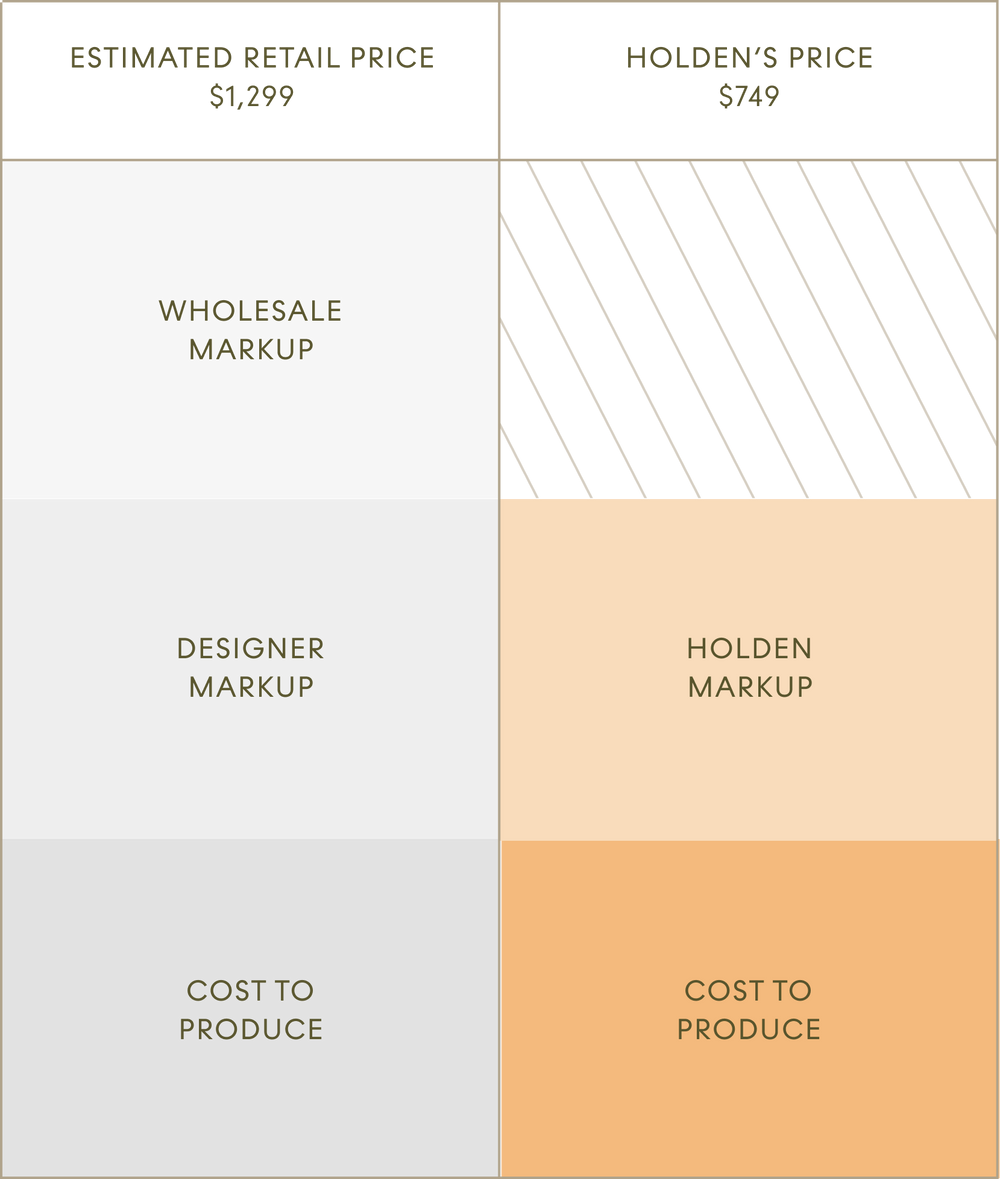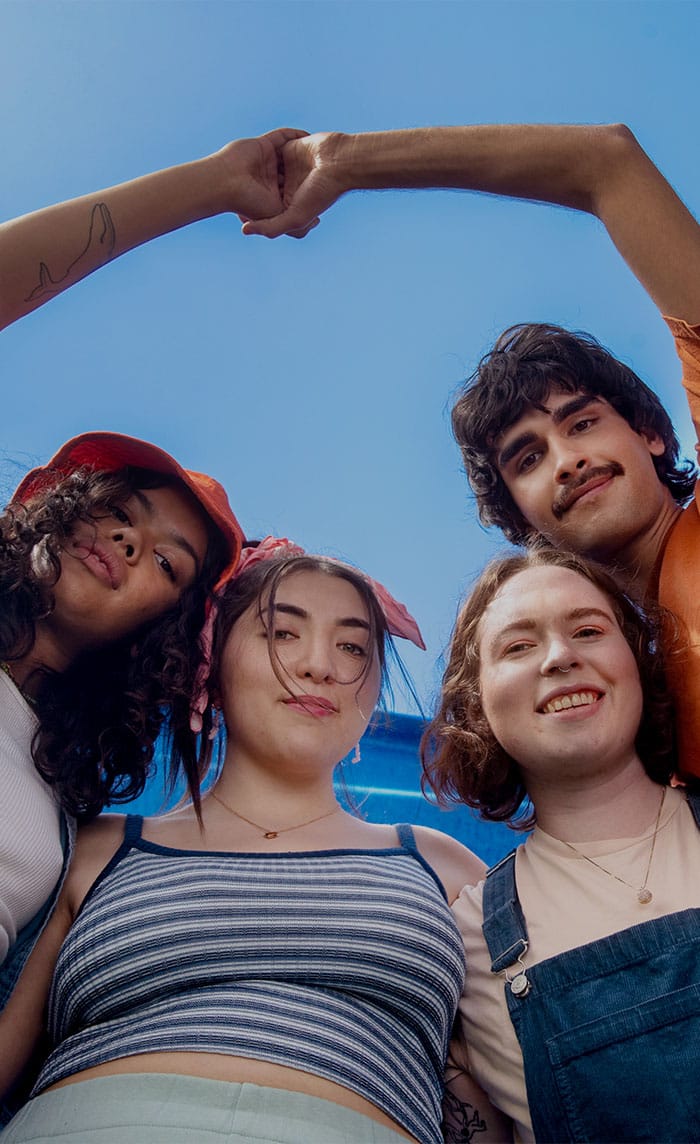 Holden is proud to donate 1% of sales (with a minimum annual donation of $50,000) to The Trevor Project, the leading suicide prevention and crisis intervention organization for LGBTQ young people.
Want to further support The Trevor Project? Check out our Gemstone Collection, where we donate $50 of every sale to Trevor.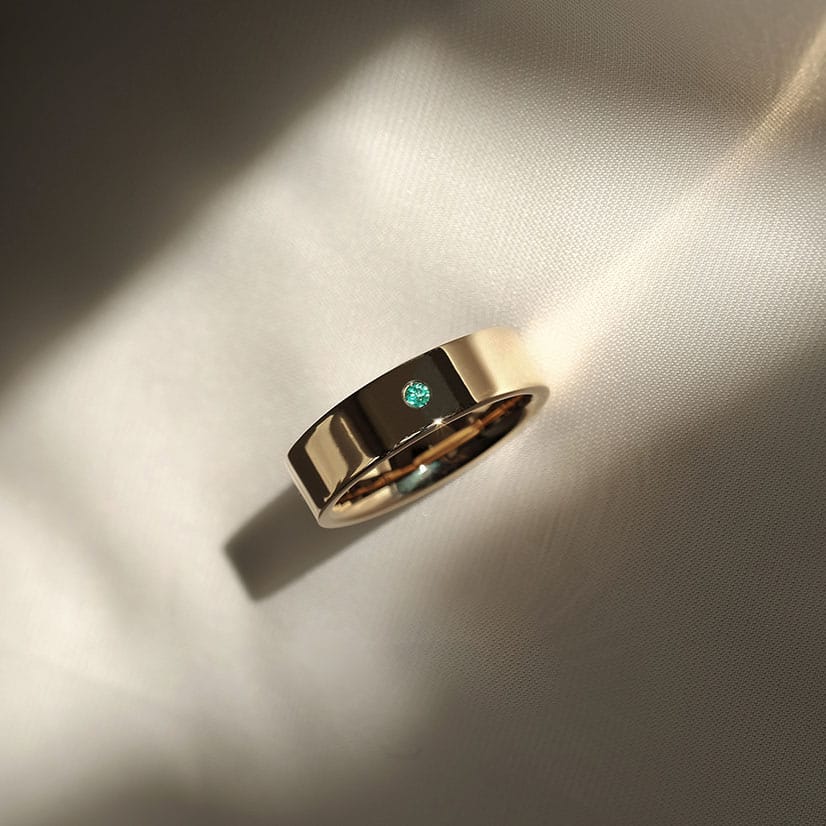 Through our work with The Trevor Project, we hope to provide LGBTQ youth with the opportunity to grow up with the love and support that we've seen so many Holden couples celebrate at their weddings. The ring you wear every day for the rest of your life could help save someone else's.
[ { "names": "Arlene \u0026 Steph", "image": {"src": "//hiholden.com/cdn/shop/files/Arlene_Steph.jpg?v=1668461571&width=900", "srcset": "//hiholden.com/cdn/shop/files/Arlene_Steph.jpg?v=1668461571&width=352 352w, //hiholden.com/cdn/shop/files/Arlene_Steph.jpg?v=1668461571&width=832 832w, //hiholden.com/cdn/shop/files/Arlene_Steph.jpg?v=1668461571&width=900 900w", "width": 900, "height": 1171 }, "productTwo": { "firstVariant": 12974000668754, "defaultVariant": 12800825393234, "id": 192835190802, "url": "\/products\/square-profile", "tags": "[\"10 karat\", \"14 karat\", \"18 karat\", \"anniversary\", \"anniversary ring\", \"anniversary rings\", \"anniversary stack\", \"band\", \"bands\", \"brushed\", \"brushed finish\", \"brushed polish\", \"design studio\", \"engravable\", \"engrave\", \"engraveable\", \"engraved\", \"engraving\", \"engravings\", \"high polish\", \"large-widths\", \"matte\", \"matte finish\", \"matte polish\", \"matted\", \"men\", \"men's\", \"men's wedding band\", \"men's wedding ring\", \"mens band\", \"mens profile\", \"mens ring\", \"mens rings\", \"mirror\", \"mirror finish\", \"mirrored\", \"personalization\", \"personalized\", \"platinum\", \"polish\", \"polished\", \"profile\", \"profiles\", \"promise ring\", \"promise rings\", \"ring\", \"rings\", \"rose-gold\", \"satin\", \"satin finish\", \"satin polish\", \"shiny\", \"small-widths\", \"stone-none\", \"style\", \"styles\", \"wedding\", \"wedding band\", \"wedding ring\", \"white-gold\", \"women\", \"women's\", \"women's band\", \"women's ring\", \"women's wedding band\", \"women's wedding ring\", \"womens profile\", \"womens rings\", \"yellow-gold\"]", "title": "The Square", "price": "$249", "image": {"src": "//hiholden.com/cdn/shop/products/Square_4.5mm_YG_Mirror_579e955e-215b-48b8-9641-393b3d3ef394.jpg?v=1670447551&width=900", "srcset": "//hiholden.com/cdn/shop/products/Square_4.5mm_YG_Mirror_579e955e-215b-48b8-9641-393b3d3ef394.jpg?v=1670447551&width=352 352w, //hiholden.com/cdn/shop/products/Square_4.5mm_YG_Mirror_579e955e-215b-48b8-9641-393b3d3ef394.jpg?v=1670447551&width=832 832w, //hiholden.com/cdn/shop/products/Square_4.5mm_YG_Mirror_579e955e-215b-48b8-9641-393b3d3ef394.jpg?v=1670447551&width=900 900w", "width": 900, "height": 720, "offset": -10 }, "image_secondary": { "src": "https://cdn.accentuate.io/192835190802/1668110421582/Square_01.jpg?v=1668110421582", "width": 2000, "height": 1600, "alt": "\\ alt : Model wearing Holden's Square wedding ring. \\ light \\ \\ width : 3mm" }, "options": [ { "variants": [ { "id": 12974000668754, "options": ["1.5mm","Yellow Gold","10k"], "url": "\/products\/square-profile?variant=12974000668754", "image": {"src": "//hiholden.com/cdn/shop/products/Square_1.5mm_YG_Mirror_aa6c8f43-d1fa-4a1c-95d5-9baa7cfaa46d.jpg?v=1670447551&width=900", "srcset": "//hiholden.com/cdn/shop/products/Square_1.5mm_YG_Mirror_aa6c8f43-d1fa-4a1c-95d5-9baa7cfaa46d.jpg?v=1670447551&width=352 352w, //hiholden.com/cdn/shop/products/Square_1.5mm_YG_Mirror_aa6c8f43-d1fa-4a1c-95d5-9baa7cfaa46d.jpg?v=1670447551&width=832 832w, //hiholden.com/cdn/shop/products/Square_1.5mm_YG_Mirror_aa6c8f43-d1fa-4a1c-95d5-9baa7cfaa46d.jpg?v=1670447551&width=900 900w", "width": 900, "height": 720 } }, { "id": 12482751594578, "options": ["1.5mm","Yellow Gold","14k"], "url": "\/products\/square-profile?variant=12482751594578", "image": {"src": "//hiholden.com/cdn/shop/products/Square_1.5mm_YG_Mirror_aa6c8f43-d1fa-4a1c-95d5-9baa7cfaa46d.jpg?v=1670447551&width=900", "srcset": "//hiholden.com/cdn/shop/products/Square_1.5mm_YG_Mirror_aa6c8f43-d1fa-4a1c-95d5-9baa7cfaa46d.jpg?v=1670447551&width=352 352w, //hiholden.com/cdn/shop/products/Square_1.5mm_YG_Mirror_aa6c8f43-d1fa-4a1c-95d5-9baa7cfaa46d.jpg?v=1670447551&width=832 832w, //hiholden.com/cdn/shop/products/Square_1.5mm_YG_Mirror_aa6c8f43-d1fa-4a1c-95d5-9baa7cfaa46d.jpg?v=1670447551&width=900 900w", "width": 900, "height": 720 } }, { "id": 12482751692882, "options": ["1.5mm","Yellow Gold","18k"], "url": "\/products\/square-profile?variant=12482751692882", "image": {"src": "//hiholden.com/cdn/shop/products/Square_1.5mm_YG_Mirror_aa6c8f43-d1fa-4a1c-95d5-9baa7cfaa46d.jpg?v=1670447551&width=900", "srcset": "//hiholden.com/cdn/shop/products/Square_1.5mm_YG_Mirror_aa6c8f43-d1fa-4a1c-95d5-9baa7cfaa46d.jpg?v=1670447551&width=352 352w, //hiholden.com/cdn/shop/products/Square_1.5mm_YG_Mirror_aa6c8f43-d1fa-4a1c-95d5-9baa7cfaa46d.jpg?v=1670447551&width=832 832w, //hiholden.com/cdn/shop/products/Square_1.5mm_YG_Mirror_aa6c8f43-d1fa-4a1c-95d5-9baa7cfaa46d.jpg?v=1670447551&width=900 900w", "width": 900, "height": 720 } }, { "id": 12974000701522, "options": ["3mm","Yellow Gold","10k"], "url": "\/products\/square-profile?variant=12974000701522", "image": {"src": "//hiholden.com/cdn/shop/products/Square_3mm_YG_Mirror_fda4f6ec-67c3-4f25-839d-5257e33eaa43.jpg?v=1670447551&width=900", "srcset": "//hiholden.com/cdn/shop/products/Square_3mm_YG_Mirror_fda4f6ec-67c3-4f25-839d-5257e33eaa43.jpg?v=1670447551&width=352 352w, //hiholden.com/cdn/shop/products/Square_3mm_YG_Mirror_fda4f6ec-67c3-4f25-839d-5257e33eaa43.jpg?v=1670447551&width=832 832w, //hiholden.com/cdn/shop/products/Square_3mm_YG_Mirror_fda4f6ec-67c3-4f25-839d-5257e33eaa43.jpg?v=1670447551&width=900 900w", "width": 900, "height": 720 } }, { "id": 1769537536018, "options": ["3mm","Yellow Gold","14k"], "url": "\/products\/square-profile?variant=1769537536018", "image": {"src": "//hiholden.com/cdn/shop/products/Square_3mm_YG_Mirror_fda4f6ec-67c3-4f25-839d-5257e33eaa43.jpg?v=1670447551&width=900", "srcset": "//hiholden.com/cdn/shop/products/Square_3mm_YG_Mirror_fda4f6ec-67c3-4f25-839d-5257e33eaa43.jpg?v=1670447551&width=352 352w, //hiholden.com/cdn/shop/products/Square_3mm_YG_Mirror_fda4f6ec-67c3-4f25-839d-5257e33eaa43.jpg?v=1670447551&width=832 832w, //hiholden.com/cdn/shop/products/Square_3mm_YG_Mirror_fda4f6ec-67c3-4f25-839d-5257e33eaa43.jpg?v=1670447551&width=900 900w", "width": 900, "height": 720 } }, { "id": 1769537568786, "options": ["3mm","Yellow Gold","18k"], "url": "\/products\/square-profile?variant=1769537568786", "image": {"src": "//hiholden.com/cdn/shop/products/Square_3mm_YG_Mirror_fda4f6ec-67c3-4f25-839d-5257e33eaa43.jpg?v=1670447551&width=900", "srcset": "//hiholden.com/cdn/shop/products/Square_3mm_YG_Mirror_fda4f6ec-67c3-4f25-839d-5257e33eaa43.jpg?v=1670447551&width=352 352w, //hiholden.com/cdn/shop/products/Square_3mm_YG_Mirror_fda4f6ec-67c3-4f25-839d-5257e33eaa43.jpg?v=1670447551&width=832 832w, //hiholden.com/cdn/shop/products/Square_3mm_YG_Mirror_fda4f6ec-67c3-4f25-839d-5257e33eaa43.jpg?v=1670447551&width=900 900w", "width": 900, "height": 720 } }, { "id": 12974001553490, "options": ["4.5mm","Yellow Gold","10k"], "url": "\/products\/square-profile?variant=12974001553490", "image": {"src": "//hiholden.com/cdn/shop/products/Square_4.5mm_YG_Mirror_579e955e-215b-48b8-9641-393b3d3ef394.jpg?v=1670447551&width=900", "srcset": "//hiholden.com/cdn/shop/products/Square_4.5mm_YG_Mirror_579e955e-215b-48b8-9641-393b3d3ef394.jpg?v=1670447551&width=352 352w, //hiholden.com/cdn/shop/products/Square_4.5mm_YG_Mirror_579e955e-215b-48b8-9641-393b3d3ef394.jpg?v=1670447551&width=832 832w, //hiholden.com/cdn/shop/products/Square_4.5mm_YG_Mirror_579e955e-215b-48b8-9641-393b3d3ef394.jpg?v=1670447551&width=900 900w", "width": 900, "height": 720 } }, { "id": 12800825393234, "options": ["4.5mm","Yellow Gold","14k"], "url": "\/products\/square-profile?variant=12800825393234", "image": {"src": "//hiholden.com/cdn/shop/products/Square_4.5mm_YG_Mirror_579e955e-215b-48b8-9641-393b3d3ef394.jpg?v=1670447551&width=900", "srcset": "//hiholden.com/cdn/shop/products/Square_4.5mm_YG_Mirror_579e955e-215b-48b8-9641-393b3d3ef394.jpg?v=1670447551&width=352 352w, //hiholden.com/cdn/shop/products/Square_4.5mm_YG_Mirror_579e955e-215b-48b8-9641-393b3d3ef394.jpg?v=1670447551&width=832 832w, //hiholden.com/cdn/shop/products/Square_4.5mm_YG_Mirror_579e955e-215b-48b8-9641-393b3d3ef394.jpg?v=1670447551&width=900 900w", "width": 900, "height": 720 } }, { "id": 12800830177362, "options": ["4.5mm","Yellow Gold","18k"], "url": "\/products\/square-profile?variant=12800830177362", "image": {"src": "//hiholden.com/cdn/shop/products/Square_4.5mm_YG_Mirror_579e955e-215b-48b8-9641-393b3d3ef394.jpg?v=1670447551&width=900", "srcset": "//hiholden.com/cdn/shop/products/Square_4.5mm_YG_Mirror_579e955e-215b-48b8-9641-393b3d3ef394.jpg?v=1670447551&width=352 352w, //hiholden.com/cdn/shop/products/Square_4.5mm_YG_Mirror_579e955e-215b-48b8-9641-393b3d3ef394.jpg?v=1670447551&width=832 832w, //hiholden.com/cdn/shop/products/Square_4.5mm_YG_Mirror_579e955e-215b-48b8-9641-393b3d3ef394.jpg?v=1670447551&width=900 900w", "width": 900, "height": 720 } }, { "id": 12974002569298, "options": ["6mm","Yellow Gold","10k"], "url": "\/products\/square-profile?variant=12974002569298", "image": {"src": "//hiholden.com/cdn/shop/products/Square_6mm_YG_Mirror_81520962-fe08-4506-94da-aefc541dba2c.jpg?v=1669067322&width=900", "srcset": "//hiholden.com/cdn/shop/products/Square_6mm_YG_Mirror_81520962-fe08-4506-94da-aefc541dba2c.jpg?v=1669067322&width=352 352w, //hiholden.com/cdn/shop/products/Square_6mm_YG_Mirror_81520962-fe08-4506-94da-aefc541dba2c.jpg?v=1669067322&width=832 832w, //hiholden.com/cdn/shop/products/Square_6mm_YG_Mirror_81520962-fe08-4506-94da-aefc541dba2c.jpg?v=1669067322&width=900 900w", "width": 900, "height": 720 } }, { "id": 1769537798162, "options": ["6mm","Yellow Gold","14k"], "url": "\/products\/square-profile?variant=1769537798162", "image": {"src": "//hiholden.com/cdn/shop/products/Square_6mm_YG_Mirror_81520962-fe08-4506-94da-aefc541dba2c.jpg?v=1669067322&width=900", "srcset": "//hiholden.com/cdn/shop/products/Square_6mm_YG_Mirror_81520962-fe08-4506-94da-aefc541dba2c.jpg?v=1669067322&width=352 352w, //hiholden.com/cdn/shop/products/Square_6mm_YG_Mirror_81520962-fe08-4506-94da-aefc541dba2c.jpg?v=1669067322&width=832 832w, //hiholden.com/cdn/shop/products/Square_6mm_YG_Mirror_81520962-fe08-4506-94da-aefc541dba2c.jpg?v=1669067322&width=900 900w", "width": 900, "height": 720 } }, { "id": 1769537830930, "options": ["6mm","Yellow Gold","18k"], "url": "\/products\/square-profile?variant=1769537830930", "image": {"src": "//hiholden.com/cdn/shop/products/Square_6mm_YG_Mirror_81520962-fe08-4506-94da-aefc541dba2c.jpg?v=1669067322&width=900", "srcset": "//hiholden.com/cdn/shop/products/Square_6mm_YG_Mirror_81520962-fe08-4506-94da-aefc541dba2c.jpg?v=1669067322&width=352 352w, //hiholden.com/cdn/shop/products/Square_6mm_YG_Mirror_81520962-fe08-4506-94da-aefc541dba2c.jpg?v=1669067322&width=832 832w, //hiholden.com/cdn/shop/products/Square_6mm_YG_Mirror_81520962-fe08-4506-94da-aefc541dba2c.jpg?v=1669067322&width=900 900w", "width": 900, "height": 720 } } ], "title": "Yellow Gold" }, { "variants": [ { "id": 12974002798674, "options": ["1.5mm","White Gold","10k"], "url": "\/products\/square-profile?variant=12974002798674", "image": {"src": "//hiholden.com/cdn/shop/products/Square_1.5mm_WG_Mirror.jpg?v=1670447551&width=900", "srcset": "//hiholden.com/cdn/shop/products/Square_1.5mm_WG_Mirror.jpg?v=1670447551&width=352 352w, //hiholden.com/cdn/shop/products/Square_1.5mm_WG_Mirror.jpg?v=1670447551&width=832 832w, //hiholden.com/cdn/shop/products/Square_1.5mm_WG_Mirror.jpg?v=1670447551&width=900 900w", "width": 900, "height": 720 } }, { "id": 12482749890642, "options": ["1.5mm","White Gold","14k"], "url": "\/products\/square-profile?variant=12482749890642", "image": {"src": "//hiholden.com/cdn/shop/products/Square_1.5mm_WG_Mirror.jpg?v=1670447551&width=900", "srcset": "//hiholden.com/cdn/shop/products/Square_1.5mm_WG_Mirror.jpg?v=1670447551&width=352 352w, //hiholden.com/cdn/shop/products/Square_1.5mm_WG_Mirror.jpg?v=1670447551&width=832 832w, //hiholden.com/cdn/shop/products/Square_1.5mm_WG_Mirror.jpg?v=1670447551&width=900 900w", "width": 900, "height": 720 } }, { "id": 12482750840914, "options": ["1.5mm","White Gold","18k"], "url": "\/products\/square-profile?variant=12482750840914", "image": {"src": "//hiholden.com/cdn/shop/products/Square_1.5mm_WG_Mirror.jpg?v=1670447551&width=900", "srcset": "//hiholden.com/cdn/shop/products/Square_1.5mm_WG_Mirror.jpg?v=1670447551&width=352 352w, //hiholden.com/cdn/shop/products/Square_1.5mm_WG_Mirror.jpg?v=1670447551&width=832 832w, //hiholden.com/cdn/shop/products/Square_1.5mm_WG_Mirror.jpg?v=1670447551&width=900 900w", "width": 900, "height": 720 } }, { "id": 12974002995282, "options": ["3mm","White Gold","10k"], "url": "\/products\/square-profile?variant=12974002995282", "image": {"src": "//hiholden.com/cdn/shop/products/Square_3mm_WG_Mirror.jpg?v=1670447551&width=900", "srcset": "//hiholden.com/cdn/shop/products/Square_3mm_WG_Mirror.jpg?v=1670447551&width=352 352w, //hiholden.com/cdn/shop/products/Square_3mm_WG_Mirror.jpg?v=1670447551&width=832 832w, //hiholden.com/cdn/shop/products/Square_3mm_WG_Mirror.jpg?v=1670447551&width=900 900w", "width": 900, "height": 720 } }, { "id": 1769537667090, "options": ["3mm","White Gold","14k"], "url": "\/products\/square-profile?variant=1769537667090", "image": {"src": "//hiholden.com/cdn/shop/products/Square_3mm_WG_Mirror.jpg?v=1670447551&width=900", "srcset": "//hiholden.com/cdn/shop/products/Square_3mm_WG_Mirror.jpg?v=1670447551&width=352 352w, //hiholden.com/cdn/shop/products/Square_3mm_WG_Mirror.jpg?v=1670447551&width=832 832w, //hiholden.com/cdn/shop/products/Square_3mm_WG_Mirror.jpg?v=1670447551&width=900 900w", "width": 900, "height": 720 } }, { "id": 1769537699858, "options": ["3mm","White Gold","18k"], "url": "\/products\/square-profile?variant=1769537699858", "image": {"src": "//hiholden.com/cdn/shop/products/Square_3mm_WG_Mirror.jpg?v=1670447551&width=900", "srcset": "//hiholden.com/cdn/shop/products/Square_3mm_WG_Mirror.jpg?v=1670447551&width=352 352w, //hiholden.com/cdn/shop/products/Square_3mm_WG_Mirror.jpg?v=1670447551&width=832 832w, //hiholden.com/cdn/shop/products/Square_3mm_WG_Mirror.jpg?v=1670447551&width=900 900w", "width": 900, "height": 720 } }, { "id": 12974003060818, "options": ["4.5mm","White Gold","10k"], "url": "\/products\/square-profile?variant=12974003060818", "image": {"src": "//hiholden.com/cdn/shop/products/Square_4.5mm_WG_Mirror.jpg?v=1670447551&width=900", "srcset": "//hiholden.com/cdn/shop/products/Square_4.5mm_WG_Mirror.jpg?v=1670447551&width=352 352w, //hiholden.com/cdn/shop/products/Square_4.5mm_WG_Mirror.jpg?v=1670447551&width=832 832w, //hiholden.com/cdn/shop/products/Square_4.5mm_WG_Mirror.jpg?v=1670447551&width=900 900w", "width": 900, "height": 720 } }, { "id": 12800832831570, "options": ["4.5mm","White Gold","14k"], "url": "\/products\/square-profile?variant=12800832831570", "image": {"src": "//hiholden.com/cdn/shop/products/Square_4.5mm_WG_Mirror.jpg?v=1670447551&width=900", "srcset": "//hiholden.com/cdn/shop/products/Square_4.5mm_WG_Mirror.jpg?v=1670447551&width=352 352w, //hiholden.com/cdn/shop/products/Square_4.5mm_WG_Mirror.jpg?v=1670447551&width=832 832w, //hiholden.com/cdn/shop/products/Square_4.5mm_WG_Mirror.jpg?v=1670447551&width=900 900w", "width": 900, "height": 720 } }, { "id": 12800834830418, "options": ["4.5mm","White Gold","18k"], "url": "\/products\/square-profile?variant=12800834830418", "image": {"src": "//hiholden.com/cdn/shop/products/Square_4.5mm_WG_Mirror.jpg?v=1670447551&width=900", "srcset": "//hiholden.com/cdn/shop/products/Square_4.5mm_WG_Mirror.jpg?v=1670447551&width=352 352w, //hiholden.com/cdn/shop/products/Square_4.5mm_WG_Mirror.jpg?v=1670447551&width=832 832w, //hiholden.com/cdn/shop/products/Square_4.5mm_WG_Mirror.jpg?v=1670447551&width=900 900w", "width": 900, "height": 720 } }, { "id": 12974003912786, "options": ["6mm","White Gold","10k"], "url": "\/products\/square-profile?variant=12974003912786", "image": {"src": "//hiholden.com/cdn/shop/products/Square_6mm_WG_Mirror.jpg?v=1669067320&width=900", "srcset": "//hiholden.com/cdn/shop/products/Square_6mm_WG_Mirror.jpg?v=1669067320&width=352 352w, //hiholden.com/cdn/shop/products/Square_6mm_WG_Mirror.jpg?v=1669067320&width=832 832w, //hiholden.com/cdn/shop/products/Square_6mm_WG_Mirror.jpg?v=1669067320&width=900 900w", "width": 900, "height": 720 } }, { "id": 1769537929234, "options": ["6mm","White Gold","14k"], "url": "\/products\/square-profile?variant=1769537929234", "image": {"src": "//hiholden.com/cdn/shop/products/Square_6mm_WG_Mirror.jpg?v=1669067320&width=900", "srcset": "//hiholden.com/cdn/shop/products/Square_6mm_WG_Mirror.jpg?v=1669067320&width=352 352w, //hiholden.com/cdn/shop/products/Square_6mm_WG_Mirror.jpg?v=1669067320&width=832 832w, //hiholden.com/cdn/shop/products/Square_6mm_WG_Mirror.jpg?v=1669067320&width=900 900w", "width": 900, "height": 720 } }, { "id": 1769537962002, "options": ["6mm","White Gold","18k"], "url": "\/products\/square-profile?variant=1769537962002", "image": {"src": "//hiholden.com/cdn/shop/products/Square_6mm_WG_Mirror.jpg?v=1669067320&width=900", "srcset": "//hiholden.com/cdn/shop/products/Square_6mm_WG_Mirror.jpg?v=1669067320&width=352 352w, //hiholden.com/cdn/shop/products/Square_6mm_WG_Mirror.jpg?v=1669067320&width=832 832w, //hiholden.com/cdn/shop/products/Square_6mm_WG_Mirror.jpg?v=1669067320&width=900 900w", "width": 900, "height": 720 } } ], "title": "White Gold" }, { "variants": [ { "id": 12974004731986, "options": ["1.5mm","Rose Gold","10k"], "url": "\/products\/square-profile?variant=12974004731986", "image": {"src": "//hiholden.com/cdn/shop/products/Square_1.5mm_RG_Mirror_0540487f-0852-46a8-a073-f53508ed11d1.jpg?v=1670447551&width=900", "srcset": "//hiholden.com/cdn/shop/products/Square_1.5mm_RG_Mirror_0540487f-0852-46a8-a073-f53508ed11d1.jpg?v=1670447551&width=352 352w, //hiholden.com/cdn/shop/products/Square_1.5mm_RG_Mirror_0540487f-0852-46a8-a073-f53508ed11d1.jpg?v=1670447551&width=832 832w, //hiholden.com/cdn/shop/products/Square_1.5mm_RG_Mirror_0540487f-0852-46a8-a073-f53508ed11d1.jpg?v=1670447551&width=900 900w", "width": 900, "height": 720 } }, { "id": 12482751758418, "options": ["1.5mm","Rose Gold","14k"], "url": "\/products\/square-profile?variant=12482751758418", "image": {"src": "//hiholden.com/cdn/shop/products/Square_1.5mm_RG_Mirror_0540487f-0852-46a8-a073-f53508ed11d1.jpg?v=1670447551&width=900", "srcset": "//hiholden.com/cdn/shop/products/Square_1.5mm_RG_Mirror_0540487f-0852-46a8-a073-f53508ed11d1.jpg?v=1670447551&width=352 352w, //hiholden.com/cdn/shop/products/Square_1.5mm_RG_Mirror_0540487f-0852-46a8-a073-f53508ed11d1.jpg?v=1670447551&width=832 832w, //hiholden.com/cdn/shop/products/Square_1.5mm_RG_Mirror_0540487f-0852-46a8-a073-f53508ed11d1.jpg?v=1670447551&width=900 900w", "width": 900, "height": 720 } }, { "id": 12482752413778, "options": ["1.5mm","Rose Gold","18k"], "url": "\/products\/square-profile?variant=12482752413778", "image": {"src": "//hiholden.com/cdn/shop/products/Square_1.5mm_RG_Mirror_0540487f-0852-46a8-a073-f53508ed11d1.jpg?v=1670447551&width=900", "srcset": "//hiholden.com/cdn/shop/products/Square_1.5mm_RG_Mirror_0540487f-0852-46a8-a073-f53508ed11d1.jpg?v=1670447551&width=352 352w, //hiholden.com/cdn/shop/products/Square_1.5mm_RG_Mirror_0540487f-0852-46a8-a073-f53508ed11d1.jpg?v=1670447551&width=832 832w, //hiholden.com/cdn/shop/products/Square_1.5mm_RG_Mirror_0540487f-0852-46a8-a073-f53508ed11d1.jpg?v=1670447551&width=900 900w", "width": 900, "height": 720 } }, { "id": 12974005026898, "options": ["3mm","Rose Gold","10k"], "url": "\/products\/square-profile?variant=12974005026898", "image": {"src": "//hiholden.com/cdn/shop/products/Square_3mm_RG_Mirror_26f45f57-8f1c-415c-9ee1-8cbf7e6bcdac.jpg?v=1670447551&width=900", "srcset": "//hiholden.com/cdn/shop/products/Square_3mm_RG_Mirror_26f45f57-8f1c-415c-9ee1-8cbf7e6bcdac.jpg?v=1670447551&width=352 352w, //hiholden.com/cdn/shop/products/Square_3mm_RG_Mirror_26f45f57-8f1c-415c-9ee1-8cbf7e6bcdac.jpg?v=1670447551&width=832 832w, //hiholden.com/cdn/shop/products/Square_3mm_RG_Mirror_26f45f57-8f1c-415c-9ee1-8cbf7e6bcdac.jpg?v=1670447551&width=900 900w", "width": 900, "height": 720 } }, { "id": 1769537601554, "options": ["3mm","Rose Gold","14k"], "url": "\/products\/square-profile?variant=1769537601554", "image": {"src": "//hiholden.com/cdn/shop/products/Square_3mm_RG_Mirror_26f45f57-8f1c-415c-9ee1-8cbf7e6bcdac.jpg?v=1670447551&width=900", "srcset": "//hiholden.com/cdn/shop/products/Square_3mm_RG_Mirror_26f45f57-8f1c-415c-9ee1-8cbf7e6bcdac.jpg?v=1670447551&width=352 352w, //hiholden.com/cdn/shop/products/Square_3mm_RG_Mirror_26f45f57-8f1c-415c-9ee1-8cbf7e6bcdac.jpg?v=1670447551&width=832 832w, //hiholden.com/cdn/shop/products/Square_3mm_RG_Mirror_26f45f57-8f1c-415c-9ee1-8cbf7e6bcdac.jpg?v=1670447551&width=900 900w", "width": 900, "height": 720 } }, { "id": 1769537634322, "options": ["3mm","Rose Gold","18k"], "url": "\/products\/square-profile?variant=1769537634322", "image": {"src": "//hiholden.com/cdn/shop/products/Square_3mm_RG_Mirror_26f45f57-8f1c-415c-9ee1-8cbf7e6bcdac.jpg?v=1670447551&width=900", "srcset": "//hiholden.com/cdn/shop/products/Square_3mm_RG_Mirror_26f45f57-8f1c-415c-9ee1-8cbf7e6bcdac.jpg?v=1670447551&width=352 352w, //hiholden.com/cdn/shop/products/Square_3mm_RG_Mirror_26f45f57-8f1c-415c-9ee1-8cbf7e6bcdac.jpg?v=1670447551&width=832 832w, //hiholden.com/cdn/shop/products/Square_3mm_RG_Mirror_26f45f57-8f1c-415c-9ee1-8cbf7e6bcdac.jpg?v=1670447551&width=900 900w", "width": 900, "height": 720 } }, { "id": 12974005059666, "options": ["4.5mm","Rose Gold","10k"], "url": "\/products\/square-profile?variant=12974005059666", "image": {"src": "//hiholden.com/cdn/shop/products/Square_4.5mm_RG_Mirror_655e463c-8a1d-450c-82b0-91a8af340329.jpg?v=1670447551&width=900", "srcset": "//hiholden.com/cdn/shop/products/Square_4.5mm_RG_Mirror_655e463c-8a1d-450c-82b0-91a8af340329.jpg?v=1670447551&width=352 352w, //hiholden.com/cdn/shop/products/Square_4.5mm_RG_Mirror_655e463c-8a1d-450c-82b0-91a8af340329.jpg?v=1670447551&width=832 832w, //hiholden.com/cdn/shop/products/Square_4.5mm_RG_Mirror_655e463c-8a1d-450c-82b0-91a8af340329.jpg?v=1670447551&width=900 900w", "width": 900, "height": 720 } }, { "id": 12800831225938, "options": ["4.5mm","Rose Gold","14k"], "url": "\/products\/square-profile?variant=12800831225938", "image": {"src": "//hiholden.com/cdn/shop/products/Square_4.5mm_RG_Mirror_655e463c-8a1d-450c-82b0-91a8af340329.jpg?v=1670447551&width=900", "srcset": "//hiholden.com/cdn/shop/products/Square_4.5mm_RG_Mirror_655e463c-8a1d-450c-82b0-91a8af340329.jpg?v=1670447551&width=352 352w, //hiholden.com/cdn/shop/products/Square_4.5mm_RG_Mirror_655e463c-8a1d-450c-82b0-91a8af340329.jpg?v=1670447551&width=832 832w, //hiholden.com/cdn/shop/products/Square_4.5mm_RG_Mirror_655e463c-8a1d-450c-82b0-91a8af340329.jpg?v=1670447551&width=900 900w", "width": 900, "height": 720 } }, { "id": 12800832077906, "options": ["4.5mm","Rose Gold","18k"], "url": "\/products\/square-profile?variant=12800832077906", "image": {"src": "//hiholden.com/cdn/shop/products/Square_4.5mm_RG_Mirror_655e463c-8a1d-450c-82b0-91a8af340329.jpg?v=1670447551&width=900", "srcset": "//hiholden.com/cdn/shop/products/Square_4.5mm_RG_Mirror_655e463c-8a1d-450c-82b0-91a8af340329.jpg?v=1670447551&width=352 352w, //hiholden.com/cdn/shop/products/Square_4.5mm_RG_Mirror_655e463c-8a1d-450c-82b0-91a8af340329.jpg?v=1670447551&width=832 832w, //hiholden.com/cdn/shop/products/Square_4.5mm_RG_Mirror_655e463c-8a1d-450c-82b0-91a8af340329.jpg?v=1670447551&width=900 900w", "width": 900, "height": 720 } }, { "id": 12974005092434, "options": ["6mm","Rose Gold","10k"], "url": "\/products\/square-profile?variant=12974005092434", "image": {"src": "//hiholden.com/cdn/shop/products/Square_6mm_RG_Mirror_c3ee33c7-a7f1-4c6d-9c17-ff0c674b3312.jpg?v=1669067323&width=900", "srcset": "//hiholden.com/cdn/shop/products/Square_6mm_RG_Mirror_c3ee33c7-a7f1-4c6d-9c17-ff0c674b3312.jpg?v=1669067323&width=352 352w, //hiholden.com/cdn/shop/products/Square_6mm_RG_Mirror_c3ee33c7-a7f1-4c6d-9c17-ff0c674b3312.jpg?v=1669067323&width=832 832w, //hiholden.com/cdn/shop/products/Square_6mm_RG_Mirror_c3ee33c7-a7f1-4c6d-9c17-ff0c674b3312.jpg?v=1669067323&width=900 900w", "width": 900, "height": 720 } }, { "id": 1769537863698, "options": ["6mm","Rose Gold","14k"], "url": "\/products\/square-profile?variant=1769537863698", "image": {"src": "//hiholden.com/cdn/shop/products/Square_6mm_RG_Mirror_c3ee33c7-a7f1-4c6d-9c17-ff0c674b3312.jpg?v=1669067323&width=900", "srcset": "//hiholden.com/cdn/shop/products/Square_6mm_RG_Mirror_c3ee33c7-a7f1-4c6d-9c17-ff0c674b3312.jpg?v=1669067323&width=352 352w, //hiholden.com/cdn/shop/products/Square_6mm_RG_Mirror_c3ee33c7-a7f1-4c6d-9c17-ff0c674b3312.jpg?v=1669067323&width=832 832w, //hiholden.com/cdn/shop/products/Square_6mm_RG_Mirror_c3ee33c7-a7f1-4c6d-9c17-ff0c674b3312.jpg?v=1669067323&width=900 900w", "width": 900, "height": 720 } }, { "id": 1769537896466, "options": ["6mm","Rose Gold","18k"], "url": "\/products\/square-profile?variant=1769537896466", "image": {"src": "//hiholden.com/cdn/shop/products/Square_6mm_RG_Mirror_c3ee33c7-a7f1-4c6d-9c17-ff0c674b3312.jpg?v=1669067323&width=900", "srcset": "//hiholden.com/cdn/shop/products/Square_6mm_RG_Mirror_c3ee33c7-a7f1-4c6d-9c17-ff0c674b3312.jpg?v=1669067323&width=352 352w, //hiholden.com/cdn/shop/products/Square_6mm_RG_Mirror_c3ee33c7-a7f1-4c6d-9c17-ff0c674b3312.jpg?v=1669067323&width=832 832w, //hiholden.com/cdn/shop/products/Square_6mm_RG_Mirror_c3ee33c7-a7f1-4c6d-9c17-ff0c674b3312.jpg?v=1669067323&width=900 900w", "width": 900, "height": 720 } } ], "title": "Rose Gold" }, { "variants": [ { "id": 12482750906450, "options": ["1.5mm","Platinum","NA"], "url": "\/products\/square-profile?variant=12482750906450", "image": {"src": "//hiholden.com/cdn/shop/products/Square_1.5mm_WG_Mirror.jpg?v=1670447551&width=900", "srcset": "//hiholden.com/cdn/shop/products/Square_1.5mm_WG_Mirror.jpg?v=1670447551&width=352 352w, //hiholden.com/cdn/shop/products/Square_1.5mm_WG_Mirror.jpg?v=1670447551&width=832 832w, //hiholden.com/cdn/shop/products/Square_1.5mm_WG_Mirror.jpg?v=1670447551&width=900 900w", "width": 900, "height": 720 } }, { "id": 1769537732626, "options": ["3mm","Platinum","NA"], "url": "\/products\/square-profile?variant=1769537732626", "image": {"src": "//hiholden.com/cdn/shop/products/Square_3mm_WG_Mirror.jpg?v=1670447551&width=900", "srcset": "//hiholden.com/cdn/shop/products/Square_3mm_WG_Mirror.jpg?v=1670447551&width=352 352w, //hiholden.com/cdn/shop/products/Square_3mm_WG_Mirror.jpg?v=1670447551&width=832 832w, //hiholden.com/cdn/shop/products/Square_3mm_WG_Mirror.jpg?v=1670447551&width=900 900w", "width": 900, "height": 720 } }, { "id": 12800823951442, "options": ["4.5mm","Platinum","NA"], "url": "\/products\/square-profile?variant=12800823951442", "image": {"src": "//hiholden.com/cdn/shop/products/Square_4.5mm_WG_Mirror.jpg?v=1670447551&width=900", "srcset": "//hiholden.com/cdn/shop/products/Square_4.5mm_WG_Mirror.jpg?v=1670447551&width=352 352w, //hiholden.com/cdn/shop/products/Square_4.5mm_WG_Mirror.jpg?v=1670447551&width=832 832w, //hiholden.com/cdn/shop/products/Square_4.5mm_WG_Mirror.jpg?v=1670447551&width=900 900w", "width": 900, "height": 720 } }, { "id": 1769537994770, "options": ["6mm","Platinum","NA"], "url": "\/products\/square-profile?variant=1769537994770", "image": {"src": "//hiholden.com/cdn/shop/products/Square_6mm_WG_Mirror.jpg?v=1669067320&width=900", "srcset": "//hiholden.com/cdn/shop/products/Square_6mm_WG_Mirror.jpg?v=1669067320&width=352 352w, //hiholden.com/cdn/shop/products/Square_6mm_WG_Mirror.jpg?v=1669067320&width=832 832w, //hiholden.com/cdn/shop/products/Square_6mm_WG_Mirror.jpg?v=1669067320&width=900 900w", "width": 900, "height": 720 } } ], "title": "Platinum" } ] }, "productOne": { "firstVariant": 39498773200978, "defaultVariant": 39498773561426, "id": 6666723688530, "url": "\/products\/the-flush-baguette", "tags": "[\"10 karat\", \"14 karat\", \"18 karat\", \"anniversary\", \"anniversary ring\", \"anniversary rings\", \"anniversary stack\", \"band\", \"bands\", \"brushed\", \"brushed finish\", \"brushed polish\", \"design studio\", \"engagement rings\", \"engravable\", \"engrave\", \"engraveable\", \"engraved\", \"engraving\", \"engravings\", \"high polish\", \"large-widths\", \"matte\", \"matte finish\", \"matte polish\", \"matted\", \"men\", \"men's\", \"men's wedding band\", \"men's wedding ring\", \"mens band\", \"mens profile\", \"mens ring\", \"mens rings\", \"mirror\", \"mirror finish\", \"mirrored\", \"personalization\", \"personalized\", \"platinum\", \"polish\", \"polished\", \"profile\", \"profiles\", \"promise ring\", \"promise rings\", \"ring\", \"rings\", \"rose-gold\", \"satin\", \"satin finish\", \"satin polish\", \"shiny\", \"small-widths\", \"stone-baguette\", \"style\", \"styles\", \"wedding\", \"wedding band\", \"wedding ring\", \"white-gold\", \"women\", \"women's\", \"women's band\", \"women's ring\", \"women's wedding band\", \"women's wedding ring\", \"womens profile\", \"womens rings\", \"yellow-gold\"]", "title": "The Flush Baguette", "price": "$499", "image": {"src": "//hiholden.com/cdn/shop/products/Flush_Baguette_4.5mm_YG_Mirror_3cfd1372-7854-48ab-a063-79ffcce1b7c4.jpg?v=1670456660&width=900", "srcset": "//hiholden.com/cdn/shop/products/Flush_Baguette_4.5mm_YG_Mirror_3cfd1372-7854-48ab-a063-79ffcce1b7c4.jpg?v=1670456660&width=352 352w, //hiholden.com/cdn/shop/products/Flush_Baguette_4.5mm_YG_Mirror_3cfd1372-7854-48ab-a063-79ffcce1b7c4.jpg?v=1670456660&width=832 832w, //hiholden.com/cdn/shop/products/Flush_Baguette_4.5mm_YG_Mirror_3cfd1372-7854-48ab-a063-79ffcce1b7c4.jpg?v=1670456660&width=900 900w", "width": 900, "height": 720, "offset": -10 }, "image_secondary": { "src": "https://cdn.accentuate.io/6666723688530/1668711239927/Flush-Baguette_01.jpg?v=1668711239928", "width": 2000, "height": 1600, "alt": "\\ alt : Model wearing Holden's Flush Baguette wedding band. \\ light \\ \\ width : 6mm" }, "options": [ { "variants": [ { "id": 39498773200978, "options": ["3mm","Yellow Gold","10k"], "url": "\/products\/the-flush-baguette?variant=39498773200978", "image": {"src": "//hiholden.com/cdn/shop/products/Flush_Baguette_3mm_YG_Mirror_da24349f-256c-4dde-b2f4-58e263c0f6a0.jpg?v=1670456660&width=900", "srcset": "//hiholden.com/cdn/shop/products/Flush_Baguette_3mm_YG_Mirror_da24349f-256c-4dde-b2f4-58e263c0f6a0.jpg?v=1670456660&width=352 352w, //hiholden.com/cdn/shop/products/Flush_Baguette_3mm_YG_Mirror_da24349f-256c-4dde-b2f4-58e263c0f6a0.jpg?v=1670456660&width=832 832w, //hiholden.com/cdn/shop/products/Flush_Baguette_3mm_YG_Mirror_da24349f-256c-4dde-b2f4-58e263c0f6a0.jpg?v=1670456660&width=900 900w", "width": 900, "height": 720 } }, { "id": 39498773233746, "options": ["3mm","Yellow Gold","14k"], "url": "\/products\/the-flush-baguette?variant=39498773233746", "image": {"src": "//hiholden.com/cdn/shop/products/Flush_Baguette_3mm_YG_Mirror_da24349f-256c-4dde-b2f4-58e263c0f6a0.jpg?v=1670456660&width=900", "srcset": "//hiholden.com/cdn/shop/products/Flush_Baguette_3mm_YG_Mirror_da24349f-256c-4dde-b2f4-58e263c0f6a0.jpg?v=1670456660&width=352 352w, //hiholden.com/cdn/shop/products/Flush_Baguette_3mm_YG_Mirror_da24349f-256c-4dde-b2f4-58e263c0f6a0.jpg?v=1670456660&width=832 832w, //hiholden.com/cdn/shop/products/Flush_Baguette_3mm_YG_Mirror_da24349f-256c-4dde-b2f4-58e263c0f6a0.jpg?v=1670456660&width=900 900w", "width": 900, "height": 720 } }, { "id": 39498773266514, "options": ["3mm","Yellow Gold","18k"], "url": "\/products\/the-flush-baguette?variant=39498773266514", "image": {"src": "//hiholden.com/cdn/shop/products/Flush_Baguette_3mm_YG_Mirror_da24349f-256c-4dde-b2f4-58e263c0f6a0.jpg?v=1670456660&width=900", "srcset": "//hiholden.com/cdn/shop/products/Flush_Baguette_3mm_YG_Mirror_da24349f-256c-4dde-b2f4-58e263c0f6a0.jpg?v=1670456660&width=352 352w, //hiholden.com/cdn/shop/products/Flush_Baguette_3mm_YG_Mirror_da24349f-256c-4dde-b2f4-58e263c0f6a0.jpg?v=1670456660&width=832 832w, //hiholden.com/cdn/shop/products/Flush_Baguette_3mm_YG_Mirror_da24349f-256c-4dde-b2f4-58e263c0f6a0.jpg?v=1670456660&width=900 900w", "width": 900, "height": 720 } }, { "id": 39498773528658, "options": ["4.5mm","Yellow Gold","10k"], "url": "\/products\/the-flush-baguette?variant=39498773528658", "image": {"src": "//hiholden.com/cdn/shop/products/Flush_Baguette_4.5mm_YG_Mirror_3cfd1372-7854-48ab-a063-79ffcce1b7c4.jpg?v=1670456660&width=900", "srcset": "//hiholden.com/cdn/shop/products/Flush_Baguette_4.5mm_YG_Mirror_3cfd1372-7854-48ab-a063-79ffcce1b7c4.jpg?v=1670456660&width=352 352w, //hiholden.com/cdn/shop/products/Flush_Baguette_4.5mm_YG_Mirror_3cfd1372-7854-48ab-a063-79ffcce1b7c4.jpg?v=1670456660&width=832 832w, //hiholden.com/cdn/shop/products/Flush_Baguette_4.5mm_YG_Mirror_3cfd1372-7854-48ab-a063-79ffcce1b7c4.jpg?v=1670456660&width=900 900w", "width": 900, "height": 720 } }, { "id": 39498773561426, "options": ["4.5mm","Yellow Gold","14k"], "url": "\/products\/the-flush-baguette?variant=39498773561426", "image": {"src": "//hiholden.com/cdn/shop/products/Flush_Baguette_4.5mm_YG_Mirror_3cfd1372-7854-48ab-a063-79ffcce1b7c4.jpg?v=1670456660&width=900", "srcset": "//hiholden.com/cdn/shop/products/Flush_Baguette_4.5mm_YG_Mirror_3cfd1372-7854-48ab-a063-79ffcce1b7c4.jpg?v=1670456660&width=352 352w, //hiholden.com/cdn/shop/products/Flush_Baguette_4.5mm_YG_Mirror_3cfd1372-7854-48ab-a063-79ffcce1b7c4.jpg?v=1670456660&width=832 832w, //hiholden.com/cdn/shop/products/Flush_Baguette_4.5mm_YG_Mirror_3cfd1372-7854-48ab-a063-79ffcce1b7c4.jpg?v=1670456660&width=900 900w", "width": 900, "height": 720 } }, { "id": 39498773594194, "options": ["4.5mm","Yellow Gold","18k"], "url": "\/products\/the-flush-baguette?variant=39498773594194", "image": {"src": "//hiholden.com/cdn/shop/products/Flush_Baguette_4.5mm_YG_Mirror_3cfd1372-7854-48ab-a063-79ffcce1b7c4.jpg?v=1670456660&width=900", "srcset": "//hiholden.com/cdn/shop/products/Flush_Baguette_4.5mm_YG_Mirror_3cfd1372-7854-48ab-a063-79ffcce1b7c4.jpg?v=1670456660&width=352 352w, //hiholden.com/cdn/shop/products/Flush_Baguette_4.5mm_YG_Mirror_3cfd1372-7854-48ab-a063-79ffcce1b7c4.jpg?v=1670456660&width=832 832w, //hiholden.com/cdn/shop/products/Flush_Baguette_4.5mm_YG_Mirror_3cfd1372-7854-48ab-a063-79ffcce1b7c4.jpg?v=1670456660&width=900 900w", "width": 900, "height": 720 } }, { "id": 39498773856338, "options": ["6mm","Yellow Gold","10k"], "url": "\/products\/the-flush-baguette?variant=39498773856338", "image": {"src": "//hiholden.com/cdn/shop/products/Flush_Baguette_6mm_YG_Mirror_84217c30-a60c-481e-8212-2575392cded8.jpg?v=1669063238&width=900", "srcset": "//hiholden.com/cdn/shop/products/Flush_Baguette_6mm_YG_Mirror_84217c30-a60c-481e-8212-2575392cded8.jpg?v=1669063238&width=352 352w, //hiholden.com/cdn/shop/products/Flush_Baguette_6mm_YG_Mirror_84217c30-a60c-481e-8212-2575392cded8.jpg?v=1669063238&width=832 832w, //hiholden.com/cdn/shop/products/Flush_Baguette_6mm_YG_Mirror_84217c30-a60c-481e-8212-2575392cded8.jpg?v=1669063238&width=900 900w", "width": 900, "height": 720 } }, { "id": 39498773889106, "options": ["6mm","Yellow Gold","14k"], "url": "\/products\/the-flush-baguette?variant=39498773889106", "image": {"src": "//hiholden.com/cdn/shop/products/Flush_Baguette_6mm_YG_Mirror_84217c30-a60c-481e-8212-2575392cded8.jpg?v=1669063238&width=900", "srcset": "//hiholden.com/cdn/shop/products/Flush_Baguette_6mm_YG_Mirror_84217c30-a60c-481e-8212-2575392cded8.jpg?v=1669063238&width=352 352w, //hiholden.com/cdn/shop/products/Flush_Baguette_6mm_YG_Mirror_84217c30-a60c-481e-8212-2575392cded8.jpg?v=1669063238&width=832 832w, //hiholden.com/cdn/shop/products/Flush_Baguette_6mm_YG_Mirror_84217c30-a60c-481e-8212-2575392cded8.jpg?v=1669063238&width=900 900w", "width": 900, "height": 720 } }, { "id": 39498773921874, "options": ["6mm","Yellow Gold","18k"], "url": "\/products\/the-flush-baguette?variant=39498773921874", "image": {"src": "//hiholden.com/cdn/shop/products/Flush_Baguette_6mm_YG_Mirror_84217c30-a60c-481e-8212-2575392cded8.jpg?v=1669063238&width=900", "srcset": "//hiholden.com/cdn/shop/products/Flush_Baguette_6mm_YG_Mirror_84217c30-a60c-481e-8212-2575392cded8.jpg?v=1669063238&width=352 352w, //hiholden.com/cdn/shop/products/Flush_Baguette_6mm_YG_Mirror_84217c30-a60c-481e-8212-2575392cded8.jpg?v=1669063238&width=832 832w, //hiholden.com/cdn/shop/products/Flush_Baguette_6mm_YG_Mirror_84217c30-a60c-481e-8212-2575392cded8.jpg?v=1669063238&width=900 900w", "width": 900, "height": 720 } } ], "title": "Yellow Gold" }, { "variants": [ { "id": 39498773397586, "options": ["3mm","White Gold","10k"], "url": "\/products\/the-flush-baguette?variant=39498773397586", "image": {"src": "//hiholden.com/cdn/shop/products/Flush_Baguette_3mm_WG_Mirror.jpg?v=1670456660&width=900", "srcset": "//hiholden.com/cdn/shop/products/Flush_Baguette_3mm_WG_Mirror.jpg?v=1670456660&width=352 352w, //hiholden.com/cdn/shop/products/Flush_Baguette_3mm_WG_Mirror.jpg?v=1670456660&width=832 832w, //hiholden.com/cdn/shop/products/Flush_Baguette_3mm_WG_Mirror.jpg?v=1670456660&width=900 900w", "width": 900, "height": 720 } }, { "id": 39498773430354, "options": ["3mm","White Gold","14k"], "url": "\/products\/the-flush-baguette?variant=39498773430354", "image": {"src": "//hiholden.com/cdn/shop/products/Flush_Baguette_3mm_WG_Mirror.jpg?v=1670456660&width=900", "srcset": "//hiholden.com/cdn/shop/products/Flush_Baguette_3mm_WG_Mirror.jpg?v=1670456660&width=352 352w, //hiholden.com/cdn/shop/products/Flush_Baguette_3mm_WG_Mirror.jpg?v=1670456660&width=832 832w, //hiholden.com/cdn/shop/products/Flush_Baguette_3mm_WG_Mirror.jpg?v=1670456660&width=900 900w", "width": 900, "height": 720 } }, { "id": 39498773463122, "options": ["3mm","White Gold","18k"], "url": "\/products\/the-flush-baguette?variant=39498773463122", "image": {"src": "//hiholden.com/cdn/shop/products/Flush_Baguette_3mm_WG_Mirror.jpg?v=1670456660&width=900", "srcset": "//hiholden.com/cdn/shop/products/Flush_Baguette_3mm_WG_Mirror.jpg?v=1670456660&width=352 352w, //hiholden.com/cdn/shop/products/Flush_Baguette_3mm_WG_Mirror.jpg?v=1670456660&width=832 832w, //hiholden.com/cdn/shop/products/Flush_Baguette_3mm_WG_Mirror.jpg?v=1670456660&width=900 900w", "width": 900, "height": 720 } }, { "id": 39498773725266, "options": ["4.5mm","White Gold","10k"], "url": "\/products\/the-flush-baguette?variant=39498773725266", "image": {"src": "//hiholden.com/cdn/shop/products/Flush_Baguette_4.5mm_WG_Mirror.jpg?v=1670456660&width=900", "srcset": "//hiholden.com/cdn/shop/products/Flush_Baguette_4.5mm_WG_Mirror.jpg?v=1670456660&width=352 352w, //hiholden.com/cdn/shop/products/Flush_Baguette_4.5mm_WG_Mirror.jpg?v=1670456660&width=832 832w, //hiholden.com/cdn/shop/products/Flush_Baguette_4.5mm_WG_Mirror.jpg?v=1670456660&width=900 900w", "width": 900, "height": 720 } }, { "id": 39498773758034, "options": ["4.5mm","White Gold","14k"], "url": "\/products\/the-flush-baguette?variant=39498773758034", "image": {"src": "//hiholden.com/cdn/shop/products/Flush_Baguette_4.5mm_WG_Mirror.jpg?v=1670456660&width=900", "srcset": "//hiholden.com/cdn/shop/products/Flush_Baguette_4.5mm_WG_Mirror.jpg?v=1670456660&width=352 352w, //hiholden.com/cdn/shop/products/Flush_Baguette_4.5mm_WG_Mirror.jpg?v=1670456660&width=832 832w, //hiholden.com/cdn/shop/products/Flush_Baguette_4.5mm_WG_Mirror.jpg?v=1670456660&width=900 900w", "width": 900, "height": 720 } }, { "id": 39498773790802, "options": ["4.5mm","White Gold","18k"], "url": "\/products\/the-flush-baguette?variant=39498773790802", "image": {"src": "//hiholden.com/cdn/shop/products/Flush_Baguette_4.5mm_WG_Mirror.jpg?v=1670456660&width=900", "srcset": "//hiholden.com/cdn/shop/products/Flush_Baguette_4.5mm_WG_Mirror.jpg?v=1670456660&width=352 352w, //hiholden.com/cdn/shop/products/Flush_Baguette_4.5mm_WG_Mirror.jpg?v=1670456660&width=832 832w, //hiholden.com/cdn/shop/products/Flush_Baguette_4.5mm_WG_Mirror.jpg?v=1670456660&width=900 900w", "width": 900, "height": 720 } }, { "id": 39498774052946, "options": ["6mm","White Gold","10k"], "url": "\/products\/the-flush-baguette?variant=39498774052946", "image": {"src": "//hiholden.com/cdn/shop/products/Flush_Baguette_6mm_WG_Mirror.jpg?v=1669063236&width=900", "srcset": "//hiholden.com/cdn/shop/products/Flush_Baguette_6mm_WG_Mirror.jpg?v=1669063236&width=352 352w, //hiholden.com/cdn/shop/products/Flush_Baguette_6mm_WG_Mirror.jpg?v=1669063236&width=832 832w, //hiholden.com/cdn/shop/products/Flush_Baguette_6mm_WG_Mirror.jpg?v=1669063236&width=900 900w", "width": 900, "height": 720 } }, { "id": 39498774085714, "options": ["6mm","White Gold","14k"], "url": "\/products\/the-flush-baguette?variant=39498774085714", "image": {"src": "//hiholden.com/cdn/shop/products/Flush_Baguette_6mm_WG_Mirror.jpg?v=1669063236&width=900", "srcset": "//hiholden.com/cdn/shop/products/Flush_Baguette_6mm_WG_Mirror.jpg?v=1669063236&width=352 352w, //hiholden.com/cdn/shop/products/Flush_Baguette_6mm_WG_Mirror.jpg?v=1669063236&width=832 832w, //hiholden.com/cdn/shop/products/Flush_Baguette_6mm_WG_Mirror.jpg?v=1669063236&width=900 900w", "width": 900, "height": 720 } }, { "id": 39498774118482, "options": ["6mm","White Gold","18k"], "url": "\/products\/the-flush-baguette?variant=39498774118482", "image": {"src": "//hiholden.com/cdn/shop/products/Flush_Baguette_6mm_WG_Mirror.jpg?v=1669063236&width=900", "srcset": "//hiholden.com/cdn/shop/products/Flush_Baguette_6mm_WG_Mirror.jpg?v=1669063236&width=352 352w, //hiholden.com/cdn/shop/products/Flush_Baguette_6mm_WG_Mirror.jpg?v=1669063236&width=832 832w, //hiholden.com/cdn/shop/products/Flush_Baguette_6mm_WG_Mirror.jpg?v=1669063236&width=900 900w", "width": 900, "height": 720 } } ], "title": "White Gold" }, { "variants": [ { "id": 39498773299282, "options": ["3mm","Rose Gold","10k"], "url": "\/products\/the-flush-baguette?variant=39498773299282", "image": {"src": "//hiholden.com/cdn/shop/products/Flush_Baguette_3mm_RG_Mirror_6c7995de-c889-4724-9fa5-1c6b5c8d60ea.jpg?v=1670456660&width=900", "srcset": "//hiholden.com/cdn/shop/products/Flush_Baguette_3mm_RG_Mirror_6c7995de-c889-4724-9fa5-1c6b5c8d60ea.jpg?v=1670456660&width=352 352w, //hiholden.com/cdn/shop/products/Flush_Baguette_3mm_RG_Mirror_6c7995de-c889-4724-9fa5-1c6b5c8d60ea.jpg?v=1670456660&width=832 832w, //hiholden.com/cdn/shop/products/Flush_Baguette_3mm_RG_Mirror_6c7995de-c889-4724-9fa5-1c6b5c8d60ea.jpg?v=1670456660&width=900 900w", "width": 900, "height": 720 } }, { "id": 39498773332050, "options": ["3mm","Rose Gold","14k"], "url": "\/products\/the-flush-baguette?variant=39498773332050", "image": {"src": "//hiholden.com/cdn/shop/products/Flush_Baguette_3mm_RG_Mirror_6c7995de-c889-4724-9fa5-1c6b5c8d60ea.jpg?v=1670456660&width=900", "srcset": "//hiholden.com/cdn/shop/products/Flush_Baguette_3mm_RG_Mirror_6c7995de-c889-4724-9fa5-1c6b5c8d60ea.jpg?v=1670456660&width=352 352w, //hiholden.com/cdn/shop/products/Flush_Baguette_3mm_RG_Mirror_6c7995de-c889-4724-9fa5-1c6b5c8d60ea.jpg?v=1670456660&width=832 832w, //hiholden.com/cdn/shop/products/Flush_Baguette_3mm_RG_Mirror_6c7995de-c889-4724-9fa5-1c6b5c8d60ea.jpg?v=1670456660&width=900 900w", "width": 900, "height": 720 } }, { "id": 39498773364818, "options": ["3mm","Rose Gold","18k"], "url": "\/products\/the-flush-baguette?variant=39498773364818", "image": {"src": "//hiholden.com/cdn/shop/products/Flush_Baguette_3mm_RG_Mirror_6c7995de-c889-4724-9fa5-1c6b5c8d60ea.jpg?v=1670456660&width=900", "srcset": "//hiholden.com/cdn/shop/products/Flush_Baguette_3mm_RG_Mirror_6c7995de-c889-4724-9fa5-1c6b5c8d60ea.jpg?v=1670456660&width=352 352w, //hiholden.com/cdn/shop/products/Flush_Baguette_3mm_RG_Mirror_6c7995de-c889-4724-9fa5-1c6b5c8d60ea.jpg?v=1670456660&width=832 832w, //hiholden.com/cdn/shop/products/Flush_Baguette_3mm_RG_Mirror_6c7995de-c889-4724-9fa5-1c6b5c8d60ea.jpg?v=1670456660&width=900 900w", "width": 900, "height": 720 } }, { "id": 39498773626962, "options": ["4.5mm","Rose Gold","10k"], "url": "\/products\/the-flush-baguette?variant=39498773626962", "image": {"src": "//hiholden.com/cdn/shop/products/Flush_Baguette_4.5mm_RG_Mirror_fd787225-9982-41c9-8af0-68f8f523dbf6.jpg?v=1670456660&width=900", "srcset": "//hiholden.com/cdn/shop/products/Flush_Baguette_4.5mm_RG_Mirror_fd787225-9982-41c9-8af0-68f8f523dbf6.jpg?v=1670456660&width=352 352w, //hiholden.com/cdn/shop/products/Flush_Baguette_4.5mm_RG_Mirror_fd787225-9982-41c9-8af0-68f8f523dbf6.jpg?v=1670456660&width=832 832w, //hiholden.com/cdn/shop/products/Flush_Baguette_4.5mm_RG_Mirror_fd787225-9982-41c9-8af0-68f8f523dbf6.jpg?v=1670456660&width=900 900w", "width": 900, "height": 720 } }, { "id": 39498773659730, "options": ["4.5mm","Rose Gold","14k"], "url": "\/products\/the-flush-baguette?variant=39498773659730", "image": {"src": "//hiholden.com/cdn/shop/products/Flush_Baguette_4.5mm_RG_Mirror_fd787225-9982-41c9-8af0-68f8f523dbf6.jpg?v=1670456660&width=900", "srcset": "//hiholden.com/cdn/shop/products/Flush_Baguette_4.5mm_RG_Mirror_fd787225-9982-41c9-8af0-68f8f523dbf6.jpg?v=1670456660&width=352 352w, //hiholden.com/cdn/shop/products/Flush_Baguette_4.5mm_RG_Mirror_fd787225-9982-41c9-8af0-68f8f523dbf6.jpg?v=1670456660&width=832 832w, //hiholden.com/cdn/shop/products/Flush_Baguette_4.5mm_RG_Mirror_fd787225-9982-41c9-8af0-68f8f523dbf6.jpg?v=1670456660&width=900 900w", "width": 900, "height": 720 } }, { "id": 39498773692498, "options": ["4.5mm","Rose Gold","18k"], "url": "\/products\/the-flush-baguette?variant=39498773692498", "image": {"src": "//hiholden.com/cdn/shop/products/Flush_Baguette_4.5mm_RG_Mirror_fd787225-9982-41c9-8af0-68f8f523dbf6.jpg?v=1670456660&width=900", "srcset": "//hiholden.com/cdn/shop/products/Flush_Baguette_4.5mm_RG_Mirror_fd787225-9982-41c9-8af0-68f8f523dbf6.jpg?v=1670456660&width=352 352w, //hiholden.com/cdn/shop/products/Flush_Baguette_4.5mm_RG_Mirror_fd787225-9982-41c9-8af0-68f8f523dbf6.jpg?v=1670456660&width=832 832w, //hiholden.com/cdn/shop/products/Flush_Baguette_4.5mm_RG_Mirror_fd787225-9982-41c9-8af0-68f8f523dbf6.jpg?v=1670456660&width=900 900w", "width": 900, "height": 720 } }, { "id": 39498773954642, "options": ["6mm","Rose Gold","10k"], "url": "\/products\/the-flush-baguette?variant=39498773954642", "image": {"src": "//hiholden.com/cdn/shop/products/Flush_Baguette_6mm_RG_Mirror_e7055772-4739-4122-bcb4-690451e2e13b.jpg?v=1669063235&width=900", "srcset": "//hiholden.com/cdn/shop/products/Flush_Baguette_6mm_RG_Mirror_e7055772-4739-4122-bcb4-690451e2e13b.jpg?v=1669063235&width=352 352w, //hiholden.com/cdn/shop/products/Flush_Baguette_6mm_RG_Mirror_e7055772-4739-4122-bcb4-690451e2e13b.jpg?v=1669063235&width=832 832w, //hiholden.com/cdn/shop/products/Flush_Baguette_6mm_RG_Mirror_e7055772-4739-4122-bcb4-690451e2e13b.jpg?v=1669063235&width=900 900w", "width": 900, "height": 720 } }, { "id": 39498773987410, "options": ["6mm","Rose Gold","14k"], "url": "\/products\/the-flush-baguette?variant=39498773987410", "image": {"src": "//hiholden.com/cdn/shop/products/Flush_Baguette_6mm_RG_Mirror_e7055772-4739-4122-bcb4-690451e2e13b.jpg?v=1669063235&width=900", "srcset": "//hiholden.com/cdn/shop/products/Flush_Baguette_6mm_RG_Mirror_e7055772-4739-4122-bcb4-690451e2e13b.jpg?v=1669063235&width=352 352w, //hiholden.com/cdn/shop/products/Flush_Baguette_6mm_RG_Mirror_e7055772-4739-4122-bcb4-690451e2e13b.jpg?v=1669063235&width=832 832w, //hiholden.com/cdn/shop/products/Flush_Baguette_6mm_RG_Mirror_e7055772-4739-4122-bcb4-690451e2e13b.jpg?v=1669063235&width=900 900w", "width": 900, "height": 720 } }, { "id": 39498774020178, "options": ["6mm","Rose Gold","18k"], "url": "\/products\/the-flush-baguette?variant=39498774020178", "image": {"src": "//hiholden.com/cdn/shop/products/Flush_Baguette_6mm_RG_Mirror_e7055772-4739-4122-bcb4-690451e2e13b.jpg?v=1669063235&width=900", "srcset": "//hiholden.com/cdn/shop/products/Flush_Baguette_6mm_RG_Mirror_e7055772-4739-4122-bcb4-690451e2e13b.jpg?v=1669063235&width=352 352w, //hiholden.com/cdn/shop/products/Flush_Baguette_6mm_RG_Mirror_e7055772-4739-4122-bcb4-690451e2e13b.jpg?v=1669063235&width=832 832w, //hiholden.com/cdn/shop/products/Flush_Baguette_6mm_RG_Mirror_e7055772-4739-4122-bcb4-690451e2e13b.jpg?v=1669063235&width=900 900w", "width": 900, "height": 720 } } ], "title": "Rose Gold" }, { "variants": [ { "id": 39498773495890, "options": ["3mm","Platinum","NA"], "url": "\/products\/the-flush-baguette?variant=39498773495890", "image": {"src": "//hiholden.com/cdn/shop/products/Flush_Baguette_3mm_WG_Mirror.jpg?v=1670456660&width=900", "srcset": "//hiholden.com/cdn/shop/products/Flush_Baguette_3mm_WG_Mirror.jpg?v=1670456660&width=352 352w, //hiholden.com/cdn/shop/products/Flush_Baguette_3mm_WG_Mirror.jpg?v=1670456660&width=832 832w, //hiholden.com/cdn/shop/products/Flush_Baguette_3mm_WG_Mirror.jpg?v=1670456660&width=900 900w", "width": 900, "height": 720 } }, { "id": 39498773823570, "options": ["4.5mm","Platinum","NA"], "url": "\/products\/the-flush-baguette?variant=39498773823570", "image": {"src": "//hiholden.com/cdn/shop/products/Flush_Baguette_4.5mm_WG_Mirror.jpg?v=1670456660&width=900", "srcset": "//hiholden.com/cdn/shop/products/Flush_Baguette_4.5mm_WG_Mirror.jpg?v=1670456660&width=352 352w, //hiholden.com/cdn/shop/products/Flush_Baguette_4.5mm_WG_Mirror.jpg?v=1670456660&width=832 832w, //hiholden.com/cdn/shop/products/Flush_Baguette_4.5mm_WG_Mirror.jpg?v=1670456660&width=900 900w", "width": 900, "height": 720 } }, { "id": 39498774151250, "options": ["6mm","Platinum","NA"], "url": "\/products\/the-flush-baguette?variant=39498774151250", "image": {"src": "//hiholden.com/cdn/shop/products/Flush_Baguette_6mm_WG_Mirror.jpg?v=1669063236&width=900", "srcset": "//hiholden.com/cdn/shop/products/Flush_Baguette_6mm_WG_Mirror.jpg?v=1669063236&width=352 352w, //hiholden.com/cdn/shop/products/Flush_Baguette_6mm_WG_Mirror.jpg?v=1669063236&width=832 832w, //hiholden.com/cdn/shop/products/Flush_Baguette_6mm_WG_Mirror.jpg?v=1669063236&width=900 900w", "width": 900, "height": 720 } } ], "title": "Platinum" } ] } }, { "names": "Joseph \u0026 William", "image": {"src": "//hiholden.com/cdn/shop/files/Joseph_William.jpg?v=1668461562&width=900", "srcset": "//hiholden.com/cdn/shop/files/Joseph_William.jpg?v=1668461562&width=352 352w, //hiholden.com/cdn/shop/files/Joseph_William.jpg?v=1668461562&width=832 832w, //hiholden.com/cdn/shop/files/Joseph_William.jpg?v=1668461562&width=900 900w", "width": 900, "height": 1171 }, "productTwo": { "firstVariant": 33043501416530, "defaultVariant": 33043501219922, "id": 4853855879250, "url": "\/products\/the-stepped", "tags": "[\"10 karat\", \"14 karat\", \"18 karat\", \"anniversary\", \"anniversary ring\", \"anniversary rings\", \"anniversary stack\", \"band\", \"bands\", \"brushed\", \"brushed finish\", \"brushed polish\", \"design studio\", \"engravable\", \"engrave\", \"engraveable\", \"engraved\", \"engraving\", \"engravings\", \"high polish\", \"large-widths\", \"matte\", \"matte finish\", \"matte polish\", \"matted\", \"men\", \"men's\", \"men's wedding band\", \"men's wedding ring\", \"mens band\", \"mens profile\", \"mens ring\", \"mens rings\", \"mirror\", \"mirror finish\", \"mirrored\", \"personalization\", \"personalized\", \"platinum\", \"polish\", \"polished\", \"profile\", \"profiles\", \"promise ring\", \"promise rings\", \"ring\", \"rings\", \"rose-gold\", \"satin\", \"satin finish\", \"satin polish\", \"shiny\", \"small-widths\", \"stone-none\", \"style\", \"styles\", \"wedding\", \"wedding band\", \"wedding ring\", \"white-gold\", \"women\", \"women's\", \"women's band\", \"women's ring\", \"women's wedding band\", \"women's wedding ring\", \"womens profile\", \"womens rings\", \"yellow-gold\"]", "title": "The Stepped", "price": "$399", "image": {"src": "//hiholden.com/cdn/shop/products/Stepped_4.5mm_YG_Mirror_0a06f694-12be-4b47-8b35-fd99c2838c02.jpg?v=1670457208&width=900", "srcset": "//hiholden.com/cdn/shop/products/Stepped_4.5mm_YG_Mirror_0a06f694-12be-4b47-8b35-fd99c2838c02.jpg?v=1670457208&width=352 352w, //hiholden.com/cdn/shop/products/Stepped_4.5mm_YG_Mirror_0a06f694-12be-4b47-8b35-fd99c2838c02.jpg?v=1670457208&width=832 832w, //hiholden.com/cdn/shop/products/Stepped_4.5mm_YG_Mirror_0a06f694-12be-4b47-8b35-fd99c2838c02.jpg?v=1670457208&width=900 900w", "width": 900, "height": 720, "offset": -10 }, "image_secondary": { "src": "https://cdn.accentuate.io/4853855879250/1668139794271/Stepped_01.jpg?v=1668139794272", "width": 2000, "height": 1600, "alt": "" }, "options": [ { "variants": [ { "id": 33043501416530, "options": ["3mm","Yellow Gold","10k"], "url": "\/products\/the-stepped?variant=33043501416530", "image": {"src": "//hiholden.com/cdn/shop/products/Stepped_3mm_YG_Mirror_8f3ff8ad-55e9-437d-9c67-7ef137604c89.jpg?v=1670457208&width=900", "srcset": "//hiholden.com/cdn/shop/products/Stepped_3mm_YG_Mirror_8f3ff8ad-55e9-437d-9c67-7ef137604c89.jpg?v=1670457208&width=352 352w, //hiholden.com/cdn/shop/products/Stepped_3mm_YG_Mirror_8f3ff8ad-55e9-437d-9c67-7ef137604c89.jpg?v=1670457208&width=832 832w, //hiholden.com/cdn/shop/products/Stepped_3mm_YG_Mirror_8f3ff8ad-55e9-437d-9c67-7ef137604c89.jpg?v=1670457208&width=900 900w", "width": 900, "height": 720 } }, { "id": 33043500728402, "options": ["3mm","Yellow Gold","14k"], "url": "\/products\/the-stepped?variant=33043500728402", "image": {"src": "//hiholden.com/cdn/shop/products/Stepped_3mm_YG_Mirror_8f3ff8ad-55e9-437d-9c67-7ef137604c89.jpg?v=1670457208&width=900", "srcset": "//hiholden.com/cdn/shop/products/Stepped_3mm_YG_Mirror_8f3ff8ad-55e9-437d-9c67-7ef137604c89.jpg?v=1670457208&width=352 352w, //hiholden.com/cdn/shop/products/Stepped_3mm_YG_Mirror_8f3ff8ad-55e9-437d-9c67-7ef137604c89.jpg?v=1670457208&width=832 832w, //hiholden.com/cdn/shop/products/Stepped_3mm_YG_Mirror_8f3ff8ad-55e9-437d-9c67-7ef137604c89.jpg?v=1670457208&width=900 900w", "width": 900, "height": 720 } }, { "id": 33043500761170, "options": ["3mm","Yellow Gold","18k"], "url": "\/products\/the-stepped?variant=33043500761170", "image": {"src": "//hiholden.com/cdn/shop/products/Stepped_3mm_YG_Mirror_8f3ff8ad-55e9-437d-9c67-7ef137604c89.jpg?v=1670457208&width=900", "srcset": "//hiholden.com/cdn/shop/products/Stepped_3mm_YG_Mirror_8f3ff8ad-55e9-437d-9c67-7ef137604c89.jpg?v=1670457208&width=352 352w, //hiholden.com/cdn/shop/products/Stepped_3mm_YG_Mirror_8f3ff8ad-55e9-437d-9c67-7ef137604c89.jpg?v=1670457208&width=832 832w, //hiholden.com/cdn/shop/products/Stepped_3mm_YG_Mirror_8f3ff8ad-55e9-437d-9c67-7ef137604c89.jpg?v=1670457208&width=900 900w", "width": 900, "height": 720 } }, { "id": 33043501449298, "options": ["4.5mm","Yellow Gold","10k"], "url": "\/products\/the-stepped?variant=33043501449298", "image": {"src": "//hiholden.com/cdn/shop/products/Stepped_4.5mm_YG_Mirror_0a06f694-12be-4b47-8b35-fd99c2838c02.jpg?v=1670457208&width=900", "srcset": "//hiholden.com/cdn/shop/products/Stepped_4.5mm_YG_Mirror_0a06f694-12be-4b47-8b35-fd99c2838c02.jpg?v=1670457208&width=352 352w, //hiholden.com/cdn/shop/products/Stepped_4.5mm_YG_Mirror_0a06f694-12be-4b47-8b35-fd99c2838c02.jpg?v=1670457208&width=832 832w, //hiholden.com/cdn/shop/products/Stepped_4.5mm_YG_Mirror_0a06f694-12be-4b47-8b35-fd99c2838c02.jpg?v=1670457208&width=900 900w", "width": 900, "height": 720 } }, { "id": 33043501219922, "options": ["4.5mm","Yellow Gold","14k"], "url": "\/products\/the-stepped?variant=33043501219922", "image": {"src": "//hiholden.com/cdn/shop/products/Stepped_4.5mm_YG_Mirror_0a06f694-12be-4b47-8b35-fd99c2838c02.jpg?v=1670457208&width=900", "srcset": "//hiholden.com/cdn/shop/products/Stepped_4.5mm_YG_Mirror_0a06f694-12be-4b47-8b35-fd99c2838c02.jpg?v=1670457208&width=352 352w, //hiholden.com/cdn/shop/products/Stepped_4.5mm_YG_Mirror_0a06f694-12be-4b47-8b35-fd99c2838c02.jpg?v=1670457208&width=832 832w, //hiholden.com/cdn/shop/products/Stepped_4.5mm_YG_Mirror_0a06f694-12be-4b47-8b35-fd99c2838c02.jpg?v=1670457208&width=900 900w", "width": 900, "height": 720 } }, { "id": 33043501252690, "options": ["4.5mm","Yellow Gold","18k"], "url": "\/products\/the-stepped?variant=33043501252690", "image": {"src": "//hiholden.com/cdn/shop/products/Stepped_4.5mm_YG_Mirror_0a06f694-12be-4b47-8b35-fd99c2838c02.jpg?v=1670457208&width=900", "srcset": "//hiholden.com/cdn/shop/products/Stepped_4.5mm_YG_Mirror_0a06f694-12be-4b47-8b35-fd99c2838c02.jpg?v=1670457208&width=352 352w, //hiholden.com/cdn/shop/products/Stepped_4.5mm_YG_Mirror_0a06f694-12be-4b47-8b35-fd99c2838c02.jpg?v=1670457208&width=832 832w, //hiholden.com/cdn/shop/products/Stepped_4.5mm_YG_Mirror_0a06f694-12be-4b47-8b35-fd99c2838c02.jpg?v=1670457208&width=900 900w", "width": 900, "height": 720 } }, { "id": 33043501482066, "options": ["6mm","Yellow Gold","10k"], "url": "\/products\/the-stepped?variant=33043501482066", "image": {"src": "//hiholden.com/cdn/shop/products/Stepped_6mm_YG_Mirror_a5361610-2f80-4d69-8640-3c28b0318665.jpg?v=1669067417&width=900", "srcset": "//hiholden.com/cdn/shop/products/Stepped_6mm_YG_Mirror_a5361610-2f80-4d69-8640-3c28b0318665.jpg?v=1669067417&width=352 352w, //hiholden.com/cdn/shop/products/Stepped_6mm_YG_Mirror_a5361610-2f80-4d69-8640-3c28b0318665.jpg?v=1669067417&width=832 832w, //hiholden.com/cdn/shop/products/Stepped_6mm_YG_Mirror_a5361610-2f80-4d69-8640-3c28b0318665.jpg?v=1669067417&width=900 900w", "width": 900, "height": 720 } }, { "id": 33043500957778, "options": ["6mm","Yellow Gold","14k"], "url": "\/products\/the-stepped?variant=33043500957778", "image": {"src": "//hiholden.com/cdn/shop/products/Stepped_6mm_YG_Mirror_a5361610-2f80-4d69-8640-3c28b0318665.jpg?v=1669067417&width=900", "srcset": "//hiholden.com/cdn/shop/products/Stepped_6mm_YG_Mirror_a5361610-2f80-4d69-8640-3c28b0318665.jpg?v=1669067417&width=352 352w, //hiholden.com/cdn/shop/products/Stepped_6mm_YG_Mirror_a5361610-2f80-4d69-8640-3c28b0318665.jpg?v=1669067417&width=832 832w, //hiholden.com/cdn/shop/products/Stepped_6mm_YG_Mirror_a5361610-2f80-4d69-8640-3c28b0318665.jpg?v=1669067417&width=900 900w", "width": 900, "height": 720 } }, { "id": 33043500990546, "options": ["6mm","Yellow Gold","18k"], "url": "\/products\/the-stepped?variant=33043500990546", "image": {"src": "//hiholden.com/cdn/shop/products/Stepped_6mm_YG_Mirror_a5361610-2f80-4d69-8640-3c28b0318665.jpg?v=1669067417&width=900", "srcset": "//hiholden.com/cdn/shop/products/Stepped_6mm_YG_Mirror_a5361610-2f80-4d69-8640-3c28b0318665.jpg?v=1669067417&width=352 352w, //hiholden.com/cdn/shop/products/Stepped_6mm_YG_Mirror_a5361610-2f80-4d69-8640-3c28b0318665.jpg?v=1669067417&width=832 832w, //hiholden.com/cdn/shop/products/Stepped_6mm_YG_Mirror_a5361610-2f80-4d69-8640-3c28b0318665.jpg?v=1669067417&width=900 900w", "width": 900, "height": 720 } } ], "title": "Yellow Gold" }, { "variants": [ { "id": 33043501514834, "options": ["3mm","White Gold","10k"], "url": "\/products\/the-stepped?variant=33043501514834", "image": {"src": "//hiholden.com/cdn/shop/products/Stepped_3mm_WG_Mirror.jpg?v=1670457208&width=900", "srcset": "//hiholden.com/cdn/shop/products/Stepped_3mm_WG_Mirror.jpg?v=1670457208&width=352 352w, //hiholden.com/cdn/shop/products/Stepped_3mm_WG_Mirror.jpg?v=1670457208&width=832 832w, //hiholden.com/cdn/shop/products/Stepped_3mm_WG_Mirror.jpg?v=1670457208&width=900 900w", "width": 900, "height": 720 } }, { "id": 33043500859474, "options": ["3mm","White Gold","14k"], "url": "\/products\/the-stepped?variant=33043500859474", "image": {"src": "//hiholden.com/cdn/shop/products/Stepped_3mm_WG_Mirror.jpg?v=1670457208&width=900", "srcset": "//hiholden.com/cdn/shop/products/Stepped_3mm_WG_Mirror.jpg?v=1670457208&width=352 352w, //hiholden.com/cdn/shop/products/Stepped_3mm_WG_Mirror.jpg?v=1670457208&width=832 832w, //hiholden.com/cdn/shop/products/Stepped_3mm_WG_Mirror.jpg?v=1670457208&width=900 900w", "width": 900, "height": 720 } }, { "id": 33043500892242, "options": ["3mm","White Gold","18k"], "url": "\/products\/the-stepped?variant=33043500892242", "image": {"src": "//hiholden.com/cdn/shop/products/Stepped_3mm_WG_Mirror.jpg?v=1670457208&width=900", "srcset": "//hiholden.com/cdn/shop/products/Stepped_3mm_WG_Mirror.jpg?v=1670457208&width=352 352w, //hiholden.com/cdn/shop/products/Stepped_3mm_WG_Mirror.jpg?v=1670457208&width=832 832w, //hiholden.com/cdn/shop/products/Stepped_3mm_WG_Mirror.jpg?v=1670457208&width=900 900w", "width": 900, "height": 720 } }, { "id": 33043501547602, "options": ["4.5mm","White Gold","10k"], "url": "\/products\/the-stepped?variant=33043501547602", "image": {"src": "//hiholden.com/cdn/shop/products/Stepped_4.5mm_WG_Mirror.jpg?v=1670457208&width=900", "srcset": "//hiholden.com/cdn/shop/products/Stepped_4.5mm_WG_Mirror.jpg?v=1670457208&width=352 352w, //hiholden.com/cdn/shop/products/Stepped_4.5mm_WG_Mirror.jpg?v=1670457208&width=832 832w, //hiholden.com/cdn/shop/products/Stepped_4.5mm_WG_Mirror.jpg?v=1670457208&width=900 900w", "width": 900, "height": 720 } }, { "id": 33043501350994, "options": ["4.5mm","White Gold","14k"], "url": "\/products\/the-stepped?variant=33043501350994", "image": {"src": "//hiholden.com/cdn/shop/products/Stepped_4.5mm_WG_Mirror.jpg?v=1670457208&width=900", "srcset": "//hiholden.com/cdn/shop/products/Stepped_4.5mm_WG_Mirror.jpg?v=1670457208&width=352 352w, //hiholden.com/cdn/shop/products/Stepped_4.5mm_WG_Mirror.jpg?v=1670457208&width=832 832w, //hiholden.com/cdn/shop/products/Stepped_4.5mm_WG_Mirror.jpg?v=1670457208&width=900 900w", "width": 900, "height": 720 } }, { "id": 33043501383762, "options": ["4.5mm","White Gold","18k"], "url": "\/products\/the-stepped?variant=33043501383762", "image": {"src": "//hiholden.com/cdn/shop/products/Stepped_4.5mm_WG_Mirror.jpg?v=1670457208&width=900", "srcset": "//hiholden.com/cdn/shop/products/Stepped_4.5mm_WG_Mirror.jpg?v=1670457208&width=352 352w, //hiholden.com/cdn/shop/products/Stepped_4.5mm_WG_Mirror.jpg?v=1670457208&width=832 832w, //hiholden.com/cdn/shop/products/Stepped_4.5mm_WG_Mirror.jpg?v=1670457208&width=900 900w", "width": 900, "height": 720 } }, { "id": 33043501580370, "options": ["6mm","White Gold","10k"], "url": "\/products\/the-stepped?variant=33043501580370", "image": {"src": "//hiholden.com/cdn/shop/products/Stepped_6mm_WG_Mirror.jpg?v=1669067419&width=900", "srcset": "//hiholden.com/cdn/shop/products/Stepped_6mm_WG_Mirror.jpg?v=1669067419&width=352 352w, //hiholden.com/cdn/shop/products/Stepped_6mm_WG_Mirror.jpg?v=1669067419&width=832 832w, //hiholden.com/cdn/shop/products/Stepped_6mm_WG_Mirror.jpg?v=1669067419&width=900 900w", "width": 900, "height": 720 } }, { "id": 33043501088850, "options": ["6mm","White Gold","14k"], "url": "\/products\/the-stepped?variant=33043501088850", "image": {"src": "//hiholden.com/cdn/shop/products/Stepped_6mm_WG_Mirror.jpg?v=1669067419&width=900", "srcset": "//hiholden.com/cdn/shop/products/Stepped_6mm_WG_Mirror.jpg?v=1669067419&width=352 352w, //hiholden.com/cdn/shop/products/Stepped_6mm_WG_Mirror.jpg?v=1669067419&width=832 832w, //hiholden.com/cdn/shop/products/Stepped_6mm_WG_Mirror.jpg?v=1669067419&width=900 900w", "width": 900, "height": 720 } }, { "id": 33043501121618, "options": ["6mm","White Gold","18k"], "url": "\/products\/the-stepped?variant=33043501121618", "image": {"src": "//hiholden.com/cdn/shop/products/Stepped_6mm_WG_Mirror.jpg?v=1669067419&width=900", "srcset": "//hiholden.com/cdn/shop/products/Stepped_6mm_WG_Mirror.jpg?v=1669067419&width=352 352w, //hiholden.com/cdn/shop/products/Stepped_6mm_WG_Mirror.jpg?v=1669067419&width=832 832w, //hiholden.com/cdn/shop/products/Stepped_6mm_WG_Mirror.jpg?v=1669067419&width=900 900w", "width": 900, "height": 720 } } ], "title": "White Gold" }, { "variants": [ { "id": 33043501613138, "options": ["3mm","Rose Gold","10k"], "url": "\/products\/the-stepped?variant=33043501613138", "image": {"src": "//hiholden.com/cdn/shop/products/Stepped_3mm_RG_Mirror_64ab58e6-8159-4bc7-aa33-a93a07a02a92.jpg?v=1670457208&width=900", "srcset": "//hiholden.com/cdn/shop/products/Stepped_3mm_RG_Mirror_64ab58e6-8159-4bc7-aa33-a93a07a02a92.jpg?v=1670457208&width=352 352w, //hiholden.com/cdn/shop/products/Stepped_3mm_RG_Mirror_64ab58e6-8159-4bc7-aa33-a93a07a02a92.jpg?v=1670457208&width=832 832w, //hiholden.com/cdn/shop/products/Stepped_3mm_RG_Mirror_64ab58e6-8159-4bc7-aa33-a93a07a02a92.jpg?v=1670457208&width=900 900w", "width": 900, "height": 720 } }, { "id": 33043500793938, "options": ["3mm","Rose Gold","14k"], "url": "\/products\/the-stepped?variant=33043500793938", "image": {"src": "//hiholden.com/cdn/shop/products/Stepped_3mm_RG_Mirror_64ab58e6-8159-4bc7-aa33-a93a07a02a92.jpg?v=1670457208&width=900", "srcset": "//hiholden.com/cdn/shop/products/Stepped_3mm_RG_Mirror_64ab58e6-8159-4bc7-aa33-a93a07a02a92.jpg?v=1670457208&width=352 352w, //hiholden.com/cdn/shop/products/Stepped_3mm_RG_Mirror_64ab58e6-8159-4bc7-aa33-a93a07a02a92.jpg?v=1670457208&width=832 832w, //hiholden.com/cdn/shop/products/Stepped_3mm_RG_Mirror_64ab58e6-8159-4bc7-aa33-a93a07a02a92.jpg?v=1670457208&width=900 900w", "width": 900, "height": 720 } }, { "id": 33043500826706, "options": ["3mm","Rose Gold","18k"], "url": "\/products\/the-stepped?variant=33043500826706", "image": {"src": "//hiholden.com/cdn/shop/products/Stepped_3mm_RG_Mirror_64ab58e6-8159-4bc7-aa33-a93a07a02a92.jpg?v=1670457208&width=900", "srcset": "//hiholden.com/cdn/shop/products/Stepped_3mm_RG_Mirror_64ab58e6-8159-4bc7-aa33-a93a07a02a92.jpg?v=1670457208&width=352 352w, //hiholden.com/cdn/shop/products/Stepped_3mm_RG_Mirror_64ab58e6-8159-4bc7-aa33-a93a07a02a92.jpg?v=1670457208&width=832 832w, //hiholden.com/cdn/shop/products/Stepped_3mm_RG_Mirror_64ab58e6-8159-4bc7-aa33-a93a07a02a92.jpg?v=1670457208&width=900 900w", "width": 900, "height": 720 } }, { "id": 33043501645906, "options": ["4.5mm","Rose Gold","10k"], "url": "\/products\/the-stepped?variant=33043501645906", "image": {"src": "//hiholden.com/cdn/shop/products/Stepped_4.5mm_RG_Mirror_6e409690-e6ff-4d61-a29a-0c7a2d947f70.jpg?v=1670457208&width=900", "srcset": "//hiholden.com/cdn/shop/products/Stepped_4.5mm_RG_Mirror_6e409690-e6ff-4d61-a29a-0c7a2d947f70.jpg?v=1670457208&width=352 352w, //hiholden.com/cdn/shop/products/Stepped_4.5mm_RG_Mirror_6e409690-e6ff-4d61-a29a-0c7a2d947f70.jpg?v=1670457208&width=832 832w, //hiholden.com/cdn/shop/products/Stepped_4.5mm_RG_Mirror_6e409690-e6ff-4d61-a29a-0c7a2d947f70.jpg?v=1670457208&width=900 900w", "width": 900, "height": 720 } }, { "id": 33043501285458, "options": ["4.5mm","Rose Gold","14k"], "url": "\/products\/the-stepped?variant=33043501285458", "image": {"src": "//hiholden.com/cdn/shop/products/Stepped_4.5mm_RG_Mirror_6e409690-e6ff-4d61-a29a-0c7a2d947f70.jpg?v=1670457208&width=900", "srcset": "//hiholden.com/cdn/shop/products/Stepped_4.5mm_RG_Mirror_6e409690-e6ff-4d61-a29a-0c7a2d947f70.jpg?v=1670457208&width=352 352w, //hiholden.com/cdn/shop/products/Stepped_4.5mm_RG_Mirror_6e409690-e6ff-4d61-a29a-0c7a2d947f70.jpg?v=1670457208&width=832 832w, //hiholden.com/cdn/shop/products/Stepped_4.5mm_RG_Mirror_6e409690-e6ff-4d61-a29a-0c7a2d947f70.jpg?v=1670457208&width=900 900w", "width": 900, "height": 720 } }, { "id": 33043501318226, "options": ["4.5mm","Rose Gold","18k"], "url": "\/products\/the-stepped?variant=33043501318226", "image": {"src": "//hiholden.com/cdn/shop/products/Stepped_4.5mm_RG_Mirror_6e409690-e6ff-4d61-a29a-0c7a2d947f70.jpg?v=1670457208&width=900", "srcset": "//hiholden.com/cdn/shop/products/Stepped_4.5mm_RG_Mirror_6e409690-e6ff-4d61-a29a-0c7a2d947f70.jpg?v=1670457208&width=352 352w, //hiholden.com/cdn/shop/products/Stepped_4.5mm_RG_Mirror_6e409690-e6ff-4d61-a29a-0c7a2d947f70.jpg?v=1670457208&width=832 832w, //hiholden.com/cdn/shop/products/Stepped_4.5mm_RG_Mirror_6e409690-e6ff-4d61-a29a-0c7a2d947f70.jpg?v=1670457208&width=900 900w", "width": 900, "height": 720 } }, { "id": 33043501678674, "options": ["6mm","Rose Gold","10k"], "url": "\/products\/the-stepped?variant=33043501678674", "image": {"src": "//hiholden.com/cdn/shop/products/Stepped_6mm_RG_Mirror_0fa5f6fc-5557-47b9-968e-a8e614a0f424.jpg?v=1669067416&width=900", "srcset": "//hiholden.com/cdn/shop/products/Stepped_6mm_RG_Mirror_0fa5f6fc-5557-47b9-968e-a8e614a0f424.jpg?v=1669067416&width=352 352w, //hiholden.com/cdn/shop/products/Stepped_6mm_RG_Mirror_0fa5f6fc-5557-47b9-968e-a8e614a0f424.jpg?v=1669067416&width=832 832w, //hiholden.com/cdn/shop/products/Stepped_6mm_RG_Mirror_0fa5f6fc-5557-47b9-968e-a8e614a0f424.jpg?v=1669067416&width=900 900w", "width": 900, "height": 720 } }, { "id": 33043501023314, "options": ["6mm","Rose Gold","14k"], "url": "\/products\/the-stepped?variant=33043501023314", "image": {"src": "//hiholden.com/cdn/shop/products/Stepped_6mm_RG_Mirror_0fa5f6fc-5557-47b9-968e-a8e614a0f424.jpg?v=1669067416&width=900", "srcset": "//hiholden.com/cdn/shop/products/Stepped_6mm_RG_Mirror_0fa5f6fc-5557-47b9-968e-a8e614a0f424.jpg?v=1669067416&width=352 352w, //hiholden.com/cdn/shop/products/Stepped_6mm_RG_Mirror_0fa5f6fc-5557-47b9-968e-a8e614a0f424.jpg?v=1669067416&width=832 832w, //hiholden.com/cdn/shop/products/Stepped_6mm_RG_Mirror_0fa5f6fc-5557-47b9-968e-a8e614a0f424.jpg?v=1669067416&width=900 900w", "width": 900, "height": 720 } }, { "id": 33043501056082, "options": ["6mm","Rose Gold","18k"], "url": "\/products\/the-stepped?variant=33043501056082", "image": {"src": "//hiholden.com/cdn/shop/products/Stepped_6mm_RG_Mirror_0fa5f6fc-5557-47b9-968e-a8e614a0f424.jpg?v=1669067416&width=900", "srcset": "//hiholden.com/cdn/shop/products/Stepped_6mm_RG_Mirror_0fa5f6fc-5557-47b9-968e-a8e614a0f424.jpg?v=1669067416&width=352 352w, //hiholden.com/cdn/shop/products/Stepped_6mm_RG_Mirror_0fa5f6fc-5557-47b9-968e-a8e614a0f424.jpg?v=1669067416&width=832 832w, //hiholden.com/cdn/shop/products/Stepped_6mm_RG_Mirror_0fa5f6fc-5557-47b9-968e-a8e614a0f424.jpg?v=1669067416&width=900 900w", "width": 900, "height": 720 } } ], "title": "Rose Gold" }, { "variants": [ { "id": 33043500925010, "options": ["3mm","Platinum","NA"], "url": "\/products\/the-stepped?variant=33043500925010", "image": {"src": "//hiholden.com/cdn/shop/products/Stepped_3mm_WG_Mirror.jpg?v=1670457208&width=900", "srcset": "//hiholden.com/cdn/shop/products/Stepped_3mm_WG_Mirror.jpg?v=1670457208&width=352 352w, //hiholden.com/cdn/shop/products/Stepped_3mm_WG_Mirror.jpg?v=1670457208&width=832 832w, //hiholden.com/cdn/shop/products/Stepped_3mm_WG_Mirror.jpg?v=1670457208&width=900 900w", "width": 900, "height": 720 } }, { "id": 33043501187154, "options": ["4.5mm","Platinum","NA"], "url": "\/products\/the-stepped?variant=33043501187154", "image": {"src": "//hiholden.com/cdn/shop/products/Stepped_4.5mm_WG_Mirror.jpg?v=1670457208&width=900", "srcset": "//hiholden.com/cdn/shop/products/Stepped_4.5mm_WG_Mirror.jpg?v=1670457208&width=352 352w, //hiholden.com/cdn/shop/products/Stepped_4.5mm_WG_Mirror.jpg?v=1670457208&width=832 832w, //hiholden.com/cdn/shop/products/Stepped_4.5mm_WG_Mirror.jpg?v=1670457208&width=900 900w", "width": 900, "height": 720 } }, { "id": 33043501154386, "options": ["6mm","Platinum","NA"], "url": "\/products\/the-stepped?variant=33043501154386", "image": {"src": "//hiholden.com/cdn/shop/products/Stepped_6mm_WG_Mirror.jpg?v=1669067419&width=900", "srcset": "//hiholden.com/cdn/shop/products/Stepped_6mm_WG_Mirror.jpg?v=1669067419&width=352 352w, //hiholden.com/cdn/shop/products/Stepped_6mm_WG_Mirror.jpg?v=1669067419&width=832 832w, //hiholden.com/cdn/shop/products/Stepped_6mm_WG_Mirror.jpg?v=1669067419&width=900 900w", "width": 900, "height": 720 } } ], "title": "Platinum" } ] }, "productOne": { "firstVariant": 33053291479122, "defaultVariant": 33053291741266, "id": 4856866865234, "url": "\/products\/the-full-column-baguette", "tags": "[\"14 karat\", \"18 karat\", \"anniversary\", \"anniversary ring\", \"anniversary rings\", \"anniversary stack\", \"band\", \"bands\", \"design studio\", \"engagement rings\", \"eternity\", \"eternity band\", \"eternity bands\", \"eternity ring\", \"eternity rings\", \"full eternity band\", \"high polish\", \"infinity\", \"infinity band\", \"infinity ring\", \"large-widths\", \"men\", \"men's\", \"men's wedding band\", \"men's wedding ring\", \"mens band\", \"mens profile\", \"mens ring\", \"mens rings\", \"mirror\", \"mirror finish\", \"mirrored\", \"north south\", \"platinum\", \"polish\", \"polished\", \"profile\", \"profiles\", \"promise ring\", \"promise rings\", \"ring\", \"rings\", \"rose-gold\", \"shiny\", \"small-widths\", \"stone-baguette\", \"style\", \"styles\", \"vertical baguette\", \"wedding\", \"wedding band\", \"wedding ring\", \"white-gold\", \"women\", \"women's\", \"women's band\", \"women's ring\", \"women's wedding band\", \"women's wedding ring\", \"womens profile\", \"womens rings\", \"yellow-gold\"]", "title": "The Full Column Baguette", "price": "$1,599", "image": {"src": "//hiholden.com/cdn/shop/products/Column_Baguette_Full_4mm_YG_Mirror.jpg?v=1670456805&width=900", "srcset": "//hiholden.com/cdn/shop/products/Column_Baguette_Full_4mm_YG_Mirror.jpg?v=1670456805&width=352 352w, //hiholden.com/cdn/shop/products/Column_Baguette_Full_4mm_YG_Mirror.jpg?v=1670456805&width=832 832w, //hiholden.com/cdn/shop/products/Column_Baguette_Full_4mm_YG_Mirror.jpg?v=1670456805&width=900 900w", "width": 900, "height": 720, "offset": -10 }, "image_secondary": { "src": "https://cdn.accentuate.io/4856866865234/1668710211755/Column_01.jpg?v=1668710211755", "width": 2000, "height": 1600, "alt": "\\ alt : Model wearing Holden's Column Baguette wedding band. \\ light \\ \\ width : 3mm" }, "options": [ { "variants": [ { "id": 33053291479122, "options": ["3mm","Yellow Gold","14k"], "url": "\/products\/the-full-column-baguette?variant=33053291479122", "image": {"src": "//hiholden.com/cdn/shop/products/Column_Baguette_Full_3mm_YG_Mirror.jpg?v=1670456805&width=900", "srcset": "//hiholden.com/cdn/shop/products/Column_Baguette_Full_3mm_YG_Mirror.jpg?v=1670456805&width=352 352w, //hiholden.com/cdn/shop/products/Column_Baguette_Full_3mm_YG_Mirror.jpg?v=1670456805&width=832 832w, //hiholden.com/cdn/shop/products/Column_Baguette_Full_3mm_YG_Mirror.jpg?v=1670456805&width=900 900w", "width": 900, "height": 720 } }, { "id": 33053291511890, "options": ["3mm","Yellow Gold","18k"], "url": "\/products\/the-full-column-baguette?variant=33053291511890", "image": {"src": "//hiholden.com/cdn/shop/products/Column_Baguette_Full_3mm_YG_Mirror.jpg?v=1670456805&width=900", "srcset": "//hiholden.com/cdn/shop/products/Column_Baguette_Full_3mm_YG_Mirror.jpg?v=1670456805&width=352 352w, //hiholden.com/cdn/shop/products/Column_Baguette_Full_3mm_YG_Mirror.jpg?v=1670456805&width=832 832w, //hiholden.com/cdn/shop/products/Column_Baguette_Full_3mm_YG_Mirror.jpg?v=1670456805&width=900 900w", "width": 900, "height": 720 } }, { "id": 33053291741266, "options": ["4mm","Yellow Gold","14k"], "url": "\/products\/the-full-column-baguette?variant=33053291741266", "image": {"src": "//hiholden.com/cdn/shop/products/Column_Baguette_Full_4mm_YG_Mirror.jpg?v=1670456805&width=900", "srcset": "//hiholden.com/cdn/shop/products/Column_Baguette_Full_4mm_YG_Mirror.jpg?v=1670456805&width=352 352w, //hiholden.com/cdn/shop/products/Column_Baguette_Full_4mm_YG_Mirror.jpg?v=1670456805&width=832 832w, //hiholden.com/cdn/shop/products/Column_Baguette_Full_4mm_YG_Mirror.jpg?v=1670456805&width=900 900w", "width": 900, "height": 720 } }, { "id": 33053291774034, "options": ["4mm","Yellow Gold","18k"], "url": "\/products\/the-full-column-baguette?variant=33053291774034", "image": {"src": "//hiholden.com/cdn/shop/products/Column_Baguette_Full_4mm_YG_Mirror.jpg?v=1670456805&width=900", "srcset": "//hiholden.com/cdn/shop/products/Column_Baguette_Full_4mm_YG_Mirror.jpg?v=1670456805&width=352 352w, //hiholden.com/cdn/shop/products/Column_Baguette_Full_4mm_YG_Mirror.jpg?v=1670456805&width=832 832w, //hiholden.com/cdn/shop/products/Column_Baguette_Full_4mm_YG_Mirror.jpg?v=1670456805&width=900 900w", "width": 900, "height": 720 } }, { "id": 39515754856530, "options": ["5mm","Yellow Gold","14k"], "url": "\/products\/the-full-column-baguette?variant=39515754856530", "image": {"src": "//hiholden.com/cdn/shop/products/Column_Baguette_Full_5mm_YG_Mirror.jpg?v=1669224271&width=900", "srcset": "//hiholden.com/cdn/shop/products/Column_Baguette_Full_5mm_YG_Mirror.jpg?v=1669224271&width=352 352w, //hiholden.com/cdn/shop/products/Column_Baguette_Full_5mm_YG_Mirror.jpg?v=1669224271&width=832 832w, //hiholden.com/cdn/shop/products/Column_Baguette_Full_5mm_YG_Mirror.jpg?v=1669224271&width=900 900w", "width": 900, "height": 720 } }, { "id": 39515755085906, "options": ["5mm","Yellow Gold","18k"], "url": "\/products\/the-full-column-baguette?variant=39515755085906", "image": {"src": "//hiholden.com/cdn/shop/products/Column_Baguette_Full_5mm_YG_Mirror.jpg?v=1669224271&width=900", "srcset": "//hiholden.com/cdn/shop/products/Column_Baguette_Full_5mm_YG_Mirror.jpg?v=1669224271&width=352 352w, //hiholden.com/cdn/shop/products/Column_Baguette_Full_5mm_YG_Mirror.jpg?v=1669224271&width=832 832w, //hiholden.com/cdn/shop/products/Column_Baguette_Full_5mm_YG_Mirror.jpg?v=1669224271&width=900 900w", "width": 900, "height": 720 } } ], "title": "Yellow Gold" }, { "variants": [ { "id": 33053291642962, "options": ["3mm","White Gold","14k"], "url": "\/products\/the-full-column-baguette?variant=33053291642962", "image": {"src": "//hiholden.com/cdn/shop/products/Column_Baguette_Full_3mm_WG_Mirror.jpg?v=1670456805&width=900", "srcset": "//hiholden.com/cdn/shop/products/Column_Baguette_Full_3mm_WG_Mirror.jpg?v=1670456805&width=352 352w, //hiholden.com/cdn/shop/products/Column_Baguette_Full_3mm_WG_Mirror.jpg?v=1670456805&width=832 832w, //hiholden.com/cdn/shop/products/Column_Baguette_Full_3mm_WG_Mirror.jpg?v=1670456805&width=900 900w", "width": 900, "height": 720 } }, { "id": 33053291675730, "options": ["3mm","White Gold","18k"], "url": "\/products\/the-full-column-baguette?variant=33053291675730", "image": {"src": "//hiholden.com/cdn/shop/products/Column_Baguette_Full_3mm_WG_Mirror.jpg?v=1670456805&width=900", "srcset": "//hiholden.com/cdn/shop/products/Column_Baguette_Full_3mm_WG_Mirror.jpg?v=1670456805&width=352 352w, //hiholden.com/cdn/shop/products/Column_Baguette_Full_3mm_WG_Mirror.jpg?v=1670456805&width=832 832w, //hiholden.com/cdn/shop/products/Column_Baguette_Full_3mm_WG_Mirror.jpg?v=1670456805&width=900 900w", "width": 900, "height": 720 } }, { "id": 33053291872338, "options": ["4mm","White Gold","14k"], "url": "\/products\/the-full-column-baguette?variant=33053291872338", "image": {"src": "//hiholden.com/cdn/shop/products/Column_Baguette_Full_4mm_WG_Mirror.jpg?v=1670456805&width=900", "srcset": "//hiholden.com/cdn/shop/products/Column_Baguette_Full_4mm_WG_Mirror.jpg?v=1670456805&width=352 352w, //hiholden.com/cdn/shop/products/Column_Baguette_Full_4mm_WG_Mirror.jpg?v=1670456805&width=832 832w, //hiholden.com/cdn/shop/products/Column_Baguette_Full_4mm_WG_Mirror.jpg?v=1670456805&width=900 900w", "width": 900, "height": 720 } }, { "id": 33053291905106, "options": ["4mm","White Gold","18k"], "url": "\/products\/the-full-column-baguette?variant=33053291905106", "image": {"src": "//hiholden.com/cdn/shop/products/Column_Baguette_Full_4mm_WG_Mirror.jpg?v=1670456805&width=900", "srcset": "//hiholden.com/cdn/shop/products/Column_Baguette_Full_4mm_WG_Mirror.jpg?v=1670456805&width=352 352w, //hiholden.com/cdn/shop/products/Column_Baguette_Full_4mm_WG_Mirror.jpg?v=1670456805&width=832 832w, //hiholden.com/cdn/shop/products/Column_Baguette_Full_4mm_WG_Mirror.jpg?v=1670456805&width=900 900w", "width": 900, "height": 720 } }, { "id": 39515755446354, "options": ["5mm","White Gold","14k"], "url": "\/products\/the-full-column-baguette?variant=39515755446354", "image": {"src": "//hiholden.com/cdn/shop/products/Column_Baguette_Full_5mm_WG_Mirror.jpg?v=1669224271&width=900", "srcset": "//hiholden.com/cdn/shop/products/Column_Baguette_Full_5mm_WG_Mirror.jpg?v=1669224271&width=352 352w, //hiholden.com/cdn/shop/products/Column_Baguette_Full_5mm_WG_Mirror.jpg?v=1669224271&width=832 832w, //hiholden.com/cdn/shop/products/Column_Baguette_Full_5mm_WG_Mirror.jpg?v=1669224271&width=900 900w", "width": 900, "height": 720 } }, { "id": 39515755872338, "options": ["5mm","White Gold","18k"], "url": "\/products\/the-full-column-baguette?variant=39515755872338", "image": {"src": "//hiholden.com/cdn/shop/products/Column_Baguette_Full_5mm_WG_Mirror.jpg?v=1669224271&width=900", "srcset": "//hiholden.com/cdn/shop/products/Column_Baguette_Full_5mm_WG_Mirror.jpg?v=1669224271&width=352 352w, //hiholden.com/cdn/shop/products/Column_Baguette_Full_5mm_WG_Mirror.jpg?v=1669224271&width=832 832w, //hiholden.com/cdn/shop/products/Column_Baguette_Full_5mm_WG_Mirror.jpg?v=1669224271&width=900 900w", "width": 900, "height": 720 } } ], "title": "White Gold" }, { "variants": [ { "id": 33053291544658, "options": ["3mm","Rose Gold","14k"], "url": "\/products\/the-full-column-baguette?variant=33053291544658", "image": {"src": "//hiholden.com/cdn/shop/products/Column_Baguette_Full_3mm_RG_Mirror.jpg?v=1670456805&width=900", "srcset": "//hiholden.com/cdn/shop/products/Column_Baguette_Full_3mm_RG_Mirror.jpg?v=1670456805&width=352 352w, //hiholden.com/cdn/shop/products/Column_Baguette_Full_3mm_RG_Mirror.jpg?v=1670456805&width=832 832w, //hiholden.com/cdn/shop/products/Column_Baguette_Full_3mm_RG_Mirror.jpg?v=1670456805&width=900 900w", "width": 900, "height": 720 } }, { "id": 33053291610194, "options": ["3mm","Rose Gold","18k"], "url": "\/products\/the-full-column-baguette?variant=33053291610194", "image": {"src": "//hiholden.com/cdn/shop/products/Column_Baguette_Full_3mm_RG_Mirror.jpg?v=1670456805&width=900", "srcset": "//hiholden.com/cdn/shop/products/Column_Baguette_Full_3mm_RG_Mirror.jpg?v=1670456805&width=352 352w, //hiholden.com/cdn/shop/products/Column_Baguette_Full_3mm_RG_Mirror.jpg?v=1670456805&width=832 832w, //hiholden.com/cdn/shop/products/Column_Baguette_Full_3mm_RG_Mirror.jpg?v=1670456805&width=900 900w", "width": 900, "height": 720 } }, { "id": 33053291806802, "options": ["4mm","Rose Gold","14k"], "url": "\/products\/the-full-column-baguette?variant=33053291806802", "image": {"src": "//hiholden.com/cdn/shop/products/Column_Baguette_Full_4mm_RG_Mirror.jpg?v=1670456805&width=900", "srcset": "//hiholden.com/cdn/shop/products/Column_Baguette_Full_4mm_RG_Mirror.jpg?v=1670456805&width=352 352w, //hiholden.com/cdn/shop/products/Column_Baguette_Full_4mm_RG_Mirror.jpg?v=1670456805&width=832 832w, //hiholden.com/cdn/shop/products/Column_Baguette_Full_4mm_RG_Mirror.jpg?v=1670456805&width=900 900w", "width": 900, "height": 720 } }, { "id": 33053291839570, "options": ["4mm","Rose Gold","18k"], "url": "\/products\/the-full-column-baguette?variant=33053291839570", "image": {"src": "//hiholden.com/cdn/shop/products/Column_Baguette_Full_4mm_RG_Mirror.jpg?v=1670456805&width=900", "srcset": "//hiholden.com/cdn/shop/products/Column_Baguette_Full_4mm_RG_Mirror.jpg?v=1670456805&width=352 352w, //hiholden.com/cdn/shop/products/Column_Baguette_Full_4mm_RG_Mirror.jpg?v=1670456805&width=832 832w, //hiholden.com/cdn/shop/products/Column_Baguette_Full_4mm_RG_Mirror.jpg?v=1670456805&width=900 900w", "width": 900, "height": 720 } }, { "id": 39515755315282, "options": ["5mm","Rose Gold","14k"], "url": "\/products\/the-full-column-baguette?variant=39515755315282", "image": {"src": "//hiholden.com/cdn/shop/products/Column_Baguette_Full_5mm_RG_Mirror.jpg?v=1669224271&width=900", "srcset": "//hiholden.com/cdn/shop/products/Column_Baguette_Full_5mm_RG_Mirror.jpg?v=1669224271&width=352 352w, //hiholden.com/cdn/shop/products/Column_Baguette_Full_5mm_RG_Mirror.jpg?v=1669224271&width=832 832w, //hiholden.com/cdn/shop/products/Column_Baguette_Full_5mm_RG_Mirror.jpg?v=1669224271&width=900 900w", "width": 900, "height": 720 } }, { "id": 39515761049682, "options": ["5mm","Rose Gold","18k"], "url": "\/products\/the-full-column-baguette?variant=39515761049682", "image": {"src": "//hiholden.com/cdn/shop/products/Column_Baguette_Full_5mm_RG_Mirror.jpg?v=1669224271&width=900", "srcset": "//hiholden.com/cdn/shop/products/Column_Baguette_Full_5mm_RG_Mirror.jpg?v=1669224271&width=352 352w, //hiholden.com/cdn/shop/products/Column_Baguette_Full_5mm_RG_Mirror.jpg?v=1669224271&width=832 832w, //hiholden.com/cdn/shop/products/Column_Baguette_Full_5mm_RG_Mirror.jpg?v=1669224271&width=900 900w", "width": 900, "height": 720 } } ], "title": "Rose Gold" }, { "variants": [ { "id": 33053291708498, "options": ["3mm","Platinum","NA"], "url": "\/products\/the-full-column-baguette?variant=33053291708498", "image": {"src": "//hiholden.com/cdn/shop/products/Column_Baguette_Full_3mm_WG_Mirror.jpg?v=1670456805&width=900", "srcset": "//hiholden.com/cdn/shop/products/Column_Baguette_Full_3mm_WG_Mirror.jpg?v=1670456805&width=352 352w, //hiholden.com/cdn/shop/products/Column_Baguette_Full_3mm_WG_Mirror.jpg?v=1670456805&width=832 832w, //hiholden.com/cdn/shop/products/Column_Baguette_Full_3mm_WG_Mirror.jpg?v=1670456805&width=900 900w", "width": 900, "height": 720 } }, { "id": 33053291937874, "options": ["4mm","Platinum","NA"], "url": "\/products\/the-full-column-baguette?variant=33053291937874", "image": {"src": "//hiholden.com/cdn/shop/products/Column_Baguette_Full_4mm_WG_Mirror.jpg?v=1670456805&width=900", "srcset": "//hiholden.com/cdn/shop/products/Column_Baguette_Full_4mm_WG_Mirror.jpg?v=1670456805&width=352 352w, //hiholden.com/cdn/shop/products/Column_Baguette_Full_4mm_WG_Mirror.jpg?v=1670456805&width=832 832w, //hiholden.com/cdn/shop/products/Column_Baguette_Full_4mm_WG_Mirror.jpg?v=1670456805&width=900 900w", "width": 900, "height": 720 } }, { "id": 39515756757074, "options": ["5mm","Platinum","NA"], "url": "\/products\/the-full-column-baguette?variant=39515756757074", "image": {"src": "//hiholden.com/cdn/shop/products/Column_Baguette_Full_5mm_WG_Mirror.jpg?v=1669224271&width=900", "srcset": "//hiholden.com/cdn/shop/products/Column_Baguette_Full_5mm_WG_Mirror.jpg?v=1669224271&width=352 352w, //hiholden.com/cdn/shop/products/Column_Baguette_Full_5mm_WG_Mirror.jpg?v=1669224271&width=832 832w, //hiholden.com/cdn/shop/products/Column_Baguette_Full_5mm_WG_Mirror.jpg?v=1669224271&width=900 900w", "width": 900, "height": 720 } } ], "title": "Platinum" } ] } }, { "names": "Trish \u0026 Matt", "image": {"src": "//hiholden.com/cdn/shop/files/Trish_Matt.jpg?v=1668461552&width=900", "srcset": "//hiholden.com/cdn/shop/files/Trish_Matt.jpg?v=1668461552&width=352 352w, //hiholden.com/cdn/shop/files/Trish_Matt.jpg?v=1668461552&width=832 832w, //hiholden.com/cdn/shop/files/Trish_Matt.jpg?v=1668461552&width=900 900w", "width": 900, "height": 1171 }, "productTwo": { "firstVariant": 12973894697042, "defaultVariant": 12800860422226, "id": 193433337874, "url": "\/products\/faceted-profile", "tags": "[\"10 karat\", \"14 karat\", \"18 karat\", \"anniversary\", \"anniversary ring\", \"anniversary rings\", \"anniversary stack\", \"band\", \"bands\", \"brushed\", \"brushed finish\", \"brushed polish\", \"design studio\", \"engravable\", \"engrave\", \"engraveable\", \"engraved\", \"engraving\", \"engravings\", \"high polish\", \"large-widths\", \"matte\", \"matte finish\", \"matte polish\", \"matted\", \"men\", \"men's\", \"men's wedding band\", \"men's wedding ring\", \"mens band\", \"mens profile\", \"mens ring\", \"mens rings\", \"mirror\", \"mirror finish\", \"mirrored\", \"personalization\", \"personalized\", \"platinum\", \"polish\", \"polished\", \"profile\", \"profiles\", \"promise ring\", \"promise rings\", \"ring\", \"rings\", \"rose-gold\", \"satin\", \"satin finish\", \"satin polish\", \"shiny\", \"small-widths\", \"stone-none\", \"style\", \"styles\", \"wedding\", \"wedding band\", \"wedding ring\", \"white-gold\", \"women\", \"women's\", \"women's band\", \"women's ring\", \"women's wedding band\", \"women's wedding ring\", \"womens profile\", \"womens rings\", \"yellow-gold\"]", "title": "The Faceted", "price": "$449", "image": {"src": "//hiholden.com/cdn/shop/products/Faceted_4.5mm_YG_Mirror_8b707bb2-7752-45a0-907a-52c46e492e66.jpg?v=1670456629&width=900", "srcset": "//hiholden.com/cdn/shop/products/Faceted_4.5mm_YG_Mirror_8b707bb2-7752-45a0-907a-52c46e492e66.jpg?v=1670456629&width=352 352w, //hiholden.com/cdn/shop/products/Faceted_4.5mm_YG_Mirror_8b707bb2-7752-45a0-907a-52c46e492e66.jpg?v=1670456629&width=832 832w, //hiholden.com/cdn/shop/products/Faceted_4.5mm_YG_Mirror_8b707bb2-7752-45a0-907a-52c46e492e66.jpg?v=1670456629&width=900 900w", "width": 900, "height": 720, "offset": -10 }, "image_secondary": { "src": "https://cdn.accentuate.io/193433337874/1668141673101/Faceted_01.jpg?v=1668141673102", "width": 2000, "height": 1600, "alt": "\\ alt : Model wearing Holden's Faceted wedding ring. \\ light \\ \\ width : 6mm" }, "options": [ { "variants": [ { "id": 12973894697042, "options": ["3mm","Yellow Gold","10k"], "url": "\/products\/faceted-profile?variant=12973894697042", "image": {"src": "//hiholden.com/cdn/shop/products/Faceted_3mm_YG_Mirror_caf5b021-de1d-4336-9884-7ee438ed1735.jpg?v=1670456629&width=900", "srcset": "//hiholden.com/cdn/shop/products/Faceted_3mm_YG_Mirror_caf5b021-de1d-4336-9884-7ee438ed1735.jpg?v=1670456629&width=352 352w, //hiholden.com/cdn/shop/products/Faceted_3mm_YG_Mirror_caf5b021-de1d-4336-9884-7ee438ed1735.jpg?v=1670456629&width=832 832w, //hiholden.com/cdn/shop/products/Faceted_3mm_YG_Mirror_caf5b021-de1d-4336-9884-7ee438ed1735.jpg?v=1670456629&width=900 900w", "width": 900, "height": 720 } }, { "id": 1772031377426, "options": ["3mm","Yellow Gold","14k"], "url": "\/products\/faceted-profile?variant=1772031377426", "image": {"src": "//hiholden.com/cdn/shop/products/Faceted_3mm_YG_Mirror_caf5b021-de1d-4336-9884-7ee438ed1735.jpg?v=1670456629&width=900", "srcset": "//hiholden.com/cdn/shop/products/Faceted_3mm_YG_Mirror_caf5b021-de1d-4336-9884-7ee438ed1735.jpg?v=1670456629&width=352 352w, //hiholden.com/cdn/shop/products/Faceted_3mm_YG_Mirror_caf5b021-de1d-4336-9884-7ee438ed1735.jpg?v=1670456629&width=832 832w, //hiholden.com/cdn/shop/products/Faceted_3mm_YG_Mirror_caf5b021-de1d-4336-9884-7ee438ed1735.jpg?v=1670456629&width=900 900w", "width": 900, "height": 720 } }, { "id": 1772031410194, "options": ["3mm","Yellow Gold","18k"], "url": "\/products\/faceted-profile?variant=1772031410194", "image": {"src": "//hiholden.com/cdn/shop/products/Faceted_3mm_YG_Mirror_caf5b021-de1d-4336-9884-7ee438ed1735.jpg?v=1670456629&width=900", "srcset": "//hiholden.com/cdn/shop/products/Faceted_3mm_YG_Mirror_caf5b021-de1d-4336-9884-7ee438ed1735.jpg?v=1670456629&width=352 352w, //hiholden.com/cdn/shop/products/Faceted_3mm_YG_Mirror_caf5b021-de1d-4336-9884-7ee438ed1735.jpg?v=1670456629&width=832 832w, //hiholden.com/cdn/shop/products/Faceted_3mm_YG_Mirror_caf5b021-de1d-4336-9884-7ee438ed1735.jpg?v=1670456629&width=900 900w", "width": 900, "height": 720 } }, { "id": 12973894729810, "options": ["4.5mm","Yellow Gold","10k"], "url": "\/products\/faceted-profile?variant=12973894729810", "image": {"src": "//hiholden.com/cdn/shop/products/Faceted_4.5mm_YG_Mirror_8b707bb2-7752-45a0-907a-52c46e492e66.jpg?v=1670456629&width=900", "srcset": "//hiholden.com/cdn/shop/products/Faceted_4.5mm_YG_Mirror_8b707bb2-7752-45a0-907a-52c46e492e66.jpg?v=1670456629&width=352 352w, //hiholden.com/cdn/shop/products/Faceted_4.5mm_YG_Mirror_8b707bb2-7752-45a0-907a-52c46e492e66.jpg?v=1670456629&width=832 832w, //hiholden.com/cdn/shop/products/Faceted_4.5mm_YG_Mirror_8b707bb2-7752-45a0-907a-52c46e492e66.jpg?v=1670456629&width=900 900w", "width": 900, "height": 720 } }, { "id": 12800860422226, "options": ["4.5mm","Yellow Gold","14k"], "url": "\/products\/faceted-profile?variant=12800860422226", "image": {"src": "//hiholden.com/cdn/shop/products/Faceted_4.5mm_YG_Mirror_8b707bb2-7752-45a0-907a-52c46e492e66.jpg?v=1670456629&width=900", "srcset": "//hiholden.com/cdn/shop/products/Faceted_4.5mm_YG_Mirror_8b707bb2-7752-45a0-907a-52c46e492e66.jpg?v=1670456629&width=352 352w, //hiholden.com/cdn/shop/products/Faceted_4.5mm_YG_Mirror_8b707bb2-7752-45a0-907a-52c46e492e66.jpg?v=1670456629&width=832 832w, //hiholden.com/cdn/shop/products/Faceted_4.5mm_YG_Mirror_8b707bb2-7752-45a0-907a-52c46e492e66.jpg?v=1670456629&width=900 900w", "width": 900, "height": 720 } }, { "id": 12800861798482, "options": ["4.5mm","Yellow Gold","18k"], "url": "\/products\/faceted-profile?variant=12800861798482", "image": {"src": "//hiholden.com/cdn/shop/products/Faceted_4.5mm_YG_Mirror_8b707bb2-7752-45a0-907a-52c46e492e66.jpg?v=1670456629&width=900", "srcset": "//hiholden.com/cdn/shop/products/Faceted_4.5mm_YG_Mirror_8b707bb2-7752-45a0-907a-52c46e492e66.jpg?v=1670456629&width=352 352w, //hiholden.com/cdn/shop/products/Faceted_4.5mm_YG_Mirror_8b707bb2-7752-45a0-907a-52c46e492e66.jpg?v=1670456629&width=832 832w, //hiholden.com/cdn/shop/products/Faceted_4.5mm_YG_Mirror_8b707bb2-7752-45a0-907a-52c46e492e66.jpg?v=1670456629&width=900 900w", "width": 900, "height": 720 } }, { "id": 12973894959186, "options": ["6mm","Yellow Gold","10k"], "url": "\/products\/faceted-profile?variant=12973894959186", "image": {"src": "//hiholden.com/cdn/shop/products/Faceted_6mm_YG_Mirror_507f365f-0db8-44a1-ba5e-7a1ecc0b6246.jpg?v=1669063133&width=900", "srcset": "//hiholden.com/cdn/shop/products/Faceted_6mm_YG_Mirror_507f365f-0db8-44a1-ba5e-7a1ecc0b6246.jpg?v=1669063133&width=352 352w, //hiholden.com/cdn/shop/products/Faceted_6mm_YG_Mirror_507f365f-0db8-44a1-ba5e-7a1ecc0b6246.jpg?v=1669063133&width=832 832w, //hiholden.com/cdn/shop/products/Faceted_6mm_YG_Mirror_507f365f-0db8-44a1-ba5e-7a1ecc0b6246.jpg?v=1669063133&width=900 900w", "width": 900, "height": 720 } }, { "id": 1772031639570, "options": ["6mm","Yellow Gold","14k"], "url": "\/products\/faceted-profile?variant=1772031639570", "image": {"src": "//hiholden.com/cdn/shop/products/Faceted_6mm_YG_Mirror_507f365f-0db8-44a1-ba5e-7a1ecc0b6246.jpg?v=1669063133&width=900", "srcset": "//hiholden.com/cdn/shop/products/Faceted_6mm_YG_Mirror_507f365f-0db8-44a1-ba5e-7a1ecc0b6246.jpg?v=1669063133&width=352 352w, //hiholden.com/cdn/shop/products/Faceted_6mm_YG_Mirror_507f365f-0db8-44a1-ba5e-7a1ecc0b6246.jpg?v=1669063133&width=832 832w, //hiholden.com/cdn/shop/products/Faceted_6mm_YG_Mirror_507f365f-0db8-44a1-ba5e-7a1ecc0b6246.jpg?v=1669063133&width=900 900w", "width": 900, "height": 720 } }, { "id": 1772031672338, "options": ["6mm","Yellow Gold","18k"], "url": "\/products\/faceted-profile?variant=1772031672338", "image": {"src": "//hiholden.com/cdn/shop/products/Faceted_6mm_YG_Mirror_507f365f-0db8-44a1-ba5e-7a1ecc0b6246.jpg?v=1669063133&width=900", "srcset": "//hiholden.com/cdn/shop/products/Faceted_6mm_YG_Mirror_507f365f-0db8-44a1-ba5e-7a1ecc0b6246.jpg?v=1669063133&width=352 352w, //hiholden.com/cdn/shop/products/Faceted_6mm_YG_Mirror_507f365f-0db8-44a1-ba5e-7a1ecc0b6246.jpg?v=1669063133&width=832 832w, //hiholden.com/cdn/shop/products/Faceted_6mm_YG_Mirror_507f365f-0db8-44a1-ba5e-7a1ecc0b6246.jpg?v=1669063133&width=900 900w", "width": 900, "height": 720 } } ], "title": "Yellow Gold" }, { "variants": [ { "id": 12973895123026, "options": ["3mm","White Gold","10k"], "url": "\/products\/faceted-profile?variant=12973895123026", "image": {"src": "//hiholden.com/cdn/shop/products/Faceted_3mm_WG_Mirror.jpg?v=1670456629&width=900", "srcset": "//hiholden.com/cdn/shop/products/Faceted_3mm_WG_Mirror.jpg?v=1670456629&width=352 352w, //hiholden.com/cdn/shop/products/Faceted_3mm_WG_Mirror.jpg?v=1670456629&width=832 832w, //hiholden.com/cdn/shop/products/Faceted_3mm_WG_Mirror.jpg?v=1670456629&width=900 900w", "width": 900, "height": 720 } }, { "id": 1772031508498, "options": ["3mm","White Gold","14k"], "url": "\/products\/faceted-profile?variant=1772031508498", "image": {"src": "//hiholden.com/cdn/shop/products/Faceted_3mm_WG_Mirror.jpg?v=1670456629&width=900", "srcset": "//hiholden.com/cdn/shop/products/Faceted_3mm_WG_Mirror.jpg?v=1670456629&width=352 352w, //hiholden.com/cdn/shop/products/Faceted_3mm_WG_Mirror.jpg?v=1670456629&width=832 832w, //hiholden.com/cdn/shop/products/Faceted_3mm_WG_Mirror.jpg?v=1670456629&width=900 900w", "width": 900, "height": 720 } }, { "id": 1772031541266, "options": ["3mm","White Gold","18k"], "url": "\/products\/faceted-profile?variant=1772031541266", "image": {"src": "//hiholden.com/cdn/shop/products/Faceted_3mm_WG_Mirror.jpg?v=1670456629&width=900", "srcset": "//hiholden.com/cdn/shop/products/Faceted_3mm_WG_Mirror.jpg?v=1670456629&width=352 352w, //hiholden.com/cdn/shop/products/Faceted_3mm_WG_Mirror.jpg?v=1670456629&width=832 832w, //hiholden.com/cdn/shop/products/Faceted_3mm_WG_Mirror.jpg?v=1670456629&width=900 900w", "width": 900, "height": 720 } }, { "id": 12973896630354, "options": ["4.5mm","White Gold","10k"], "url": "\/products\/faceted-profile?variant=12973896630354", "image": {"src": "//hiholden.com/cdn/shop/products/Faceted_4.5mm_WG_Mirror.jpg?v=1670456629&width=900", "srcset": "//hiholden.com/cdn/shop/products/Faceted_4.5mm_WG_Mirror.jpg?v=1670456629&width=352 352w, //hiholden.com/cdn/shop/products/Faceted_4.5mm_WG_Mirror.jpg?v=1670456629&width=832 832w, //hiholden.com/cdn/shop/products/Faceted_4.5mm_WG_Mirror.jpg?v=1670456629&width=900 900w", "width": 900, "height": 720 } }, { "id": 12800863862866, "options": ["4.5mm","White Gold","14k"], "url": "\/products\/faceted-profile?variant=12800863862866", "image": {"src": "//hiholden.com/cdn/shop/products/Faceted_4.5mm_WG_Mirror.jpg?v=1670456629&width=900", "srcset": "//hiholden.com/cdn/shop/products/Faceted_4.5mm_WG_Mirror.jpg?v=1670456629&width=352 352w, //hiholden.com/cdn/shop/products/Faceted_4.5mm_WG_Mirror.jpg?v=1670456629&width=832 832w, //hiholden.com/cdn/shop/products/Faceted_4.5mm_WG_Mirror.jpg?v=1670456629&width=900 900w", "width": 900, "height": 720 } }, { "id": 12800864223314, "options": ["4.5mm","White Gold","18k"], "url": "\/products\/faceted-profile?variant=12800864223314", "image": {"src": "//hiholden.com/cdn/shop/products/Faceted_4.5mm_WG_Mirror.jpg?v=1670456629&width=900", "srcset": "//hiholden.com/cdn/shop/products/Faceted_4.5mm_WG_Mirror.jpg?v=1670456629&width=352 352w, //hiholden.com/cdn/shop/products/Faceted_4.5mm_WG_Mirror.jpg?v=1670456629&width=832 832w, //hiholden.com/cdn/shop/products/Faceted_4.5mm_WG_Mirror.jpg?v=1670456629&width=900 900w", "width": 900, "height": 720 } }, { "id": 12973896892498, "options": ["6mm","White Gold","10k"], "url": "\/products\/faceted-profile?variant=12973896892498", "image": {"src": "//hiholden.com/cdn/shop/products/Faceted_6mm_WG_Mirror.jpg?v=1669063131&width=900", "srcset": "//hiholden.com/cdn/shop/products/Faceted_6mm_WG_Mirror.jpg?v=1669063131&width=352 352w, //hiholden.com/cdn/shop/products/Faceted_6mm_WG_Mirror.jpg?v=1669063131&width=832 832w, //hiholden.com/cdn/shop/products/Faceted_6mm_WG_Mirror.jpg?v=1669063131&width=900 900w", "width": 900, "height": 720 } }, { "id": 1772031770642, "options": ["6mm","White Gold","14k"], "url": "\/products\/faceted-profile?variant=1772031770642", "image": {"src": "//hiholden.com/cdn/shop/products/Faceted_6mm_WG_Mirror.jpg?v=1669063131&width=900", "srcset": "//hiholden.com/cdn/shop/products/Faceted_6mm_WG_Mirror.jpg?v=1669063131&width=352 352w, //hiholden.com/cdn/shop/products/Faceted_6mm_WG_Mirror.jpg?v=1669063131&width=832 832w, //hiholden.com/cdn/shop/products/Faceted_6mm_WG_Mirror.jpg?v=1669063131&width=900 900w", "width": 900, "height": 720 } }, { "id": 1772031803410, "options": ["6mm","White Gold","18k"], "url": "\/products\/faceted-profile?variant=1772031803410", "image": {"src": "//hiholden.com/cdn/shop/products/Faceted_6mm_WG_Mirror.jpg?v=1669063131&width=900", "srcset": "//hiholden.com/cdn/shop/products/Faceted_6mm_WG_Mirror.jpg?v=1669063131&width=352 352w, //hiholden.com/cdn/shop/products/Faceted_6mm_WG_Mirror.jpg?v=1669063131&width=832 832w, //hiholden.com/cdn/shop/products/Faceted_6mm_WG_Mirror.jpg?v=1669063131&width=900 900w", "width": 900, "height": 720 } } ], "title": "White Gold" }, { "variants": [ { "id": 12973897252946, "options": ["3mm","Rose Gold","10k"], "url": "\/products\/faceted-profile?variant=12973897252946", "image": {"src": "//hiholden.com/cdn/shop/products/Faceted_3mm_RG_Mirror_25bbf4c5-4a10-4956-9357-0144190cee68.jpg?v=1670456629&width=900", "srcset": "//hiholden.com/cdn/shop/products/Faceted_3mm_RG_Mirror_25bbf4c5-4a10-4956-9357-0144190cee68.jpg?v=1670456629&width=352 352w, //hiholden.com/cdn/shop/products/Faceted_3mm_RG_Mirror_25bbf4c5-4a10-4956-9357-0144190cee68.jpg?v=1670456629&width=832 832w, //hiholden.com/cdn/shop/products/Faceted_3mm_RG_Mirror_25bbf4c5-4a10-4956-9357-0144190cee68.jpg?v=1670456629&width=900 900w", "width": 900, "height": 720 } }, { "id": 1772031442962, "options": ["3mm","Rose Gold","14k"], "url": "\/products\/faceted-profile?variant=1772031442962", "image": {"src": "//hiholden.com/cdn/shop/products/Faceted_3mm_RG_Mirror_25bbf4c5-4a10-4956-9357-0144190cee68.jpg?v=1670456629&width=900", "srcset": "//hiholden.com/cdn/shop/products/Faceted_3mm_RG_Mirror_25bbf4c5-4a10-4956-9357-0144190cee68.jpg?v=1670456629&width=352 352w, //hiholden.com/cdn/shop/products/Faceted_3mm_RG_Mirror_25bbf4c5-4a10-4956-9357-0144190cee68.jpg?v=1670456629&width=832 832w, //hiholden.com/cdn/shop/products/Faceted_3mm_RG_Mirror_25bbf4c5-4a10-4956-9357-0144190cee68.jpg?v=1670456629&width=900 900w", "width": 900, "height": 720 } }, { "id": 1772031475730, "options": ["3mm","Rose Gold","18k"], "url": "\/products\/faceted-profile?variant=1772031475730", "image": {"src": "//hiholden.com/cdn/shop/products/Faceted_3mm_RG_Mirror_25bbf4c5-4a10-4956-9357-0144190cee68.jpg?v=1670456629&width=900", "srcset": "//hiholden.com/cdn/shop/products/Faceted_3mm_RG_Mirror_25bbf4c5-4a10-4956-9357-0144190cee68.jpg?v=1670456629&width=352 352w, //hiholden.com/cdn/shop/products/Faceted_3mm_RG_Mirror_25bbf4c5-4a10-4956-9357-0144190cee68.jpg?v=1670456629&width=832 832w, //hiholden.com/cdn/shop/products/Faceted_3mm_RG_Mirror_25bbf4c5-4a10-4956-9357-0144190cee68.jpg?v=1670456629&width=900 900w", "width": 900, "height": 720 } }, { "id": 12973897908306, "options": ["4.5mm","Rose Gold","10k"], "url": "\/products\/faceted-profile?variant=12973897908306", "image": {"src": "//hiholden.com/cdn/shop/products/Faceted_4.5mm_RG_Mirror_f0841567-1b04-4b8a-abd5-d4925d2e6f11.jpg?v=1670456629&width=900", "srcset": "//hiholden.com/cdn/shop/products/Faceted_4.5mm_RG_Mirror_f0841567-1b04-4b8a-abd5-d4925d2e6f11.jpg?v=1670456629&width=352 352w, //hiholden.com/cdn/shop/products/Faceted_4.5mm_RG_Mirror_f0841567-1b04-4b8a-abd5-d4925d2e6f11.jpg?v=1670456629&width=832 832w, //hiholden.com/cdn/shop/products/Faceted_4.5mm_RG_Mirror_f0841567-1b04-4b8a-abd5-d4925d2e6f11.jpg?v=1670456629&width=900 900w", "width": 900, "height": 720 } }, { "id": 12800862715986, "options": ["4.5mm","Rose Gold","14k"], "url": "\/products\/faceted-profile?variant=12800862715986", "image": {"src": "//hiholden.com/cdn/shop/products/Faceted_4.5mm_RG_Mirror_f0841567-1b04-4b8a-abd5-d4925d2e6f11.jpg?v=1670456629&width=900", "srcset": "//hiholden.com/cdn/shop/products/Faceted_4.5mm_RG_Mirror_f0841567-1b04-4b8a-abd5-d4925d2e6f11.jpg?v=1670456629&width=352 352w, //hiholden.com/cdn/shop/products/Faceted_4.5mm_RG_Mirror_f0841567-1b04-4b8a-abd5-d4925d2e6f11.jpg?v=1670456629&width=832 832w, //hiholden.com/cdn/shop/products/Faceted_4.5mm_RG_Mirror_f0841567-1b04-4b8a-abd5-d4925d2e6f11.jpg?v=1670456629&width=900 900w", "width": 900, "height": 720 } }, { "id": 12800863764562, "options": ["4.5mm","Rose Gold","18k"], "url": "\/products\/faceted-profile?variant=12800863764562", "image": {"src": "//hiholden.com/cdn/shop/products/Faceted_4.5mm_RG_Mirror_f0841567-1b04-4b8a-abd5-d4925d2e6f11.jpg?v=1670456629&width=900", "srcset": "//hiholden.com/cdn/shop/products/Faceted_4.5mm_RG_Mirror_f0841567-1b04-4b8a-abd5-d4925d2e6f11.jpg?v=1670456629&width=352 352w, //hiholden.com/cdn/shop/products/Faceted_4.5mm_RG_Mirror_f0841567-1b04-4b8a-abd5-d4925d2e6f11.jpg?v=1670456629&width=832 832w, //hiholden.com/cdn/shop/products/Faceted_4.5mm_RG_Mirror_f0841567-1b04-4b8a-abd5-d4925d2e6f11.jpg?v=1670456629&width=900 900w", "width": 900, "height": 720 } }, { "id": 12973898465362, "options": ["6mm","Rose Gold","10k"], "url": "\/products\/faceted-profile?variant=12973898465362", "image": {"src": "//hiholden.com/cdn/shop/products/Faceted_6mm_RG_Mirror_bc7e5e43-36de-4fb6-9d36-7b5d3c0bdeb5.jpg?v=1669063133&width=900", "srcset": "//hiholden.com/cdn/shop/products/Faceted_6mm_RG_Mirror_bc7e5e43-36de-4fb6-9d36-7b5d3c0bdeb5.jpg?v=1669063133&width=352 352w, //hiholden.com/cdn/shop/products/Faceted_6mm_RG_Mirror_bc7e5e43-36de-4fb6-9d36-7b5d3c0bdeb5.jpg?v=1669063133&width=832 832w, //hiholden.com/cdn/shop/products/Faceted_6mm_RG_Mirror_bc7e5e43-36de-4fb6-9d36-7b5d3c0bdeb5.jpg?v=1669063133&width=900 900w", "width": 900, "height": 720 } }, { "id": 1772031705106, "options": ["6mm","Rose Gold","14k"], "url": "\/products\/faceted-profile?variant=1772031705106", "image": {"src": "//hiholden.com/cdn/shop/products/Faceted_6mm_RG_Mirror_bc7e5e43-36de-4fb6-9d36-7b5d3c0bdeb5.jpg?v=1669063133&width=900", "srcset": "//hiholden.com/cdn/shop/products/Faceted_6mm_RG_Mirror_bc7e5e43-36de-4fb6-9d36-7b5d3c0bdeb5.jpg?v=1669063133&width=352 352w, //hiholden.com/cdn/shop/products/Faceted_6mm_RG_Mirror_bc7e5e43-36de-4fb6-9d36-7b5d3c0bdeb5.jpg?v=1669063133&width=832 832w, //hiholden.com/cdn/shop/products/Faceted_6mm_RG_Mirror_bc7e5e43-36de-4fb6-9d36-7b5d3c0bdeb5.jpg?v=1669063133&width=900 900w", "width": 900, "height": 720 } }, { "id": 1772031737874, "options": ["6mm","Rose Gold","18k"], "url": "\/products\/faceted-profile?variant=1772031737874", "image": {"src": "//hiholden.com/cdn/shop/products/Faceted_6mm_RG_Mirror_bc7e5e43-36de-4fb6-9d36-7b5d3c0bdeb5.jpg?v=1669063133&width=900", "srcset": "//hiholden.com/cdn/shop/products/Faceted_6mm_RG_Mirror_bc7e5e43-36de-4fb6-9d36-7b5d3c0bdeb5.jpg?v=1669063133&width=352 352w, //hiholden.com/cdn/shop/products/Faceted_6mm_RG_Mirror_bc7e5e43-36de-4fb6-9d36-7b5d3c0bdeb5.jpg?v=1669063133&width=832 832w, //hiholden.com/cdn/shop/products/Faceted_6mm_RG_Mirror_bc7e5e43-36de-4fb6-9d36-7b5d3c0bdeb5.jpg?v=1669063133&width=900 900w", "width": 900, "height": 720 } } ], "title": "Rose Gold" }, { "variants": [ { "id": 1772031574034, "options": ["3mm","Platinum","NA"], "url": "\/products\/faceted-profile?variant=1772031574034", "image": {"src": "//hiholden.com/cdn/shop/products/Faceted_3mm_WG_Mirror.jpg?v=1670456629&width=900", "srcset": "//hiholden.com/cdn/shop/products/Faceted_3mm_WG_Mirror.jpg?v=1670456629&width=352 352w, //hiholden.com/cdn/shop/products/Faceted_3mm_WG_Mirror.jpg?v=1670456629&width=832 832w, //hiholden.com/cdn/shop/products/Faceted_3mm_WG_Mirror.jpg?v=1670456629&width=900 900w", "width": 900, "height": 720 } }, { "id": 12800857833554, "options": ["4.5mm","Platinum","NA"], "url": "\/products\/faceted-profile?variant=12800857833554", "image": {"src": "//hiholden.com/cdn/shop/products/Faceted_4.5mm_WG_Mirror.jpg?v=1670456629&width=900", "srcset": "//hiholden.com/cdn/shop/products/Faceted_4.5mm_WG_Mirror.jpg?v=1670456629&width=352 352w, //hiholden.com/cdn/shop/products/Faceted_4.5mm_WG_Mirror.jpg?v=1670456629&width=832 832w, //hiholden.com/cdn/shop/products/Faceted_4.5mm_WG_Mirror.jpg?v=1670456629&width=900 900w", "width": 900, "height": 720 } }, { "id": 1772031836178, "options": ["6mm","Platinum","NA"], "url": "\/products\/faceted-profile?variant=1772031836178", "image": {"src": "//hiholden.com/cdn/shop/products/Faceted_6mm_WG_Mirror.jpg?v=1669063131&width=900", "srcset": "//hiholden.com/cdn/shop/products/Faceted_6mm_WG_Mirror.jpg?v=1669063131&width=352 352w, //hiholden.com/cdn/shop/products/Faceted_6mm_WG_Mirror.jpg?v=1669063131&width=832 832w, //hiholden.com/cdn/shop/products/Faceted_6mm_WG_Mirror.jpg?v=1669063131&width=900 900w", "width": 900, "height": 720 } } ], "title": "Platinum" } ] }, "productOne": { "firstVariant": 33053291479122, "defaultVariant": 33053291741266, "id": 4856866865234, "url": "\/products\/the-full-column-baguette", "tags": "[\"14 karat\", \"18 karat\", \"anniversary\", \"anniversary ring\", \"anniversary rings\", \"anniversary stack\", \"band\", \"bands\", \"design studio\", \"engagement rings\", \"eternity\", \"eternity band\", \"eternity bands\", \"eternity ring\", \"eternity rings\", \"full eternity band\", \"high polish\", \"infinity\", \"infinity band\", \"infinity ring\", \"large-widths\", \"men\", \"men's\", \"men's wedding band\", \"men's wedding ring\", \"mens band\", \"mens profile\", \"mens ring\", \"mens rings\", \"mirror\", \"mirror finish\", \"mirrored\", \"north south\", \"platinum\", \"polish\", \"polished\", \"profile\", \"profiles\", \"promise ring\", \"promise rings\", \"ring\", \"rings\", \"rose-gold\", \"shiny\", \"small-widths\", \"stone-baguette\", \"style\", \"styles\", \"vertical baguette\", \"wedding\", \"wedding band\", \"wedding ring\", \"white-gold\", \"women\", \"women's\", \"women's band\", \"women's ring\", \"women's wedding band\", \"women's wedding ring\", \"womens profile\", \"womens rings\", \"yellow-gold\"]", "title": "The Full Column Baguette", "price": "$1,599", "image": {"src": "//hiholden.com/cdn/shop/products/Column_Baguette_Full_4mm_YG_Mirror.jpg?v=1670456805&width=900", "srcset": "//hiholden.com/cdn/shop/products/Column_Baguette_Full_4mm_YG_Mirror.jpg?v=1670456805&width=352 352w, //hiholden.com/cdn/shop/products/Column_Baguette_Full_4mm_YG_Mirror.jpg?v=1670456805&width=832 832w, //hiholden.com/cdn/shop/products/Column_Baguette_Full_4mm_YG_Mirror.jpg?v=1670456805&width=900 900w", "width": 900, "height": 720, "offset": -10 }, "image_secondary": { "src": "https://cdn.accentuate.io/4856866865234/1668710211755/Column_01.jpg?v=1668710211755", "width": 2000, "height": 1600, "alt": "\\ alt : Model wearing Holden's Column Baguette wedding band. \\ light \\ \\ width : 3mm" }, "options": [ { "variants": [ { "id": 33053291479122, "options": ["3mm","Yellow Gold","14k"], "url": "\/products\/the-full-column-baguette?variant=33053291479122", "image": {"src": "//hiholden.com/cdn/shop/products/Column_Baguette_Full_3mm_YG_Mirror.jpg?v=1670456805&width=900", "srcset": "//hiholden.com/cdn/shop/products/Column_Baguette_Full_3mm_YG_Mirror.jpg?v=1670456805&width=352 352w, //hiholden.com/cdn/shop/products/Column_Baguette_Full_3mm_YG_Mirror.jpg?v=1670456805&width=832 832w, //hiholden.com/cdn/shop/products/Column_Baguette_Full_3mm_YG_Mirror.jpg?v=1670456805&width=900 900w", "width": 900, "height": 720 } }, { "id": 33053291511890, "options": ["3mm","Yellow Gold","18k"], "url": "\/products\/the-full-column-baguette?variant=33053291511890", "image": {"src": "//hiholden.com/cdn/shop/products/Column_Baguette_Full_3mm_YG_Mirror.jpg?v=1670456805&width=900", "srcset": "//hiholden.com/cdn/shop/products/Column_Baguette_Full_3mm_YG_Mirror.jpg?v=1670456805&width=352 352w, //hiholden.com/cdn/shop/products/Column_Baguette_Full_3mm_YG_Mirror.jpg?v=1670456805&width=832 832w, //hiholden.com/cdn/shop/products/Column_Baguette_Full_3mm_YG_Mirror.jpg?v=1670456805&width=900 900w", "width": 900, "height": 720 } }, { "id": 33053291741266, "options": ["4mm","Yellow Gold","14k"], "url": "\/products\/the-full-column-baguette?variant=33053291741266", "image": {"src": "//hiholden.com/cdn/shop/products/Column_Baguette_Full_4mm_YG_Mirror.jpg?v=1670456805&width=900", "srcset": "//hiholden.com/cdn/shop/products/Column_Baguette_Full_4mm_YG_Mirror.jpg?v=1670456805&width=352 352w, //hiholden.com/cdn/shop/products/Column_Baguette_Full_4mm_YG_Mirror.jpg?v=1670456805&width=832 832w, //hiholden.com/cdn/shop/products/Column_Baguette_Full_4mm_YG_Mirror.jpg?v=1670456805&width=900 900w", "width": 900, "height": 720 } }, { "id": 33053291774034, "options": ["4mm","Yellow Gold","18k"], "url": "\/products\/the-full-column-baguette?variant=33053291774034", "image": {"src": "//hiholden.com/cdn/shop/products/Column_Baguette_Full_4mm_YG_Mirror.jpg?v=1670456805&width=900", "srcset": "//hiholden.com/cdn/shop/products/Column_Baguette_Full_4mm_YG_Mirror.jpg?v=1670456805&width=352 352w, //hiholden.com/cdn/shop/products/Column_Baguette_Full_4mm_YG_Mirror.jpg?v=1670456805&width=832 832w, //hiholden.com/cdn/shop/products/Column_Baguette_Full_4mm_YG_Mirror.jpg?v=1670456805&width=900 900w", "width": 900, "height": 720 } }, { "id": 39515754856530, "options": ["5mm","Yellow Gold","14k"], "url": "\/products\/the-full-column-baguette?variant=39515754856530", "image": {"src": "//hiholden.com/cdn/shop/products/Column_Baguette_Full_5mm_YG_Mirror.jpg?v=1669224271&width=900", "srcset": "//hiholden.com/cdn/shop/products/Column_Baguette_Full_5mm_YG_Mirror.jpg?v=1669224271&width=352 352w, //hiholden.com/cdn/shop/products/Column_Baguette_Full_5mm_YG_Mirror.jpg?v=1669224271&width=832 832w, //hiholden.com/cdn/shop/products/Column_Baguette_Full_5mm_YG_Mirror.jpg?v=1669224271&width=900 900w", "width": 900, "height": 720 } }, { "id": 39515755085906, "options": ["5mm","Yellow Gold","18k"], "url": "\/products\/the-full-column-baguette?variant=39515755085906", "image": {"src": "//hiholden.com/cdn/shop/products/Column_Baguette_Full_5mm_YG_Mirror.jpg?v=1669224271&width=900", "srcset": "//hiholden.com/cdn/shop/products/Column_Baguette_Full_5mm_YG_Mirror.jpg?v=1669224271&width=352 352w, //hiholden.com/cdn/shop/products/Column_Baguette_Full_5mm_YG_Mirror.jpg?v=1669224271&width=832 832w, //hiholden.com/cdn/shop/products/Column_Baguette_Full_5mm_YG_Mirror.jpg?v=1669224271&width=900 900w", "width": 900, "height": 720 } } ], "title": "Yellow Gold" }, { "variants": [ { "id": 33053291642962, "options": ["3mm","White Gold","14k"], "url": "\/products\/the-full-column-baguette?variant=33053291642962", "image": {"src": "//hiholden.com/cdn/shop/products/Column_Baguette_Full_3mm_WG_Mirror.jpg?v=1670456805&width=900", "srcset": "//hiholden.com/cdn/shop/products/Column_Baguette_Full_3mm_WG_Mirror.jpg?v=1670456805&width=352 352w, //hiholden.com/cdn/shop/products/Column_Baguette_Full_3mm_WG_Mirror.jpg?v=1670456805&width=832 832w, //hiholden.com/cdn/shop/products/Column_Baguette_Full_3mm_WG_Mirror.jpg?v=1670456805&width=900 900w", "width": 900, "height": 720 } }, { "id": 33053291675730, "options": ["3mm","White Gold","18k"], "url": "\/products\/the-full-column-baguette?variant=33053291675730", "image": {"src": "//hiholden.com/cdn/shop/products/Column_Baguette_Full_3mm_WG_Mirror.jpg?v=1670456805&width=900", "srcset": "//hiholden.com/cdn/shop/products/Column_Baguette_Full_3mm_WG_Mirror.jpg?v=1670456805&width=352 352w, //hiholden.com/cdn/shop/products/Column_Baguette_Full_3mm_WG_Mirror.jpg?v=1670456805&width=832 832w, //hiholden.com/cdn/shop/products/Column_Baguette_Full_3mm_WG_Mirror.jpg?v=1670456805&width=900 900w", "width": 900, "height": 720 } }, { "id": 33053291872338, "options": ["4mm","White Gold","14k"], "url": "\/products\/the-full-column-baguette?variant=33053291872338", "image": {"src": "//hiholden.com/cdn/shop/products/Column_Baguette_Full_4mm_WG_Mirror.jpg?v=1670456805&width=900", "srcset": "//hiholden.com/cdn/shop/products/Column_Baguette_Full_4mm_WG_Mirror.jpg?v=1670456805&width=352 352w, //hiholden.com/cdn/shop/products/Column_Baguette_Full_4mm_WG_Mirror.jpg?v=1670456805&width=832 832w, //hiholden.com/cdn/shop/products/Column_Baguette_Full_4mm_WG_Mirror.jpg?v=1670456805&width=900 900w", "width": 900, "height": 720 } }, { "id": 33053291905106, "options": ["4mm","White Gold","18k"], "url": "\/products\/the-full-column-baguette?variant=33053291905106", "image": {"src": "//hiholden.com/cdn/shop/products/Column_Baguette_Full_4mm_WG_Mirror.jpg?v=1670456805&width=900", "srcset": "//hiholden.com/cdn/shop/products/Column_Baguette_Full_4mm_WG_Mirror.jpg?v=1670456805&width=352 352w, //hiholden.com/cdn/shop/products/Column_Baguette_Full_4mm_WG_Mirror.jpg?v=1670456805&width=832 832w, //hiholden.com/cdn/shop/products/Column_Baguette_Full_4mm_WG_Mirror.jpg?v=1670456805&width=900 900w", "width": 900, "height": 720 } }, { "id": 39515755446354, "options": ["5mm","White Gold","14k"], "url": "\/products\/the-full-column-baguette?variant=39515755446354", "image": {"src": "//hiholden.com/cdn/shop/products/Column_Baguette_Full_5mm_WG_Mirror.jpg?v=1669224271&width=900", "srcset": "//hiholden.com/cdn/shop/products/Column_Baguette_Full_5mm_WG_Mirror.jpg?v=1669224271&width=352 352w, //hiholden.com/cdn/shop/products/Column_Baguette_Full_5mm_WG_Mirror.jpg?v=1669224271&width=832 832w, //hiholden.com/cdn/shop/products/Column_Baguette_Full_5mm_WG_Mirror.jpg?v=1669224271&width=900 900w", "width": 900, "height": 720 } }, { "id": 39515755872338, "options": ["5mm","White Gold","18k"], "url": "\/products\/the-full-column-baguette?variant=39515755872338", "image": {"src": "//hiholden.com/cdn/shop/products/Column_Baguette_Full_5mm_WG_Mirror.jpg?v=1669224271&width=900", "srcset": "//hiholden.com/cdn/shop/products/Column_Baguette_Full_5mm_WG_Mirror.jpg?v=1669224271&width=352 352w, //hiholden.com/cdn/shop/products/Column_Baguette_Full_5mm_WG_Mirror.jpg?v=1669224271&width=832 832w, //hiholden.com/cdn/shop/products/Column_Baguette_Full_5mm_WG_Mirror.jpg?v=1669224271&width=900 900w", "width": 900, "height": 720 } } ], "title": "White Gold" }, { "variants": [ { "id": 33053291544658, "options": ["3mm","Rose Gold","14k"], "url": "\/products\/the-full-column-baguette?variant=33053291544658", "image": {"src": "//hiholden.com/cdn/shop/products/Column_Baguette_Full_3mm_RG_Mirror.jpg?v=1670456805&width=900", "srcset": "//hiholden.com/cdn/shop/products/Column_Baguette_Full_3mm_RG_Mirror.jpg?v=1670456805&width=352 352w, //hiholden.com/cdn/shop/products/Column_Baguette_Full_3mm_RG_Mirror.jpg?v=1670456805&width=832 832w, //hiholden.com/cdn/shop/products/Column_Baguette_Full_3mm_RG_Mirror.jpg?v=1670456805&width=900 900w", "width": 900, "height": 720 } }, { "id": 33053291610194, "options": ["3mm","Rose Gold","18k"], "url": "\/products\/the-full-column-baguette?variant=33053291610194", "image": {"src": "//hiholden.com/cdn/shop/products/Column_Baguette_Full_3mm_RG_Mirror.jpg?v=1670456805&width=900", "srcset": "//hiholden.com/cdn/shop/products/Column_Baguette_Full_3mm_RG_Mirror.jpg?v=1670456805&width=352 352w, //hiholden.com/cdn/shop/products/Column_Baguette_Full_3mm_RG_Mirror.jpg?v=1670456805&width=832 832w, //hiholden.com/cdn/shop/products/Column_Baguette_Full_3mm_RG_Mirror.jpg?v=1670456805&width=900 900w", "width": 900, "height": 720 } }, { "id": 33053291806802, "options": ["4mm","Rose Gold","14k"], "url": "\/products\/the-full-column-baguette?variant=33053291806802", "image": {"src": "//hiholden.com/cdn/shop/products/Column_Baguette_Full_4mm_RG_Mirror.jpg?v=1670456805&width=900", "srcset": "//hiholden.com/cdn/shop/products/Column_Baguette_Full_4mm_RG_Mirror.jpg?v=1670456805&width=352 352w, //hiholden.com/cdn/shop/products/Column_Baguette_Full_4mm_RG_Mirror.jpg?v=1670456805&width=832 832w, //hiholden.com/cdn/shop/products/Column_Baguette_Full_4mm_RG_Mirror.jpg?v=1670456805&width=900 900w", "width": 900, "height": 720 } }, { "id": 33053291839570, "options": ["4mm","Rose Gold","18k"], "url": "\/products\/the-full-column-baguette?variant=33053291839570", "image": {"src": "//hiholden.com/cdn/shop/products/Column_Baguette_Full_4mm_RG_Mirror.jpg?v=1670456805&width=900", "srcset": "//hiholden.com/cdn/shop/products/Column_Baguette_Full_4mm_RG_Mirror.jpg?v=1670456805&width=352 352w, //hiholden.com/cdn/shop/products/Column_Baguette_Full_4mm_RG_Mirror.jpg?v=1670456805&width=832 832w, //hiholden.com/cdn/shop/products/Column_Baguette_Full_4mm_RG_Mirror.jpg?v=1670456805&width=900 900w", "width": 900, "height": 720 } }, { "id": 39515755315282, "options": ["5mm","Rose Gold","14k"], "url": "\/products\/the-full-column-baguette?variant=39515755315282", "image": {"src": "//hiholden.com/cdn/shop/products/Column_Baguette_Full_5mm_RG_Mirror.jpg?v=1669224271&width=900", "srcset": "//hiholden.com/cdn/shop/products/Column_Baguette_Full_5mm_RG_Mirror.jpg?v=1669224271&width=352 352w, //hiholden.com/cdn/shop/products/Column_Baguette_Full_5mm_RG_Mirror.jpg?v=1669224271&width=832 832w, //hiholden.com/cdn/shop/products/Column_Baguette_Full_5mm_RG_Mirror.jpg?v=1669224271&width=900 900w", "width": 900, "height": 720 } }, { "id": 39515761049682, "options": ["5mm","Rose Gold","18k"], "url": "\/products\/the-full-column-baguette?variant=39515761049682", "image": {"src": "//hiholden.com/cdn/shop/products/Column_Baguette_Full_5mm_RG_Mirror.jpg?v=1669224271&width=900", "srcset": "//hiholden.com/cdn/shop/products/Column_Baguette_Full_5mm_RG_Mirror.jpg?v=1669224271&width=352 352w, //hiholden.com/cdn/shop/products/Column_Baguette_Full_5mm_RG_Mirror.jpg?v=1669224271&width=832 832w, //hiholden.com/cdn/shop/products/Column_Baguette_Full_5mm_RG_Mirror.jpg?v=1669224271&width=900 900w", "width": 900, "height": 720 } } ], "title": "Rose Gold" }, { "variants": [ { "id": 33053291708498, "options": ["3mm","Platinum","NA"], "url": "\/products\/the-full-column-baguette?variant=33053291708498", "image": {"src": "//hiholden.com/cdn/shop/products/Column_Baguette_Full_3mm_WG_Mirror.jpg?v=1670456805&width=900", "srcset": "//hiholden.com/cdn/shop/products/Column_Baguette_Full_3mm_WG_Mirror.jpg?v=1670456805&width=352 352w, //hiholden.com/cdn/shop/products/Column_Baguette_Full_3mm_WG_Mirror.jpg?v=1670456805&width=832 832w, //hiholden.com/cdn/shop/products/Column_Baguette_Full_3mm_WG_Mirror.jpg?v=1670456805&width=900 900w", "width": 900, "height": 720 } }, { "id": 33053291937874, "options": ["4mm","Platinum","NA"], "url": "\/products\/the-full-column-baguette?variant=33053291937874", "image": {"src": "//hiholden.com/cdn/shop/products/Column_Baguette_Full_4mm_WG_Mirror.jpg?v=1670456805&width=900", "srcset": "//hiholden.com/cdn/shop/products/Column_Baguette_Full_4mm_WG_Mirror.jpg?v=1670456805&width=352 352w, //hiholden.com/cdn/shop/products/Column_Baguette_Full_4mm_WG_Mirror.jpg?v=1670456805&width=832 832w, //hiholden.com/cdn/shop/products/Column_Baguette_Full_4mm_WG_Mirror.jpg?v=1670456805&width=900 900w", "width": 900, "height": 720 } }, { "id": 39515756757074, "options": ["5mm","Platinum","NA"], "url": "\/products\/the-full-column-baguette?variant=39515756757074", "image": {"src": "//hiholden.com/cdn/shop/products/Column_Baguette_Full_5mm_WG_Mirror.jpg?v=1669224271&width=900", "srcset": "//hiholden.com/cdn/shop/products/Column_Baguette_Full_5mm_WG_Mirror.jpg?v=1669224271&width=352 352w, //hiholden.com/cdn/shop/products/Column_Baguette_Full_5mm_WG_Mirror.jpg?v=1669224271&width=832 832w, //hiholden.com/cdn/shop/products/Column_Baguette_Full_5mm_WG_Mirror.jpg?v=1669224271&width=900 900w", "width": 900, "height": 720 } } ], "title": "Platinum" } ] } }, { "names": "Mars \u0026 Winter", "image": {"src": "//hiholden.com/cdn/shop/files/Mars_Winter.jpg?v=1668461542&width=900", "srcset": "//hiholden.com/cdn/shop/files/Mars_Winter.jpg?v=1668461542&width=352 352w, //hiholden.com/cdn/shop/files/Mars_Winter.jpg?v=1668461542&width=832 832w, //hiholden.com/cdn/shop/files/Mars_Winter.jpg?v=1668461542&width=900 900w", "width": 900, "height": 1171 }, "productTwo": { "firstVariant": 12973650739282, "defaultVariant": 12800773914706, "id": 193417510930, "url": "\/products\/beveled-profile", "tags": "[\"10 karat\", \"14 karat\", \"18 karat\", \"anniversary\", \"anniversary ring\", \"anniversary rings\", \"anniversary stack\", \"band\", \"bands\", \"beveled\", \"beveled edge wedding band\", \"beveled edge wedding ring\", \"bevelled\", \"brushed\", \"brushed finish\", \"brushed polish\", \"design studio\", \"engravable\", \"engrave\", \"engraveable\", \"engraved\", \"engraving\", \"engravings\", \"high polish\", \"large-widths\", \"matte\", \"matte finish\", \"matte polish\", \"matted\", \"men\", \"men's\", \"men's wedding band\", \"men's wedding ring\", \"mens band\", \"mens profile\", \"mens ring\", \"mens rings\", \"mirror\", \"mirror finish\", \"mirrored\", \"personalization\", \"personalized\", \"platinum\", \"polish\", \"polished\", \"profile\", \"profiles\", \"promise ring\", \"promise rings\", \"ring\", \"rings\", \"rose-gold\", \"satin\", \"satin finish\", \"satin polish\", \"shiny\", \"small-widths\", \"stone-none\", \"style\", \"styles\", \"wedding\", \"wedding band\", \"wedding ring\", \"white-gold\", \"women\", \"women's\", \"women's band\", \"women's ring\", \"women's wedding band\", \"women's wedding ring\", \"womens profile\", \"womens rings\", \"yellow-gold\"]", "title": "The Beveled", "price": "$399", "image": {"src": "//hiholden.com/cdn/shop/products/Beveled_4.5mm_YG_Mirror_3cdb13d8-ea60-4940-88ee-cd00f31bc222.jpg?v=1670456475&width=900", "srcset": "//hiholden.com/cdn/shop/products/Beveled_4.5mm_YG_Mirror_3cdb13d8-ea60-4940-88ee-cd00f31bc222.jpg?v=1670456475&width=352 352w, //hiholden.com/cdn/shop/products/Beveled_4.5mm_YG_Mirror_3cdb13d8-ea60-4940-88ee-cd00f31bc222.jpg?v=1670456475&width=832 832w, //hiholden.com/cdn/shop/products/Beveled_4.5mm_YG_Mirror_3cdb13d8-ea60-4940-88ee-cd00f31bc222.jpg?v=1670456475&width=900 900w", "width": 900, "height": 720, "offset": -10 }, "image_secondary": { "src": "https://cdn.accentuate.io/193417510930/1668121789645/Beveled_01.jpg?v=1668121789645", "width": 2000, "height": 1600, "alt": "\\ alt : Model wearing Holden's Beveled wedding ring. \\ light \\ \\ width : 4.5mm" }, "options": [ { "variants": [ { "id": 12973650739282, "options": ["3mm","Yellow Gold","10k"], "url": "\/products\/beveled-profile?variant=12973650739282", "image": {"src": "//hiholden.com/cdn/shop/products/Beveled_3mm_YG_Mirror_ea4bb16a-bdfc-49ba-93bb-c802b7efc7cd.jpg?v=1670456475&width=900", "srcset": "//hiholden.com/cdn/shop/products/Beveled_3mm_YG_Mirror_ea4bb16a-bdfc-49ba-93bb-c802b7efc7cd.jpg?v=1670456475&width=352 352w, //hiholden.com/cdn/shop/products/Beveled_3mm_YG_Mirror_ea4bb16a-bdfc-49ba-93bb-c802b7efc7cd.jpg?v=1670456475&width=832 832w, //hiholden.com/cdn/shop/products/Beveled_3mm_YG_Mirror_ea4bb16a-bdfc-49ba-93bb-c802b7efc7cd.jpg?v=1670456475&width=900 900w", "width": 900, "height": 720 } }, { "id": 1771990286354, "options": ["3mm","Yellow Gold","14k"], "url": "\/products\/beveled-profile?variant=1771990286354", "image": {"src": "//hiholden.com/cdn/shop/products/Beveled_3mm_YG_Mirror_ea4bb16a-bdfc-49ba-93bb-c802b7efc7cd.jpg?v=1670456475&width=900", "srcset": "//hiholden.com/cdn/shop/products/Beveled_3mm_YG_Mirror_ea4bb16a-bdfc-49ba-93bb-c802b7efc7cd.jpg?v=1670456475&width=352 352w, //hiholden.com/cdn/shop/products/Beveled_3mm_YG_Mirror_ea4bb16a-bdfc-49ba-93bb-c802b7efc7cd.jpg?v=1670456475&width=832 832w, //hiholden.com/cdn/shop/products/Beveled_3mm_YG_Mirror_ea4bb16a-bdfc-49ba-93bb-c802b7efc7cd.jpg?v=1670456475&width=900 900w", "width": 900, "height": 720 } }, { "id": 1771990319122, "options": ["3mm","Yellow Gold","18k"], "url": "\/products\/beveled-profile?variant=1771990319122", "image": {"src": "//hiholden.com/cdn/shop/products/Beveled_3mm_YG_Mirror_ea4bb16a-bdfc-49ba-93bb-c802b7efc7cd.jpg?v=1670456475&width=900", "srcset": "//hiholden.com/cdn/shop/products/Beveled_3mm_YG_Mirror_ea4bb16a-bdfc-49ba-93bb-c802b7efc7cd.jpg?v=1670456475&width=352 352w, //hiholden.com/cdn/shop/products/Beveled_3mm_YG_Mirror_ea4bb16a-bdfc-49ba-93bb-c802b7efc7cd.jpg?v=1670456475&width=832 832w, //hiholden.com/cdn/shop/products/Beveled_3mm_YG_Mirror_ea4bb16a-bdfc-49ba-93bb-c802b7efc7cd.jpg?v=1670456475&width=900 900w", "width": 900, "height": 720 } }, { "id": 12973659947090, "options": ["4.5mm","Yellow Gold","10k"], "url": "\/products\/beveled-profile?variant=12973659947090", "image": {"src": "//hiholden.com/cdn/shop/products/Beveled_4.5mm_YG_Mirror_3cdb13d8-ea60-4940-88ee-cd00f31bc222.jpg?v=1670456475&width=900", "srcset": "//hiholden.com/cdn/shop/products/Beveled_4.5mm_YG_Mirror_3cdb13d8-ea60-4940-88ee-cd00f31bc222.jpg?v=1670456475&width=352 352w, //hiholden.com/cdn/shop/products/Beveled_4.5mm_YG_Mirror_3cdb13d8-ea60-4940-88ee-cd00f31bc222.jpg?v=1670456475&width=832 832w, //hiholden.com/cdn/shop/products/Beveled_4.5mm_YG_Mirror_3cdb13d8-ea60-4940-88ee-cd00f31bc222.jpg?v=1670456475&width=900 900w", "width": 900, "height": 720 } }, { "id": 12800773914706, "options": ["4.5mm","Yellow Gold","14k"], "url": "\/products\/beveled-profile?variant=12800773914706", "image": {"src": "//hiholden.com/cdn/shop/products/Beveled_4.5mm_YG_Mirror_3cdb13d8-ea60-4940-88ee-cd00f31bc222.jpg?v=1670456475&width=900", "srcset": "//hiholden.com/cdn/shop/products/Beveled_4.5mm_YG_Mirror_3cdb13d8-ea60-4940-88ee-cd00f31bc222.jpg?v=1670456475&width=352 352w, //hiholden.com/cdn/shop/products/Beveled_4.5mm_YG_Mirror_3cdb13d8-ea60-4940-88ee-cd00f31bc222.jpg?v=1670456475&width=832 832w, //hiholden.com/cdn/shop/products/Beveled_4.5mm_YG_Mirror_3cdb13d8-ea60-4940-88ee-cd00f31bc222.jpg?v=1670456475&width=900 900w", "width": 900, "height": 720 } }, { "id": 12800775913554, "options": ["4.5mm","Yellow Gold","18k"], "url": "\/products\/beveled-profile?variant=12800775913554", "image": {"src": "//hiholden.com/cdn/shop/products/Beveled_4.5mm_YG_Mirror_3cdb13d8-ea60-4940-88ee-cd00f31bc222.jpg?v=1670456475&width=900", "srcset": "//hiholden.com/cdn/shop/products/Beveled_4.5mm_YG_Mirror_3cdb13d8-ea60-4940-88ee-cd00f31bc222.jpg?v=1670456475&width=352 352w, //hiholden.com/cdn/shop/products/Beveled_4.5mm_YG_Mirror_3cdb13d8-ea60-4940-88ee-cd00f31bc222.jpg?v=1670456475&width=832 832w, //hiholden.com/cdn/shop/products/Beveled_4.5mm_YG_Mirror_3cdb13d8-ea60-4940-88ee-cd00f31bc222.jpg?v=1670456475&width=900 900w", "width": 900, "height": 720 } }, { "id": 12973661782098, "options": ["6mm","Yellow Gold","10k"], "url": "\/products\/beveled-profile?variant=12973661782098", "image": {"src": "//hiholden.com/cdn/shop/products/Beveled_6mm_YG_Mirror_cf5a2e7e-f17f-455f-bc07-129531d77f6d.jpg?v=1669059139&width=900", "srcset": "//hiholden.com/cdn/shop/products/Beveled_6mm_YG_Mirror_cf5a2e7e-f17f-455f-bc07-129531d77f6d.jpg?v=1669059139&width=352 352w, //hiholden.com/cdn/shop/products/Beveled_6mm_YG_Mirror_cf5a2e7e-f17f-455f-bc07-129531d77f6d.jpg?v=1669059139&width=832 832w, //hiholden.com/cdn/shop/products/Beveled_6mm_YG_Mirror_cf5a2e7e-f17f-455f-bc07-129531d77f6d.jpg?v=1669059139&width=900 900w", "width": 900, "height": 720 } }, { "id": 1771990548498, "options": ["6mm","Yellow Gold","14k"], "url": "\/products\/beveled-profile?variant=1771990548498", "image": {"src": "//hiholden.com/cdn/shop/products/Beveled_6mm_YG_Mirror_cf5a2e7e-f17f-455f-bc07-129531d77f6d.jpg?v=1669059139&width=900", "srcset": "//hiholden.com/cdn/shop/products/Beveled_6mm_YG_Mirror_cf5a2e7e-f17f-455f-bc07-129531d77f6d.jpg?v=1669059139&width=352 352w, //hiholden.com/cdn/shop/products/Beveled_6mm_YG_Mirror_cf5a2e7e-f17f-455f-bc07-129531d77f6d.jpg?v=1669059139&width=832 832w, //hiholden.com/cdn/shop/products/Beveled_6mm_YG_Mirror_cf5a2e7e-f17f-455f-bc07-129531d77f6d.jpg?v=1669059139&width=900 900w", "width": 900, "height": 720 } }, { "id": 1771990581266, "options": ["6mm","Yellow Gold","18k"], "url": "\/products\/beveled-profile?variant=1771990581266", "image": {"src": "//hiholden.com/cdn/shop/products/Beveled_6mm_YG_Mirror_cf5a2e7e-f17f-455f-bc07-129531d77f6d.jpg?v=1669059139&width=900", "srcset": "//hiholden.com/cdn/shop/products/Beveled_6mm_YG_Mirror_cf5a2e7e-f17f-455f-bc07-129531d77f6d.jpg?v=1669059139&width=352 352w, //hiholden.com/cdn/shop/products/Beveled_6mm_YG_Mirror_cf5a2e7e-f17f-455f-bc07-129531d77f6d.jpg?v=1669059139&width=832 832w, //hiholden.com/cdn/shop/products/Beveled_6mm_YG_Mirror_cf5a2e7e-f17f-455f-bc07-129531d77f6d.jpg?v=1669059139&width=900 900w", "width": 900, "height": 720 } } ], "title": "Yellow Gold" }, { "variants": [ { "id": 12973663912018, "options": ["3mm","White Gold","10k"], "url": "\/products\/beveled-profile?variant=12973663912018", "image": {"src": "//hiholden.com/cdn/shop/products/Beveled_3mm_WG_Mirror.jpg?v=1670456475&width=900", "srcset": "//hiholden.com/cdn/shop/products/Beveled_3mm_WG_Mirror.jpg?v=1670456475&width=352 352w, //hiholden.com/cdn/shop/products/Beveled_3mm_WG_Mirror.jpg?v=1670456475&width=832 832w, //hiholden.com/cdn/shop/products/Beveled_3mm_WG_Mirror.jpg?v=1670456475&width=900 900w", "width": 900, "height": 720 } }, { "id": 1771990417426, "options": ["3mm","White Gold","14k"], "url": "\/products\/beveled-profile?variant=1771990417426", "image": {"src": "//hiholden.com/cdn/shop/products/Beveled_3mm_WG_Mirror.jpg?v=1670456475&width=900", "srcset": "//hiholden.com/cdn/shop/products/Beveled_3mm_WG_Mirror.jpg?v=1670456475&width=352 352w, //hiholden.com/cdn/shop/products/Beveled_3mm_WG_Mirror.jpg?v=1670456475&width=832 832w, //hiholden.com/cdn/shop/products/Beveled_3mm_WG_Mirror.jpg?v=1670456475&width=900 900w", "width": 900, "height": 720 } }, { "id": 1771990450194, "options": ["3mm","White Gold","18k"], "url": "\/products\/beveled-profile?variant=1771990450194", "image": {"src": "//hiholden.com/cdn/shop/products/Beveled_3mm_WG_Mirror.jpg?v=1670456475&width=900", "srcset": "//hiholden.com/cdn/shop/products/Beveled_3mm_WG_Mirror.jpg?v=1670456475&width=352 352w, //hiholden.com/cdn/shop/products/Beveled_3mm_WG_Mirror.jpg?v=1670456475&width=832 832w, //hiholden.com/cdn/shop/products/Beveled_3mm_WG_Mirror.jpg?v=1670456475&width=900 900w", "width": 900, "height": 720 } }, { "id": 12973664403538, "options": ["4.5mm","White Gold","10k"], "url": "\/products\/beveled-profile?variant=12973664403538", "image": {"src": "//hiholden.com/cdn/shop/products/Beveled_4.5mm_WG_Mirror.jpg?v=1670456475&width=900", "srcset": "//hiholden.com/cdn/shop/products/Beveled_4.5mm_WG_Mirror.jpg?v=1670456475&width=352 352w, //hiholden.com/cdn/shop/products/Beveled_4.5mm_WG_Mirror.jpg?v=1670456475&width=832 832w, //hiholden.com/cdn/shop/products/Beveled_4.5mm_WG_Mirror.jpg?v=1670456475&width=900 900w", "width": 900, "height": 720 } }, { "id": 12800776699986, "options": ["4.5mm","White Gold","14k"], "url": "\/products\/beveled-profile?variant=12800776699986", "image": {"src": "//hiholden.com/cdn/shop/products/Beveled_4.5mm_WG_Mirror.jpg?v=1670456475&width=900", "srcset": "//hiholden.com/cdn/shop/products/Beveled_4.5mm_WG_Mirror.jpg?v=1670456475&width=352 352w, //hiholden.com/cdn/shop/products/Beveled_4.5mm_WG_Mirror.jpg?v=1670456475&width=832 832w, //hiholden.com/cdn/shop/products/Beveled_4.5mm_WG_Mirror.jpg?v=1670456475&width=900 900w", "width": 900, "height": 720 } }, { "id": 12800777945170, "options": ["4.5mm","White Gold","18k"], "url": "\/products\/beveled-profile?variant=12800777945170", "image": {"src": "//hiholden.com/cdn/shop/products/Beveled_4.5mm_WG_Mirror.jpg?v=1670456475&width=900", "srcset": "//hiholden.com/cdn/shop/products/Beveled_4.5mm_WG_Mirror.jpg?v=1670456475&width=352 352w, //hiholden.com/cdn/shop/products/Beveled_4.5mm_WG_Mirror.jpg?v=1670456475&width=832 832w, //hiholden.com/cdn/shop/products/Beveled_4.5mm_WG_Mirror.jpg?v=1670456475&width=900 900w", "width": 900, "height": 720 } }, { "id": 12973665452114, "options": ["6mm","White Gold","10k"], "url": "\/products\/beveled-profile?variant=12973665452114", "image": {"src": "//hiholden.com/cdn/shop/products/Beveled_6mm_WG_Mirror.jpg?v=1669059139&width=900", "srcset": "//hiholden.com/cdn/shop/products/Beveled_6mm_WG_Mirror.jpg?v=1669059139&width=352 352w, //hiholden.com/cdn/shop/products/Beveled_6mm_WG_Mirror.jpg?v=1669059139&width=832 832w, //hiholden.com/cdn/shop/products/Beveled_6mm_WG_Mirror.jpg?v=1669059139&width=900 900w", "width": 900, "height": 720 } }, { "id": 1771990679570, "options": ["6mm","White Gold","14k"], "url": "\/products\/beveled-profile?variant=1771990679570", "image": {"src": "//hiholden.com/cdn/shop/products/Beveled_6mm_WG_Mirror.jpg?v=1669059139&width=900", "srcset": "//hiholden.com/cdn/shop/products/Beveled_6mm_WG_Mirror.jpg?v=1669059139&width=352 352w, //hiholden.com/cdn/shop/products/Beveled_6mm_WG_Mirror.jpg?v=1669059139&width=832 832w, //hiholden.com/cdn/shop/products/Beveled_6mm_WG_Mirror.jpg?v=1669059139&width=900 900w", "width": 900, "height": 720 } }, { "id": 1771990712338, "options": ["6mm","White Gold","18k"], "url": "\/products\/beveled-profile?variant=1771990712338", "image": {"src": "//hiholden.com/cdn/shop/products/Beveled_6mm_WG_Mirror.jpg?v=1669059139&width=900", "srcset": "//hiholden.com/cdn/shop/products/Beveled_6mm_WG_Mirror.jpg?v=1669059139&width=352 352w, //hiholden.com/cdn/shop/products/Beveled_6mm_WG_Mirror.jpg?v=1669059139&width=832 832w, //hiholden.com/cdn/shop/products/Beveled_6mm_WG_Mirror.jpg?v=1669059139&width=900 900w", "width": 900, "height": 720 } } ], "title": "White Gold" }, { "variants": [ { "id": 12973665845330, "options": ["3mm","Rose Gold","10k"], "url": "\/products\/beveled-profile?variant=12973665845330", "image": {"src": "//hiholden.com/cdn/shop/products/Beveled_3mm_RG_Mirror_f40dc21f-9231-4f47-9e01-8243f83be1e0.jpg?v=1670456475&width=900", "srcset": "//hiholden.com/cdn/shop/products/Beveled_3mm_RG_Mirror_f40dc21f-9231-4f47-9e01-8243f83be1e0.jpg?v=1670456475&width=352 352w, //hiholden.com/cdn/shop/products/Beveled_3mm_RG_Mirror_f40dc21f-9231-4f47-9e01-8243f83be1e0.jpg?v=1670456475&width=832 832w, //hiholden.com/cdn/shop/products/Beveled_3mm_RG_Mirror_f40dc21f-9231-4f47-9e01-8243f83be1e0.jpg?v=1670456475&width=900 900w", "width": 900, "height": 720 } }, { "id": 1771990351890, "options": ["3mm","Rose Gold","14k"], "url": "\/products\/beveled-profile?variant=1771990351890", "image": {"src": "//hiholden.com/cdn/shop/products/Beveled_3mm_RG_Mirror_f40dc21f-9231-4f47-9e01-8243f83be1e0.jpg?v=1670456475&width=900", "srcset": "//hiholden.com/cdn/shop/products/Beveled_3mm_RG_Mirror_f40dc21f-9231-4f47-9e01-8243f83be1e0.jpg?v=1670456475&width=352 352w, //hiholden.com/cdn/shop/products/Beveled_3mm_RG_Mirror_f40dc21f-9231-4f47-9e01-8243f83be1e0.jpg?v=1670456475&width=832 832w, //hiholden.com/cdn/shop/products/Beveled_3mm_RG_Mirror_f40dc21f-9231-4f47-9e01-8243f83be1e0.jpg?v=1670456475&width=900 900w", "width": 900, "height": 720 } }, { "id": 1771990384658, "options": ["3mm","Rose Gold","18k"], "url": "\/products\/beveled-profile?variant=1771990384658", "image": {"src": "//hiholden.com/cdn/shop/products/Beveled_3mm_RG_Mirror_f40dc21f-9231-4f47-9e01-8243f83be1e0.jpg?v=1670456475&width=900", "srcset": "//hiholden.com/cdn/shop/products/Beveled_3mm_RG_Mirror_f40dc21f-9231-4f47-9e01-8243f83be1e0.jpg?v=1670456475&width=352 352w, //hiholden.com/cdn/shop/products/Beveled_3mm_RG_Mirror_f40dc21f-9231-4f47-9e01-8243f83be1e0.jpg?v=1670456475&width=832 832w, //hiholden.com/cdn/shop/products/Beveled_3mm_RG_Mirror_f40dc21f-9231-4f47-9e01-8243f83be1e0.jpg?v=1670456475&width=900 900w", "width": 900, "height": 720 } }, { "id": 12973668892754, "options": ["4.5mm","Rose Gold","10k"], "url": "\/products\/beveled-profile?variant=12973668892754", "image": {"src": "//hiholden.com/cdn/shop/products/Beveled_4.5mm_RG_Mirror_4c1ca6d3-f4c5-4f46-96b9-7946080bb225.jpg?v=1670456475&width=900", "srcset": "//hiholden.com/cdn/shop/products/Beveled_4.5mm_RG_Mirror_4c1ca6d3-f4c5-4f46-96b9-7946080bb225.jpg?v=1670456475&width=352 352w, //hiholden.com/cdn/shop/products/Beveled_4.5mm_RG_Mirror_4c1ca6d3-f4c5-4f46-96b9-7946080bb225.jpg?v=1670456475&width=832 832w, //hiholden.com/cdn/shop/products/Beveled_4.5mm_RG_Mirror_4c1ca6d3-f4c5-4f46-96b9-7946080bb225.jpg?v=1670456475&width=900 900w", "width": 900, "height": 720 } }, { "id": 12800776077394, "options": ["4.5mm","Rose Gold","14k"], "url": "\/products\/beveled-profile?variant=12800776077394", "image": {"src": "//hiholden.com/cdn/shop/products/Beveled_4.5mm_RG_Mirror_4c1ca6d3-f4c5-4f46-96b9-7946080bb225.jpg?v=1670456475&width=900", "srcset": "//hiholden.com/cdn/shop/products/Beveled_4.5mm_RG_Mirror_4c1ca6d3-f4c5-4f46-96b9-7946080bb225.jpg?v=1670456475&width=352 352w, //hiholden.com/cdn/shop/products/Beveled_4.5mm_RG_Mirror_4c1ca6d3-f4c5-4f46-96b9-7946080bb225.jpg?v=1670456475&width=832 832w, //hiholden.com/cdn/shop/products/Beveled_4.5mm_RG_Mirror_4c1ca6d3-f4c5-4f46-96b9-7946080bb225.jpg?v=1670456475&width=900 900w", "width": 900, "height": 720 } }, { "id": 12800776503378, "options": ["4.5mm","Rose Gold","18k"], "url": "\/products\/beveled-profile?variant=12800776503378", "image": {"src": "//hiholden.com/cdn/shop/products/Beveled_4.5mm_RG_Mirror_4c1ca6d3-f4c5-4f46-96b9-7946080bb225.jpg?v=1670456475&width=900", "srcset": "//hiholden.com/cdn/shop/products/Beveled_4.5mm_RG_Mirror_4c1ca6d3-f4c5-4f46-96b9-7946080bb225.jpg?v=1670456475&width=352 352w, //hiholden.com/cdn/shop/products/Beveled_4.5mm_RG_Mirror_4c1ca6d3-f4c5-4f46-96b9-7946080bb225.jpg?v=1670456475&width=832 832w, //hiholden.com/cdn/shop/products/Beveled_4.5mm_RG_Mirror_4c1ca6d3-f4c5-4f46-96b9-7946080bb225.jpg?v=1670456475&width=900 900w", "width": 900, "height": 720 } }, { "id": 12973669908562, "options": ["6mm","Rose Gold","10k"], "url": "\/products\/beveled-profile?variant=12973669908562", "image": {"src": "//hiholden.com/cdn/shop/products/Beveled_6mm_RG_Mirror_f144f7a9-95fe-4069-8c42-3f71314f1da3.jpg?v=1669059141&width=900", "srcset": "//hiholden.com/cdn/shop/products/Beveled_6mm_RG_Mirror_f144f7a9-95fe-4069-8c42-3f71314f1da3.jpg?v=1669059141&width=352 352w, //hiholden.com/cdn/shop/products/Beveled_6mm_RG_Mirror_f144f7a9-95fe-4069-8c42-3f71314f1da3.jpg?v=1669059141&width=832 832w, //hiholden.com/cdn/shop/products/Beveled_6mm_RG_Mirror_f144f7a9-95fe-4069-8c42-3f71314f1da3.jpg?v=1669059141&width=900 900w", "width": 900, "height": 720 } }, { "id": 1771990614034, "options": ["6mm","Rose Gold","14k"], "url": "\/products\/beveled-profile?variant=1771990614034", "image": {"src": "//hiholden.com/cdn/shop/products/Beveled_6mm_RG_Mirror_f144f7a9-95fe-4069-8c42-3f71314f1da3.jpg?v=1669059141&width=900", "srcset": "//hiholden.com/cdn/shop/products/Beveled_6mm_RG_Mirror_f144f7a9-95fe-4069-8c42-3f71314f1da3.jpg?v=1669059141&width=352 352w, //hiholden.com/cdn/shop/products/Beveled_6mm_RG_Mirror_f144f7a9-95fe-4069-8c42-3f71314f1da3.jpg?v=1669059141&width=832 832w, //hiholden.com/cdn/shop/products/Beveled_6mm_RG_Mirror_f144f7a9-95fe-4069-8c42-3f71314f1da3.jpg?v=1669059141&width=900 900w", "width": 900, "height": 720 } }, { "id": 1771990646802, "options": ["6mm","Rose Gold","18k"], "url": "\/products\/beveled-profile?variant=1771990646802", "image": {"src": "//hiholden.com/cdn/shop/products/Beveled_6mm_RG_Mirror_f144f7a9-95fe-4069-8c42-3f71314f1da3.jpg?v=1669059141&width=900", "srcset": "//hiholden.com/cdn/shop/products/Beveled_6mm_RG_Mirror_f144f7a9-95fe-4069-8c42-3f71314f1da3.jpg?v=1669059141&width=352 352w, //hiholden.com/cdn/shop/products/Beveled_6mm_RG_Mirror_f144f7a9-95fe-4069-8c42-3f71314f1da3.jpg?v=1669059141&width=832 832w, //hiholden.com/cdn/shop/products/Beveled_6mm_RG_Mirror_f144f7a9-95fe-4069-8c42-3f71314f1da3.jpg?v=1669059141&width=900 900w", "width": 900, "height": 720 } } ], "title": "Rose Gold" }, { "variants": [ { "id": 1771990482962, "options": ["3mm","Platinum","NA"], "url": "\/products\/beveled-profile?variant=1771990482962", "image": {"src": "//hiholden.com/cdn/shop/products/Beveled_3mm_WG_Mirror.jpg?v=1670456475&width=900", "srcset": "//hiholden.com/cdn/shop/products/Beveled_3mm_WG_Mirror.jpg?v=1670456475&width=352 352w, //hiholden.com/cdn/shop/products/Beveled_3mm_WG_Mirror.jpg?v=1670456475&width=832 832w, //hiholden.com/cdn/shop/products/Beveled_3mm_WG_Mirror.jpg?v=1670456475&width=900 900w", "width": 900, "height": 720 } }, { "id": 12800772309074, "options": ["4.5mm","Platinum","NA"], "url": "\/products\/beveled-profile?variant=12800772309074", "image": {"src": "//hiholden.com/cdn/shop/products/Beveled_4.5mm_WG_Mirror.jpg?v=1670456475&width=900", "srcset": "//hiholden.com/cdn/shop/products/Beveled_4.5mm_WG_Mirror.jpg?v=1670456475&width=352 352w, //hiholden.com/cdn/shop/products/Beveled_4.5mm_WG_Mirror.jpg?v=1670456475&width=832 832w, //hiholden.com/cdn/shop/products/Beveled_4.5mm_WG_Mirror.jpg?v=1670456475&width=900 900w", "width": 900, "height": 720 } }, { "id": 1771990745106, "options": ["6mm","Platinum","NA"], "url": "\/products\/beveled-profile?variant=1771990745106", "image": {"src": "//hiholden.com/cdn/shop/products/Beveled_6mm_WG_Mirror.jpg?v=1669059139&width=900", "srcset": "//hiholden.com/cdn/shop/products/Beveled_6mm_WG_Mirror.jpg?v=1669059139&width=352 352w, //hiholden.com/cdn/shop/products/Beveled_6mm_WG_Mirror.jpg?v=1669059139&width=832 832w, //hiholden.com/cdn/shop/products/Beveled_6mm_WG_Mirror.jpg?v=1669059139&width=900 900w", "width": 900, "height": 720 } } ], "title": "Platinum" } ] }, "productOne": { "firstVariant": 33043501416530, "defaultVariant": 33043501219922, "id": 4853855879250, "url": "\/products\/the-stepped", "tags": "[\"10 karat\", \"14 karat\", \"18 karat\", \"anniversary\", \"anniversary ring\", \"anniversary rings\", \"anniversary stack\", \"band\", \"bands\", \"brushed\", \"brushed finish\", \"brushed polish\", \"design studio\", \"engravable\", \"engrave\", \"engraveable\", \"engraved\", \"engraving\", \"engravings\", \"high polish\", \"large-widths\", \"matte\", \"matte finish\", \"matte polish\", \"matted\", \"men\", \"men's\", \"men's wedding band\", \"men's wedding ring\", \"mens band\", \"mens profile\", \"mens ring\", \"mens rings\", \"mirror\", \"mirror finish\", \"mirrored\", \"personalization\", \"personalized\", \"platinum\", \"polish\", \"polished\", \"profile\", \"profiles\", \"promise ring\", \"promise rings\", \"ring\", \"rings\", \"rose-gold\", \"satin\", \"satin finish\", \"satin polish\", \"shiny\", \"small-widths\", \"stone-none\", \"style\", \"styles\", \"wedding\", \"wedding band\", \"wedding ring\", \"white-gold\", \"women\", \"women's\", \"women's band\", \"women's ring\", \"women's wedding band\", \"women's wedding ring\", \"womens profile\", \"womens rings\", \"yellow-gold\"]", "title": "The Stepped", "price": "$399", "image": {"src": "//hiholden.com/cdn/shop/products/Stepped_4.5mm_YG_Mirror_0a06f694-12be-4b47-8b35-fd99c2838c02.jpg?v=1670457208&width=900", "srcset": "//hiholden.com/cdn/shop/products/Stepped_4.5mm_YG_Mirror_0a06f694-12be-4b47-8b35-fd99c2838c02.jpg?v=1670457208&width=352 352w, //hiholden.com/cdn/shop/products/Stepped_4.5mm_YG_Mirror_0a06f694-12be-4b47-8b35-fd99c2838c02.jpg?v=1670457208&width=832 832w, //hiholden.com/cdn/shop/products/Stepped_4.5mm_YG_Mirror_0a06f694-12be-4b47-8b35-fd99c2838c02.jpg?v=1670457208&width=900 900w", "width": 900, "height": 720, "offset": -10 }, "image_secondary": { "src": "https://cdn.accentuate.io/4853855879250/1668139794271/Stepped_01.jpg?v=1668139794272", "width": 2000, "height": 1600, "alt": "" }, "options": [ { "variants": [ { "id": 33043501416530, "options": ["3mm","Yellow Gold","10k"], "url": "\/products\/the-stepped?variant=33043501416530", "image": {"src": "//hiholden.com/cdn/shop/products/Stepped_3mm_YG_Mirror_8f3ff8ad-55e9-437d-9c67-7ef137604c89.jpg?v=1670457208&width=900", "srcset": "//hiholden.com/cdn/shop/products/Stepped_3mm_YG_Mirror_8f3ff8ad-55e9-437d-9c67-7ef137604c89.jpg?v=1670457208&width=352 352w, //hiholden.com/cdn/shop/products/Stepped_3mm_YG_Mirror_8f3ff8ad-55e9-437d-9c67-7ef137604c89.jpg?v=1670457208&width=832 832w, //hiholden.com/cdn/shop/products/Stepped_3mm_YG_Mirror_8f3ff8ad-55e9-437d-9c67-7ef137604c89.jpg?v=1670457208&width=900 900w", "width": 900, "height": 720 } }, { "id": 33043500728402, "options": ["3mm","Yellow Gold","14k"], "url": "\/products\/the-stepped?variant=33043500728402", "image": {"src": "//hiholden.com/cdn/shop/products/Stepped_3mm_YG_Mirror_8f3ff8ad-55e9-437d-9c67-7ef137604c89.jpg?v=1670457208&width=900", "srcset": "//hiholden.com/cdn/shop/products/Stepped_3mm_YG_Mirror_8f3ff8ad-55e9-437d-9c67-7ef137604c89.jpg?v=1670457208&width=352 352w, //hiholden.com/cdn/shop/products/Stepped_3mm_YG_Mirror_8f3ff8ad-55e9-437d-9c67-7ef137604c89.jpg?v=1670457208&width=832 832w, //hiholden.com/cdn/shop/products/Stepped_3mm_YG_Mirror_8f3ff8ad-55e9-437d-9c67-7ef137604c89.jpg?v=1670457208&width=900 900w", "width": 900, "height": 720 } }, { "id": 33043500761170, "options": ["3mm","Yellow Gold","18k"], "url": "\/products\/the-stepped?variant=33043500761170", "image": {"src": "//hiholden.com/cdn/shop/products/Stepped_3mm_YG_Mirror_8f3ff8ad-55e9-437d-9c67-7ef137604c89.jpg?v=1670457208&width=900", "srcset": "//hiholden.com/cdn/shop/products/Stepped_3mm_YG_Mirror_8f3ff8ad-55e9-437d-9c67-7ef137604c89.jpg?v=1670457208&width=352 352w, //hiholden.com/cdn/shop/products/Stepped_3mm_YG_Mirror_8f3ff8ad-55e9-437d-9c67-7ef137604c89.jpg?v=1670457208&width=832 832w, //hiholden.com/cdn/shop/products/Stepped_3mm_YG_Mirror_8f3ff8ad-55e9-437d-9c67-7ef137604c89.jpg?v=1670457208&width=900 900w", "width": 900, "height": 720 } }, { "id": 33043501449298, "options": ["4.5mm","Yellow Gold","10k"], "url": "\/products\/the-stepped?variant=33043501449298", "image": {"src": "//hiholden.com/cdn/shop/products/Stepped_4.5mm_YG_Mirror_0a06f694-12be-4b47-8b35-fd99c2838c02.jpg?v=1670457208&width=900", "srcset": "//hiholden.com/cdn/shop/products/Stepped_4.5mm_YG_Mirror_0a06f694-12be-4b47-8b35-fd99c2838c02.jpg?v=1670457208&width=352 352w, //hiholden.com/cdn/shop/products/Stepped_4.5mm_YG_Mirror_0a06f694-12be-4b47-8b35-fd99c2838c02.jpg?v=1670457208&width=832 832w, //hiholden.com/cdn/shop/products/Stepped_4.5mm_YG_Mirror_0a06f694-12be-4b47-8b35-fd99c2838c02.jpg?v=1670457208&width=900 900w", "width": 900, "height": 720 } }, { "id": 33043501219922, "options": ["4.5mm","Yellow Gold","14k"], "url": "\/products\/the-stepped?variant=33043501219922", "image": {"src": "//hiholden.com/cdn/shop/products/Stepped_4.5mm_YG_Mirror_0a06f694-12be-4b47-8b35-fd99c2838c02.jpg?v=1670457208&width=900", "srcset": "//hiholden.com/cdn/shop/products/Stepped_4.5mm_YG_Mirror_0a06f694-12be-4b47-8b35-fd99c2838c02.jpg?v=1670457208&width=352 352w, //hiholden.com/cdn/shop/products/Stepped_4.5mm_YG_Mirror_0a06f694-12be-4b47-8b35-fd99c2838c02.jpg?v=1670457208&width=832 832w, //hiholden.com/cdn/shop/products/Stepped_4.5mm_YG_Mirror_0a06f694-12be-4b47-8b35-fd99c2838c02.jpg?v=1670457208&width=900 900w", "width": 900, "height": 720 } }, { "id": 33043501252690, "options": ["4.5mm","Yellow Gold","18k"], "url": "\/products\/the-stepped?variant=33043501252690", "image": {"src": "//hiholden.com/cdn/shop/products/Stepped_4.5mm_YG_Mirror_0a06f694-12be-4b47-8b35-fd99c2838c02.jpg?v=1670457208&width=900", "srcset": "//hiholden.com/cdn/shop/products/Stepped_4.5mm_YG_Mirror_0a06f694-12be-4b47-8b35-fd99c2838c02.jpg?v=1670457208&width=352 352w, //hiholden.com/cdn/shop/products/Stepped_4.5mm_YG_Mirror_0a06f694-12be-4b47-8b35-fd99c2838c02.jpg?v=1670457208&width=832 832w, //hiholden.com/cdn/shop/products/Stepped_4.5mm_YG_Mirror_0a06f694-12be-4b47-8b35-fd99c2838c02.jpg?v=1670457208&width=900 900w", "width": 900, "height": 720 } }, { "id": 33043501482066, "options": ["6mm","Yellow Gold","10k"], "url": "\/products\/the-stepped?variant=33043501482066", "image": {"src": "//hiholden.com/cdn/shop/products/Stepped_6mm_YG_Mirror_a5361610-2f80-4d69-8640-3c28b0318665.jpg?v=1669067417&width=900", "srcset": "//hiholden.com/cdn/shop/products/Stepped_6mm_YG_Mirror_a5361610-2f80-4d69-8640-3c28b0318665.jpg?v=1669067417&width=352 352w, //hiholden.com/cdn/shop/products/Stepped_6mm_YG_Mirror_a5361610-2f80-4d69-8640-3c28b0318665.jpg?v=1669067417&width=832 832w, //hiholden.com/cdn/shop/products/Stepped_6mm_YG_Mirror_a5361610-2f80-4d69-8640-3c28b0318665.jpg?v=1669067417&width=900 900w", "width": 900, "height": 720 } }, { "id": 33043500957778, "options": ["6mm","Yellow Gold","14k"], "url": "\/products\/the-stepped?variant=33043500957778", "image": {"src": "//hiholden.com/cdn/shop/products/Stepped_6mm_YG_Mirror_a5361610-2f80-4d69-8640-3c28b0318665.jpg?v=1669067417&width=900", "srcset": "//hiholden.com/cdn/shop/products/Stepped_6mm_YG_Mirror_a5361610-2f80-4d69-8640-3c28b0318665.jpg?v=1669067417&width=352 352w, //hiholden.com/cdn/shop/products/Stepped_6mm_YG_Mirror_a5361610-2f80-4d69-8640-3c28b0318665.jpg?v=1669067417&width=832 832w, //hiholden.com/cdn/shop/products/Stepped_6mm_YG_Mirror_a5361610-2f80-4d69-8640-3c28b0318665.jpg?v=1669067417&width=900 900w", "width": 900, "height": 720 } }, { "id": 33043500990546, "options": ["6mm","Yellow Gold","18k"], "url": "\/products\/the-stepped?variant=33043500990546", "image": {"src": "//hiholden.com/cdn/shop/products/Stepped_6mm_YG_Mirror_a5361610-2f80-4d69-8640-3c28b0318665.jpg?v=1669067417&width=900", "srcset": "//hiholden.com/cdn/shop/products/Stepped_6mm_YG_Mirror_a5361610-2f80-4d69-8640-3c28b0318665.jpg?v=1669067417&width=352 352w, //hiholden.com/cdn/shop/products/Stepped_6mm_YG_Mirror_a5361610-2f80-4d69-8640-3c28b0318665.jpg?v=1669067417&width=832 832w, //hiholden.com/cdn/shop/products/Stepped_6mm_YG_Mirror_a5361610-2f80-4d69-8640-3c28b0318665.jpg?v=1669067417&width=900 900w", "width": 900, "height": 720 } } ], "title": "Yellow Gold" }, { "variants": [ { "id": 33043501514834, "options": ["3mm","White Gold","10k"], "url": "\/products\/the-stepped?variant=33043501514834", "image": {"src": "//hiholden.com/cdn/shop/products/Stepped_3mm_WG_Mirror.jpg?v=1670457208&width=900", "srcset": "//hiholden.com/cdn/shop/products/Stepped_3mm_WG_Mirror.jpg?v=1670457208&width=352 352w, //hiholden.com/cdn/shop/products/Stepped_3mm_WG_Mirror.jpg?v=1670457208&width=832 832w, //hiholden.com/cdn/shop/products/Stepped_3mm_WG_Mirror.jpg?v=1670457208&width=900 900w", "width": 900, "height": 720 } }, { "id": 33043500859474, "options": ["3mm","White Gold","14k"], "url": "\/products\/the-stepped?variant=33043500859474", "image": {"src": "//hiholden.com/cdn/shop/products/Stepped_3mm_WG_Mirror.jpg?v=1670457208&width=900", "srcset": "//hiholden.com/cdn/shop/products/Stepped_3mm_WG_Mirror.jpg?v=1670457208&width=352 352w, //hiholden.com/cdn/shop/products/Stepped_3mm_WG_Mirror.jpg?v=1670457208&width=832 832w, //hiholden.com/cdn/shop/products/Stepped_3mm_WG_Mirror.jpg?v=1670457208&width=900 900w", "width": 900, "height": 720 } }, { "id": 33043500892242, "options": ["3mm","White Gold","18k"], "url": "\/products\/the-stepped?variant=33043500892242", "image": {"src": "//hiholden.com/cdn/shop/products/Stepped_3mm_WG_Mirror.jpg?v=1670457208&width=900", "srcset": "//hiholden.com/cdn/shop/products/Stepped_3mm_WG_Mirror.jpg?v=1670457208&width=352 352w, //hiholden.com/cdn/shop/products/Stepped_3mm_WG_Mirror.jpg?v=1670457208&width=832 832w, //hiholden.com/cdn/shop/products/Stepped_3mm_WG_Mirror.jpg?v=1670457208&width=900 900w", "width": 900, "height": 720 } }, { "id": 33043501547602, "options": ["4.5mm","White Gold","10k"], "url": "\/products\/the-stepped?variant=33043501547602", "image": {"src": "//hiholden.com/cdn/shop/products/Stepped_4.5mm_WG_Mirror.jpg?v=1670457208&width=900", "srcset": "//hiholden.com/cdn/shop/products/Stepped_4.5mm_WG_Mirror.jpg?v=1670457208&width=352 352w, //hiholden.com/cdn/shop/products/Stepped_4.5mm_WG_Mirror.jpg?v=1670457208&width=832 832w, //hiholden.com/cdn/shop/products/Stepped_4.5mm_WG_Mirror.jpg?v=1670457208&width=900 900w", "width": 900, "height": 720 } }, { "id": 33043501350994, "options": ["4.5mm","White Gold","14k"], "url": "\/products\/the-stepped?variant=33043501350994", "image": {"src": "//hiholden.com/cdn/shop/products/Stepped_4.5mm_WG_Mirror.jpg?v=1670457208&width=900", "srcset": "//hiholden.com/cdn/shop/products/Stepped_4.5mm_WG_Mirror.jpg?v=1670457208&width=352 352w, //hiholden.com/cdn/shop/products/Stepped_4.5mm_WG_Mirror.jpg?v=1670457208&width=832 832w, //hiholden.com/cdn/shop/products/Stepped_4.5mm_WG_Mirror.jpg?v=1670457208&width=900 900w", "width": 900, "height": 720 } }, { "id": 33043501383762, "options": ["4.5mm","White Gold","18k"], "url": "\/products\/the-stepped?variant=33043501383762", "image": {"src": "//hiholden.com/cdn/shop/products/Stepped_4.5mm_WG_Mirror.jpg?v=1670457208&width=900", "srcset": "//hiholden.com/cdn/shop/products/Stepped_4.5mm_WG_Mirror.jpg?v=1670457208&width=352 352w, //hiholden.com/cdn/shop/products/Stepped_4.5mm_WG_Mirror.jpg?v=1670457208&width=832 832w, //hiholden.com/cdn/shop/products/Stepped_4.5mm_WG_Mirror.jpg?v=1670457208&width=900 900w", "width": 900, "height": 720 } }, { "id": 33043501580370, "options": ["6mm","White Gold","10k"], "url": "\/products\/the-stepped?variant=33043501580370", "image": {"src": "//hiholden.com/cdn/shop/products/Stepped_6mm_WG_Mirror.jpg?v=1669067419&width=900", "srcset": "//hiholden.com/cdn/shop/products/Stepped_6mm_WG_Mirror.jpg?v=1669067419&width=352 352w, //hiholden.com/cdn/shop/products/Stepped_6mm_WG_Mirror.jpg?v=1669067419&width=832 832w, //hiholden.com/cdn/shop/products/Stepped_6mm_WG_Mirror.jpg?v=1669067419&width=900 900w", "width": 900, "height": 720 } }, { "id": 33043501088850, "options": ["6mm","White Gold","14k"], "url": "\/products\/the-stepped?variant=33043501088850", "image": {"src": "//hiholden.com/cdn/shop/products/Stepped_6mm_WG_Mirror.jpg?v=1669067419&width=900", "srcset": "//hiholden.com/cdn/shop/products/Stepped_6mm_WG_Mirror.jpg?v=1669067419&width=352 352w, //hiholden.com/cdn/shop/products/Stepped_6mm_WG_Mirror.jpg?v=1669067419&width=832 832w, //hiholden.com/cdn/shop/products/Stepped_6mm_WG_Mirror.jpg?v=1669067419&width=900 900w", "width": 900, "height": 720 } }, { "id": 33043501121618, "options": ["6mm","White Gold","18k"], "url": "\/products\/the-stepped?variant=33043501121618", "image": {"src": "//hiholden.com/cdn/shop/products/Stepped_6mm_WG_Mirror.jpg?v=1669067419&width=900", "srcset": "//hiholden.com/cdn/shop/products/Stepped_6mm_WG_Mirror.jpg?v=1669067419&width=352 352w, //hiholden.com/cdn/shop/products/Stepped_6mm_WG_Mirror.jpg?v=1669067419&width=832 832w, //hiholden.com/cdn/shop/products/Stepped_6mm_WG_Mirror.jpg?v=1669067419&width=900 900w", "width": 900, "height": 720 } } ], "title": "White Gold" }, { "variants": [ { "id": 33043501613138, "options": ["3mm","Rose Gold","10k"], "url": "\/products\/the-stepped?variant=33043501613138", "image": {"src": "//hiholden.com/cdn/shop/products/Stepped_3mm_RG_Mirror_64ab58e6-8159-4bc7-aa33-a93a07a02a92.jpg?v=1670457208&width=900", "srcset": "//hiholden.com/cdn/shop/products/Stepped_3mm_RG_Mirror_64ab58e6-8159-4bc7-aa33-a93a07a02a92.jpg?v=1670457208&width=352 352w, //hiholden.com/cdn/shop/products/Stepped_3mm_RG_Mirror_64ab58e6-8159-4bc7-aa33-a93a07a02a92.jpg?v=1670457208&width=832 832w, //hiholden.com/cdn/shop/products/Stepped_3mm_RG_Mirror_64ab58e6-8159-4bc7-aa33-a93a07a02a92.jpg?v=1670457208&width=900 900w", "width": 900, "height": 720 } }, { "id": 33043500793938, "options": ["3mm","Rose Gold","14k"], "url": "\/products\/the-stepped?variant=33043500793938", "image": {"src": "//hiholden.com/cdn/shop/products/Stepped_3mm_RG_Mirror_64ab58e6-8159-4bc7-aa33-a93a07a02a92.jpg?v=1670457208&width=900", "srcset": "//hiholden.com/cdn/shop/products/Stepped_3mm_RG_Mirror_64ab58e6-8159-4bc7-aa33-a93a07a02a92.jpg?v=1670457208&width=352 352w, //hiholden.com/cdn/shop/products/Stepped_3mm_RG_Mirror_64ab58e6-8159-4bc7-aa33-a93a07a02a92.jpg?v=1670457208&width=832 832w, //hiholden.com/cdn/shop/products/Stepped_3mm_RG_Mirror_64ab58e6-8159-4bc7-aa33-a93a07a02a92.jpg?v=1670457208&width=900 900w", "width": 900, "height": 720 } }, { "id": 33043500826706, "options": ["3mm","Rose Gold","18k"], "url": "\/products\/the-stepped?variant=33043500826706", "image": {"src": "//hiholden.com/cdn/shop/products/Stepped_3mm_RG_Mirror_64ab58e6-8159-4bc7-aa33-a93a07a02a92.jpg?v=1670457208&width=900", "srcset": "//hiholden.com/cdn/shop/products/Stepped_3mm_RG_Mirror_64ab58e6-8159-4bc7-aa33-a93a07a02a92.jpg?v=1670457208&width=352 352w, //hiholden.com/cdn/shop/products/Stepped_3mm_RG_Mirror_64ab58e6-8159-4bc7-aa33-a93a07a02a92.jpg?v=1670457208&width=832 832w, //hiholden.com/cdn/shop/products/Stepped_3mm_RG_Mirror_64ab58e6-8159-4bc7-aa33-a93a07a02a92.jpg?v=1670457208&width=900 900w", "width": 900, "height": 720 } }, { "id": 33043501645906, "options": ["4.5mm","Rose Gold","10k"], "url": "\/products\/the-stepped?variant=33043501645906", "image": {"src": "//hiholden.com/cdn/shop/products/Stepped_4.5mm_RG_Mirror_6e409690-e6ff-4d61-a29a-0c7a2d947f70.jpg?v=1670457208&width=900", "srcset": "//hiholden.com/cdn/shop/products/Stepped_4.5mm_RG_Mirror_6e409690-e6ff-4d61-a29a-0c7a2d947f70.jpg?v=1670457208&width=352 352w, //hiholden.com/cdn/shop/products/Stepped_4.5mm_RG_Mirror_6e409690-e6ff-4d61-a29a-0c7a2d947f70.jpg?v=1670457208&width=832 832w, //hiholden.com/cdn/shop/products/Stepped_4.5mm_RG_Mirror_6e409690-e6ff-4d61-a29a-0c7a2d947f70.jpg?v=1670457208&width=900 900w", "width": 900, "height": 720 } }, { "id": 33043501285458, "options": ["4.5mm","Rose Gold","14k"], "url": "\/products\/the-stepped?variant=33043501285458", "image": {"src": "//hiholden.com/cdn/shop/products/Stepped_4.5mm_RG_Mirror_6e409690-e6ff-4d61-a29a-0c7a2d947f70.jpg?v=1670457208&width=900", "srcset": "//hiholden.com/cdn/shop/products/Stepped_4.5mm_RG_Mirror_6e409690-e6ff-4d61-a29a-0c7a2d947f70.jpg?v=1670457208&width=352 352w, //hiholden.com/cdn/shop/products/Stepped_4.5mm_RG_Mirror_6e409690-e6ff-4d61-a29a-0c7a2d947f70.jpg?v=1670457208&width=832 832w, //hiholden.com/cdn/shop/products/Stepped_4.5mm_RG_Mirror_6e409690-e6ff-4d61-a29a-0c7a2d947f70.jpg?v=1670457208&width=900 900w", "width": 900, "height": 720 } }, { "id": 33043501318226, "options": ["4.5mm","Rose Gold","18k"], "url": "\/products\/the-stepped?variant=33043501318226", "image": {"src": "//hiholden.com/cdn/shop/products/Stepped_4.5mm_RG_Mirror_6e409690-e6ff-4d61-a29a-0c7a2d947f70.jpg?v=1670457208&width=900", "srcset": "//hiholden.com/cdn/shop/products/Stepped_4.5mm_RG_Mirror_6e409690-e6ff-4d61-a29a-0c7a2d947f70.jpg?v=1670457208&width=352 352w, //hiholden.com/cdn/shop/products/Stepped_4.5mm_RG_Mirror_6e409690-e6ff-4d61-a29a-0c7a2d947f70.jpg?v=1670457208&width=832 832w, //hiholden.com/cdn/shop/products/Stepped_4.5mm_RG_Mirror_6e409690-e6ff-4d61-a29a-0c7a2d947f70.jpg?v=1670457208&width=900 900w", "width": 900, "height": 720 } }, { "id": 33043501678674, "options": ["6mm","Rose Gold","10k"], "url": "\/products\/the-stepped?variant=33043501678674", "image": {"src": "//hiholden.com/cdn/shop/products/Stepped_6mm_RG_Mirror_0fa5f6fc-5557-47b9-968e-a8e614a0f424.jpg?v=1669067416&width=900", "srcset": "//hiholden.com/cdn/shop/products/Stepped_6mm_RG_Mirror_0fa5f6fc-5557-47b9-968e-a8e614a0f424.jpg?v=1669067416&width=352 352w, //hiholden.com/cdn/shop/products/Stepped_6mm_RG_Mirror_0fa5f6fc-5557-47b9-968e-a8e614a0f424.jpg?v=1669067416&width=832 832w, //hiholden.com/cdn/shop/products/Stepped_6mm_RG_Mirror_0fa5f6fc-5557-47b9-968e-a8e614a0f424.jpg?v=1669067416&width=900 900w", "width": 900, "height": 720 } }, { "id": 33043501023314, "options": ["6mm","Rose Gold","14k"], "url": "\/products\/the-stepped?variant=33043501023314", "image": {"src": "//hiholden.com/cdn/shop/products/Stepped_6mm_RG_Mirror_0fa5f6fc-5557-47b9-968e-a8e614a0f424.jpg?v=1669067416&width=900", "srcset": "//hiholden.com/cdn/shop/products/Stepped_6mm_RG_Mirror_0fa5f6fc-5557-47b9-968e-a8e614a0f424.jpg?v=1669067416&width=352 352w, //hiholden.com/cdn/shop/products/Stepped_6mm_RG_Mirror_0fa5f6fc-5557-47b9-968e-a8e614a0f424.jpg?v=1669067416&width=832 832w, //hiholden.com/cdn/shop/products/Stepped_6mm_RG_Mirror_0fa5f6fc-5557-47b9-968e-a8e614a0f424.jpg?v=1669067416&width=900 900w", "width": 900, "height": 720 } }, { "id": 33043501056082, "options": ["6mm","Rose Gold","18k"], "url": "\/products\/the-stepped?variant=33043501056082", "image": {"src": "//hiholden.com/cdn/shop/products/Stepped_6mm_RG_Mirror_0fa5f6fc-5557-47b9-968e-a8e614a0f424.jpg?v=1669067416&width=900", "srcset": "//hiholden.com/cdn/shop/products/Stepped_6mm_RG_Mirror_0fa5f6fc-5557-47b9-968e-a8e614a0f424.jpg?v=1669067416&width=352 352w, //hiholden.com/cdn/shop/products/Stepped_6mm_RG_Mirror_0fa5f6fc-5557-47b9-968e-a8e614a0f424.jpg?v=1669067416&width=832 832w, //hiholden.com/cdn/shop/products/Stepped_6mm_RG_Mirror_0fa5f6fc-5557-47b9-968e-a8e614a0f424.jpg?v=1669067416&width=900 900w", "width": 900, "height": 720 } } ], "title": "Rose Gold" }, { "variants": [ { "id": 33043500925010, "options": ["3mm","Platinum","NA"], "url": "\/products\/the-stepped?variant=33043500925010", "image": {"src": "//hiholden.com/cdn/shop/products/Stepped_3mm_WG_Mirror.jpg?v=1670457208&width=900", "srcset": "//hiholden.com/cdn/shop/products/Stepped_3mm_WG_Mirror.jpg?v=1670457208&width=352 352w, //hiholden.com/cdn/shop/products/Stepped_3mm_WG_Mirror.jpg?v=1670457208&width=832 832w, //hiholden.com/cdn/shop/products/Stepped_3mm_WG_Mirror.jpg?v=1670457208&width=900 900w", "width": 900, "height": 720 } }, { "id": 33043501187154, "options": ["4.5mm","Platinum","NA"], "url": "\/products\/the-stepped?variant=33043501187154", "image": {"src": "//hiholden.com/cdn/shop/products/Stepped_4.5mm_WG_Mirror.jpg?v=1670457208&width=900", "srcset": "//hiholden.com/cdn/shop/products/Stepped_4.5mm_WG_Mirror.jpg?v=1670457208&width=352 352w, //hiholden.com/cdn/shop/products/Stepped_4.5mm_WG_Mirror.jpg?v=1670457208&width=832 832w, //hiholden.com/cdn/shop/products/Stepped_4.5mm_WG_Mirror.jpg?v=1670457208&width=900 900w", "width": 900, "height": 720 } }, { "id": 33043501154386, "options": ["6mm","Platinum","NA"], "url": "\/products\/the-stepped?variant=33043501154386", "image": {"src": "//hiholden.com/cdn/shop/products/Stepped_6mm_WG_Mirror.jpg?v=1669067419&width=900", "srcset": "//hiholden.com/cdn/shop/products/Stepped_6mm_WG_Mirror.jpg?v=1669067419&width=352 352w, //hiholden.com/cdn/shop/products/Stepped_6mm_WG_Mirror.jpg?v=1669067419&width=832 832w, //hiholden.com/cdn/shop/products/Stepped_6mm_WG_Mirror.jpg?v=1669067419&width=900 900w", "width": 900, "height": 720 } } ], "title": "Platinum" } ] } }, { "names": "Raj \u0026 Ashlee", "image": {"src": "//hiholden.com/cdn/shop/files/Raj_Ashlee.jpg?v=1668461533&width=900", "srcset": "//hiholden.com/cdn/shop/files/Raj_Ashlee.jpg?v=1668461533&width=352 352w, //hiholden.com/cdn/shop/files/Raj_Ashlee.jpg?v=1668461533&width=832 832w, //hiholden.com/cdn/shop/files/Raj_Ashlee.jpg?v=1668461533&width=900 900w", "width": 900, "height": 1171 }, "productTwo": { "firstVariant": 12973727449170, "defaultVariant": 12800797474898, "id": 183233806354, "url": "\/products\/dome-profile", "tags": "[\"10 karat\", \"14 karat\", \"18 karat\", \"anniversary\", \"anniversary ring\", \"anniversary rings\", \"anniversary stack\", \"band\", \"bands\", \"brushed\", \"brushed finish\", \"brushed polish\", \"design studio\", \"dom\", \"engravable\", \"engrave\", \"engraveable\", \"engraved\", \"engraving\", \"engravings\", \"high polish\", \"large-widths\", \"matte\", \"matte finish\", \"matte polish\", \"matted\", \"men\", \"men's\", \"men's wedding band\", \"men's wedding ring\", \"mens band\", \"mens profile\", \"mens ring\", \"mens rings\", \"mirror\", \"mirror finish\", \"mirrored\", \"personalization\", \"personalized\", \"platinum\", \"polish\", \"polished\", \"profile\", \"profiles\", \"promise ring\", \"promise rings\", \"ring\", \"rings\", \"rose-gold\", \"satin\", \"satin finish\", \"satin polish\", \"shiny\", \"small-widths\", \"stone-none\", \"style\", \"styles\", \"wedding\", \"wedding band\", \"wedding ring\", \"white-gold\", \"women\", \"women's\", \"women's band\", \"women's ring\", \"women's wedding band\", \"women's wedding ring\", \"womens profile\", \"womens rings\", \"yellow-gold\"]", "title": "The Domed", "price": "$249", "image": {"src": "//hiholden.com/cdn/shop/products/Domed_4.5mm_YG_Mirror_86f7a8b8-ecd9-4a4c-a84d-45369433528f.jpg?v=1670448113&width=900", "srcset": "//hiholden.com/cdn/shop/products/Domed_4.5mm_YG_Mirror_86f7a8b8-ecd9-4a4c-a84d-45369433528f.jpg?v=1670448113&width=352 352w, //hiholden.com/cdn/shop/products/Domed_4.5mm_YG_Mirror_86f7a8b8-ecd9-4a4c-a84d-45369433528f.jpg?v=1670448113&width=832 832w, //hiholden.com/cdn/shop/products/Domed_4.5mm_YG_Mirror_86f7a8b8-ecd9-4a4c-a84d-45369433528f.jpg?v=1670448113&width=900 900w", "width": 900, "height": 720, "offset": -10 }, "image_secondary": { "src": "https://cdn.accentuate.io/183233806354/1668530237658/Domed_01.jpg?v=1668530237658", "width": 2000, "height": 1600, "alt": "\\ alt : Model wearing Holden's Domed wedding ring. \\ light \\ \\ width : 6mm" }, "options": [ { "variants": [ { "id": 12973727449170, "options": ["1.5mm","Yellow Gold","10k"], "url": "\/products\/dome-profile?variant=12973727449170", "image": {"src": "//hiholden.com/cdn/shop/products/Domed_1.5mm_YG_Mirror_d855a6dd-c0f2-4c73-832f-f4780953bab0.jpg?v=1670448113&width=900", "srcset": "//hiholden.com/cdn/shop/products/Domed_1.5mm_YG_Mirror_d855a6dd-c0f2-4c73-832f-f4780953bab0.jpg?v=1670448113&width=352 352w, //hiholden.com/cdn/shop/products/Domed_1.5mm_YG_Mirror_d855a6dd-c0f2-4c73-832f-f4780953bab0.jpg?v=1670448113&width=832 832w, //hiholden.com/cdn/shop/products/Domed_1.5mm_YG_Mirror_d855a6dd-c0f2-4c73-832f-f4780953bab0.jpg?v=1670448113&width=900 900w", "width": 900, "height": 720 } }, { "id": 12482724233298, "options": ["1.5mm","Yellow Gold","14k"], "url": "\/products\/dome-profile?variant=12482724233298", "image": {"src": "//hiholden.com/cdn/shop/products/Domed_1.5mm_YG_Mirror_d855a6dd-c0f2-4c73-832f-f4780953bab0.jpg?v=1670448113&width=900", "srcset": "//hiholden.com/cdn/shop/products/Domed_1.5mm_YG_Mirror_d855a6dd-c0f2-4c73-832f-f4780953bab0.jpg?v=1670448113&width=352 352w, //hiholden.com/cdn/shop/products/Domed_1.5mm_YG_Mirror_d855a6dd-c0f2-4c73-832f-f4780953bab0.jpg?v=1670448113&width=832 832w, //hiholden.com/cdn/shop/products/Domed_1.5mm_YG_Mirror_d855a6dd-c0f2-4c73-832f-f4780953bab0.jpg?v=1670448113&width=900 900w", "width": 900, "height": 720 } }, { "id": 12482724986962, "options": ["1.5mm","Yellow Gold","18k"], "url": "\/products\/dome-profile?variant=12482724986962", "image": {"src": "//hiholden.com/cdn/shop/products/Domed_1.5mm_YG_Mirror_d855a6dd-c0f2-4c73-832f-f4780953bab0.jpg?v=1670448113&width=900", "srcset": "//hiholden.com/cdn/shop/products/Domed_1.5mm_YG_Mirror_d855a6dd-c0f2-4c73-832f-f4780953bab0.jpg?v=1670448113&width=352 352w, //hiholden.com/cdn/shop/products/Domed_1.5mm_YG_Mirror_d855a6dd-c0f2-4c73-832f-f4780953bab0.jpg?v=1670448113&width=832 832w, //hiholden.com/cdn/shop/products/Domed_1.5mm_YG_Mirror_d855a6dd-c0f2-4c73-832f-f4780953bab0.jpg?v=1670448113&width=900 900w", "width": 900, "height": 720 } }, { "id": 12973728333906, "options": ["3mm","Yellow Gold","10k"], "url": "\/products\/dome-profile?variant=12973728333906", "image": {"src": "//hiholden.com/cdn/shop/products/Domed_3mm_YG_Mirror_91ba4268-4c5e-40cd-af2c-500d3d0e138d.jpg?v=1670448113&width=900", "srcset": "//hiholden.com/cdn/shop/products/Domed_3mm_YG_Mirror_91ba4268-4c5e-40cd-af2c-500d3d0e138d.jpg?v=1670448113&width=352 352w, //hiholden.com/cdn/shop/products/Domed_3mm_YG_Mirror_91ba4268-4c5e-40cd-af2c-500d3d0e138d.jpg?v=1670448113&width=832 832w, //hiholden.com/cdn/shop/products/Domed_3mm_YG_Mirror_91ba4268-4c5e-40cd-af2c-500d3d0e138d.jpg?v=1670448113&width=900 900w", "width": 900, "height": 720 } }, { "id": 1632685490194, "options": ["3mm","Yellow Gold","14k"], "url": "\/products\/dome-profile?variant=1632685490194", "image": {"src": "//hiholden.com/cdn/shop/products/Domed_3mm_YG_Mirror_91ba4268-4c5e-40cd-af2c-500d3d0e138d.jpg?v=1670448113&width=900", "srcset": "//hiholden.com/cdn/shop/products/Domed_3mm_YG_Mirror_91ba4268-4c5e-40cd-af2c-500d3d0e138d.jpg?v=1670448113&width=352 352w, //hiholden.com/cdn/shop/products/Domed_3mm_YG_Mirror_91ba4268-4c5e-40cd-af2c-500d3d0e138d.jpg?v=1670448113&width=832 832w, //hiholden.com/cdn/shop/products/Domed_3mm_YG_Mirror_91ba4268-4c5e-40cd-af2c-500d3d0e138d.jpg?v=1670448113&width=900 900w", "width": 900, "height": 720 } }, { "id": 1632685522962, "options": ["3mm","Yellow Gold","18k"], "url": "\/products\/dome-profile?variant=1632685522962", "image": {"src": "//hiholden.com/cdn/shop/products/Domed_3mm_YG_Mirror_91ba4268-4c5e-40cd-af2c-500d3d0e138d.jpg?v=1670448113&width=900", "srcset": "//hiholden.com/cdn/shop/products/Domed_3mm_YG_Mirror_91ba4268-4c5e-40cd-af2c-500d3d0e138d.jpg?v=1670448113&width=352 352w, //hiholden.com/cdn/shop/products/Domed_3mm_YG_Mirror_91ba4268-4c5e-40cd-af2c-500d3d0e138d.jpg?v=1670448113&width=832 832w, //hiholden.com/cdn/shop/products/Domed_3mm_YG_Mirror_91ba4268-4c5e-40cd-af2c-500d3d0e138d.jpg?v=1670448113&width=900 900w", "width": 900, "height": 720 } }, { "id": 12973728694354, "options": ["4.5mm","Yellow Gold","10k"], "url": "\/products\/dome-profile?variant=12973728694354", "image": {"src": "//hiholden.com/cdn/shop/products/Domed_4.5mm_YG_Mirror_86f7a8b8-ecd9-4a4c-a84d-45369433528f.jpg?v=1670448113&width=900", "srcset": "//hiholden.com/cdn/shop/products/Domed_4.5mm_YG_Mirror_86f7a8b8-ecd9-4a4c-a84d-45369433528f.jpg?v=1670448113&width=352 352w, //hiholden.com/cdn/shop/products/Domed_4.5mm_YG_Mirror_86f7a8b8-ecd9-4a4c-a84d-45369433528f.jpg?v=1670448113&width=832 832w, //hiholden.com/cdn/shop/products/Domed_4.5mm_YG_Mirror_86f7a8b8-ecd9-4a4c-a84d-45369433528f.jpg?v=1670448113&width=900 900w", "width": 900, "height": 720 } }, { "id": 12800797474898, "options": ["4.5mm","Yellow Gold","14k"], "url": "\/products\/dome-profile?variant=12800797474898", "image": {"src": "//hiholden.com/cdn/shop/products/Domed_4.5mm_YG_Mirror_86f7a8b8-ecd9-4a4c-a84d-45369433528f.jpg?v=1670448113&width=900", "srcset": "//hiholden.com/cdn/shop/products/Domed_4.5mm_YG_Mirror_86f7a8b8-ecd9-4a4c-a84d-45369433528f.jpg?v=1670448113&width=352 352w, //hiholden.com/cdn/shop/products/Domed_4.5mm_YG_Mirror_86f7a8b8-ecd9-4a4c-a84d-45369433528f.jpg?v=1670448113&width=832 832w, //hiholden.com/cdn/shop/products/Domed_4.5mm_YG_Mirror_86f7a8b8-ecd9-4a4c-a84d-45369433528f.jpg?v=1670448113&width=900 900w", "width": 900, "height": 720 } }, { "id": 12800798228562, "options": ["4.5mm","Yellow Gold","18k"], "url": "\/products\/dome-profile?variant=12800798228562", "image": {"src": "//hiholden.com/cdn/shop/products/Domed_4.5mm_YG_Mirror_86f7a8b8-ecd9-4a4c-a84d-45369433528f.jpg?v=1670448113&width=900", "srcset": "//hiholden.com/cdn/shop/products/Domed_4.5mm_YG_Mirror_86f7a8b8-ecd9-4a4c-a84d-45369433528f.jpg?v=1670448113&width=352 352w, //hiholden.com/cdn/shop/products/Domed_4.5mm_YG_Mirror_86f7a8b8-ecd9-4a4c-a84d-45369433528f.jpg?v=1670448113&width=832 832w, //hiholden.com/cdn/shop/products/Domed_4.5mm_YG_Mirror_86f7a8b8-ecd9-4a4c-a84d-45369433528f.jpg?v=1670448113&width=900 900w", "width": 900, "height": 720 } }, { "id": 12973730136146, "options": ["6mm","Yellow Gold","10k"], "url": "\/products\/dome-profile?variant=12973730136146", "image": {"src": "//hiholden.com/cdn/shop/products/Domed_6mm_YG_Mirror_7934aff3-ecc9-4960-a39a-a862a055c83c.jpg?v=1669060571&width=900", "srcset": "//hiholden.com/cdn/shop/products/Domed_6mm_YG_Mirror_7934aff3-ecc9-4960-a39a-a862a055c83c.jpg?v=1669060571&width=352 352w, //hiholden.com/cdn/shop/products/Domed_6mm_YG_Mirror_7934aff3-ecc9-4960-a39a-a862a055c83c.jpg?v=1669060571&width=832 832w, //hiholden.com/cdn/shop/products/Domed_6mm_YG_Mirror_7934aff3-ecc9-4960-a39a-a862a055c83c.jpg?v=1669060571&width=900 900w", "width": 900, "height": 720 } }, { "id": 1632685981714, "options": ["6mm","Yellow Gold","14k"], "url": "\/products\/dome-profile?variant=1632685981714", "image": {"src": "//hiholden.com/cdn/shop/products/Domed_6mm_YG_Mirror_7934aff3-ecc9-4960-a39a-a862a055c83c.jpg?v=1669060571&width=900", "srcset": "//hiholden.com/cdn/shop/products/Domed_6mm_YG_Mirror_7934aff3-ecc9-4960-a39a-a862a055c83c.jpg?v=1669060571&width=352 352w, //hiholden.com/cdn/shop/products/Domed_6mm_YG_Mirror_7934aff3-ecc9-4960-a39a-a862a055c83c.jpg?v=1669060571&width=832 832w, //hiholden.com/cdn/shop/products/Domed_6mm_YG_Mirror_7934aff3-ecc9-4960-a39a-a862a055c83c.jpg?v=1669060571&width=900 900w", "width": 900, "height": 720 } }, { "id": 1632686014482, "options": ["6mm","Yellow Gold","18k"], "url": "\/products\/dome-profile?variant=1632686014482", "image": {"src": "//hiholden.com/cdn/shop/products/Domed_6mm_YG_Mirror_7934aff3-ecc9-4960-a39a-a862a055c83c.jpg?v=1669060571&width=900", "srcset": "//hiholden.com/cdn/shop/products/Domed_6mm_YG_Mirror_7934aff3-ecc9-4960-a39a-a862a055c83c.jpg?v=1669060571&width=352 352w, //hiholden.com/cdn/shop/products/Domed_6mm_YG_Mirror_7934aff3-ecc9-4960-a39a-a862a055c83c.jpg?v=1669060571&width=832 832w, //hiholden.com/cdn/shop/products/Domed_6mm_YG_Mirror_7934aff3-ecc9-4960-a39a-a862a055c83c.jpg?v=1669060571&width=900 900w", "width": 900, "height": 720 } } ], "title": "Yellow Gold" }, { "variants": [ { "id": 12973730431058, "options": ["1.5mm","White Gold","10k"], "url": "\/products\/dome-profile?variant=12973730431058", "image": {"src": "//hiholden.com/cdn/shop/products/Domed_1.5mm_WG_Mirror.jpg?v=1670448113&width=900", "srcset": "//hiholden.com/cdn/shop/products/Domed_1.5mm_WG_Mirror.jpg?v=1670448113&width=352 352w, //hiholden.com/cdn/shop/products/Domed_1.5mm_WG_Mirror.jpg?v=1670448113&width=832 832w, //hiholden.com/cdn/shop/products/Domed_1.5mm_WG_Mirror.jpg?v=1670448113&width=900 900w", "width": 900, "height": 720 } }, { "id": 12482725806162, "options": ["1.5mm","White Gold","14k"], "url": "\/products\/dome-profile?variant=12482725806162", "image": {"src": "//hiholden.com/cdn/shop/products/Domed_1.5mm_WG_Mirror.jpg?v=1670448113&width=900", "srcset": "//hiholden.com/cdn/shop/products/Domed_1.5mm_WG_Mirror.jpg?v=1670448113&width=352 352w, //hiholden.com/cdn/shop/products/Domed_1.5mm_WG_Mirror.jpg?v=1670448113&width=832 832w, //hiholden.com/cdn/shop/products/Domed_1.5mm_WG_Mirror.jpg?v=1670448113&width=900 900w", "width": 900, "height": 720 } }, { "id": 12482726428754, "options": ["1.5mm","White Gold","18k"], "url": "\/products\/dome-profile?variant=12482726428754", "image": {"src": "//hiholden.com/cdn/shop/products/Domed_1.5mm_WG_Mirror.jpg?v=1670448113&width=900", "srcset": "//hiholden.com/cdn/shop/products/Domed_1.5mm_WG_Mirror.jpg?v=1670448113&width=352 352w, //hiholden.com/cdn/shop/products/Domed_1.5mm_WG_Mirror.jpg?v=1670448113&width=832 832w, //hiholden.com/cdn/shop/products/Domed_1.5mm_WG_Mirror.jpg?v=1670448113&width=900 900w", "width": 900, "height": 720 } }, { "id": 12973730725970, "options": ["3mm","White Gold","10k"], "url": "\/products\/dome-profile?variant=12973730725970", "image": {"src": "//hiholden.com/cdn/shop/products/Domed_3mm_WG_Mirror.jpg?v=1670448113&width=900", "srcset": "//hiholden.com/cdn/shop/products/Domed_3mm_WG_Mirror.jpg?v=1670448113&width=352 352w, //hiholden.com/cdn/shop/products/Domed_3mm_WG_Mirror.jpg?v=1670448113&width=832 832w, //hiholden.com/cdn/shop/products/Domed_3mm_WG_Mirror.jpg?v=1670448113&width=900 900w", "width": 900, "height": 720 } }, { "id": 1632685686802, "options": ["3mm","White Gold","14k"], "url": "\/products\/dome-profile?variant=1632685686802", "image": {"src": "//hiholden.com/cdn/shop/products/Domed_3mm_WG_Mirror.jpg?v=1670448113&width=900", "srcset": "//hiholden.com/cdn/shop/products/Domed_3mm_WG_Mirror.jpg?v=1670448113&width=352 352w, //hiholden.com/cdn/shop/products/Domed_3mm_WG_Mirror.jpg?v=1670448113&width=832 832w, //hiholden.com/cdn/shop/products/Domed_3mm_WG_Mirror.jpg?v=1670448113&width=900 900w", "width": 900, "height": 720 } }, { "id": 1632685719570, "options": ["3mm","White Gold","18k"], "url": "\/products\/dome-profile?variant=1632685719570", "image": {"src": "//hiholden.com/cdn/shop/products/Domed_3mm_WG_Mirror.jpg?v=1670448113&width=900", "srcset": "//hiholden.com/cdn/shop/products/Domed_3mm_WG_Mirror.jpg?v=1670448113&width=352 352w, //hiholden.com/cdn/shop/products/Domed_3mm_WG_Mirror.jpg?v=1670448113&width=832 832w, //hiholden.com/cdn/shop/products/Domed_3mm_WG_Mirror.jpg?v=1670448113&width=900 900w", "width": 900, "height": 720 } }, { "id": 12973732528210, "options": ["4.5mm","White Gold","10k"], "url": "\/products\/dome-profile?variant=12973732528210", "image": {"src": "//hiholden.com/cdn/shop/products/Domed_4.5mm_WG_Mirror.jpg?v=1670448113&width=900", "srcset": "//hiholden.com/cdn/shop/products/Domed_4.5mm_WG_Mirror.jpg?v=1670448113&width=352 352w, //hiholden.com/cdn/shop/products/Domed_4.5mm_WG_Mirror.jpg?v=1670448113&width=832 832w, //hiholden.com/cdn/shop/products/Domed_4.5mm_WG_Mirror.jpg?v=1670448113&width=900 900w", "width": 900, "height": 720 } }, { "id": 12800800653394, "options": ["4.5mm","White Gold","14k"], "url": "\/products\/dome-profile?variant=12800800653394", "image": {"src": "//hiholden.com/cdn/shop/products/Domed_4.5mm_WG_Mirror.jpg?v=1670448113&width=900", "srcset": "//hiholden.com/cdn/shop/products/Domed_4.5mm_WG_Mirror.jpg?v=1670448113&width=352 352w, //hiholden.com/cdn/shop/products/Domed_4.5mm_WG_Mirror.jpg?v=1670448113&width=832 832w, //hiholden.com/cdn/shop/products/Domed_4.5mm_WG_Mirror.jpg?v=1670448113&width=900 900w", "width": 900, "height": 720 } }, { "id": 12800800948306, "options": ["4.5mm","White Gold","18k"], "url": "\/products\/dome-profile?variant=12800800948306", "image": {"src": "//hiholden.com/cdn/shop/products/Domed_4.5mm_WG_Mirror.jpg?v=1670448113&width=900", "srcset": "//hiholden.com/cdn/shop/products/Domed_4.5mm_WG_Mirror.jpg?v=1670448113&width=352 352w, //hiholden.com/cdn/shop/products/Domed_4.5mm_WG_Mirror.jpg?v=1670448113&width=832 832w, //hiholden.com/cdn/shop/products/Domed_4.5mm_WG_Mirror.jpg?v=1670448113&width=900 900w", "width": 900, "height": 720 } }, { "id": 12973732560978, "options": ["6mm","White Gold","10k"], "url": "\/products\/dome-profile?variant=12973732560978", "image": {"src": "//hiholden.com/cdn/shop/products/Domed_6mm_WG_Mirror.jpg?v=1669060572&width=900", "srcset": "//hiholden.com/cdn/shop/products/Domed_6mm_WG_Mirror.jpg?v=1669060572&width=352 352w, //hiholden.com/cdn/shop/products/Domed_6mm_WG_Mirror.jpg?v=1669060572&width=832 832w, //hiholden.com/cdn/shop/products/Domed_6mm_WG_Mirror.jpg?v=1669060572&width=900 900w", "width": 900, "height": 720 } }, { "id": 1632686178322, "options": ["6mm","White Gold","14k"], "url": "\/products\/dome-profile?variant=1632686178322", "image": {"src": "//hiholden.com/cdn/shop/products/Domed_6mm_WG_Mirror.jpg?v=1669060572&width=900", "srcset": "//hiholden.com/cdn/shop/products/Domed_6mm_WG_Mirror.jpg?v=1669060572&width=352 352w, //hiholden.com/cdn/shop/products/Domed_6mm_WG_Mirror.jpg?v=1669060572&width=832 832w, //hiholden.com/cdn/shop/products/Domed_6mm_WG_Mirror.jpg?v=1669060572&width=900 900w", "width": 900, "height": 720 } }, { "id": 1632686211090, "options": ["6mm","White Gold","18k"], "url": "\/products\/dome-profile?variant=1632686211090", "image": {"src": "//hiholden.com/cdn/shop/products/Domed_6mm_WG_Mirror.jpg?v=1669060572&width=900", "srcset": "//hiholden.com/cdn/shop/products/Domed_6mm_WG_Mirror.jpg?v=1669060572&width=352 352w, //hiholden.com/cdn/shop/products/Domed_6mm_WG_Mirror.jpg?v=1669060572&width=832 832w, //hiholden.com/cdn/shop/products/Domed_6mm_WG_Mirror.jpg?v=1669060572&width=900 900w", "width": 900, "height": 720 } } ], "title": "White Gold" }, { "variants": [ { "id": 12973733904466, "options": ["1.5mm","Rose Gold","10k"], "url": "\/products\/dome-profile?variant=12973733904466", "image": {"src": "//hiholden.com/cdn/shop/products/Domed_1.5mm_RG_Mirror_16e165ae-a3df-4013-a084-9cfcb9baee1b.jpg?v=1670448113&width=900", "srcset": "//hiholden.com/cdn/shop/products/Domed_1.5mm_RG_Mirror_16e165ae-a3df-4013-a084-9cfcb9baee1b.jpg?v=1670448113&width=352 352w, //hiholden.com/cdn/shop/products/Domed_1.5mm_RG_Mirror_16e165ae-a3df-4013-a084-9cfcb9baee1b.jpg?v=1670448113&width=832 832w, //hiholden.com/cdn/shop/products/Domed_1.5mm_RG_Mirror_16e165ae-a3df-4013-a084-9cfcb9baee1b.jpg?v=1670448113&width=900 900w", "width": 900, "height": 720 } }, { "id": 12482725609554, "options": ["1.5mm","Rose Gold","14k"], "url": "\/products\/dome-profile?variant=12482725609554", "image": {"src": "//hiholden.com/cdn/shop/products/Domed_1.5mm_RG_Mirror_16e165ae-a3df-4013-a084-9cfcb9baee1b.jpg?v=1670448113&width=900", "srcset": "//hiholden.com/cdn/shop/products/Domed_1.5mm_RG_Mirror_16e165ae-a3df-4013-a084-9cfcb9baee1b.jpg?v=1670448113&width=352 352w, //hiholden.com/cdn/shop/products/Domed_1.5mm_RG_Mirror_16e165ae-a3df-4013-a084-9cfcb9baee1b.jpg?v=1670448113&width=832 832w, //hiholden.com/cdn/shop/products/Domed_1.5mm_RG_Mirror_16e165ae-a3df-4013-a084-9cfcb9baee1b.jpg?v=1670448113&width=900 900w", "width": 900, "height": 720 } }, { "id": 12482725740626, "options": ["1.5mm","Rose Gold","18k"], "url": "\/products\/dome-profile?variant=12482725740626", "image": {"src": "//hiholden.com/cdn/shop/products/Domed_1.5mm_RG_Mirror_16e165ae-a3df-4013-a084-9cfcb9baee1b.jpg?v=1670448113&width=900", "srcset": "//hiholden.com/cdn/shop/products/Domed_1.5mm_RG_Mirror_16e165ae-a3df-4013-a084-9cfcb9baee1b.jpg?v=1670448113&width=352 352w, //hiholden.com/cdn/shop/products/Domed_1.5mm_RG_Mirror_16e165ae-a3df-4013-a084-9cfcb9baee1b.jpg?v=1670448113&width=832 832w, //hiholden.com/cdn/shop/products/Domed_1.5mm_RG_Mirror_16e165ae-a3df-4013-a084-9cfcb9baee1b.jpg?v=1670448113&width=900 900w", "width": 900, "height": 720 } }, { "id": 12973734330450, "options": ["3mm","Rose Gold","10k"], "url": "\/products\/dome-profile?variant=12973734330450", "image": {"src": "//hiholden.com/cdn/shop/products/Domed_3mm_RG_Mirror_4007fe95-2671-4ce2-8660-bfa69a4cb854.jpg?v=1670448113&width=900", "srcset": "//hiholden.com/cdn/shop/products/Domed_3mm_RG_Mirror_4007fe95-2671-4ce2-8660-bfa69a4cb854.jpg?v=1670448113&width=352 352w, //hiholden.com/cdn/shop/products/Domed_3mm_RG_Mirror_4007fe95-2671-4ce2-8660-bfa69a4cb854.jpg?v=1670448113&width=832 832w, //hiholden.com/cdn/shop/products/Domed_3mm_RG_Mirror_4007fe95-2671-4ce2-8660-bfa69a4cb854.jpg?v=1670448113&width=900 900w", "width": 900, "height": 720 } }, { "id": 1632685588498, "options": ["3mm","Rose Gold","14k"], "url": "\/products\/dome-profile?variant=1632685588498", "image": {"src": "//hiholden.com/cdn/shop/products/Domed_3mm_RG_Mirror_4007fe95-2671-4ce2-8660-bfa69a4cb854.jpg?v=1670448113&width=900", "srcset": "//hiholden.com/cdn/shop/products/Domed_3mm_RG_Mirror_4007fe95-2671-4ce2-8660-bfa69a4cb854.jpg?v=1670448113&width=352 352w, //hiholden.com/cdn/shop/products/Domed_3mm_RG_Mirror_4007fe95-2671-4ce2-8660-bfa69a4cb854.jpg?v=1670448113&width=832 832w, //hiholden.com/cdn/shop/products/Domed_3mm_RG_Mirror_4007fe95-2671-4ce2-8660-bfa69a4cb854.jpg?v=1670448113&width=900 900w", "width": 900, "height": 720 } }, { "id": 1632685621266, "options": ["3mm","Rose Gold","18k"], "url": "\/products\/dome-profile?variant=1632685621266", "image": {"src": "//hiholden.com/cdn/shop/products/Domed_3mm_RG_Mirror_4007fe95-2671-4ce2-8660-bfa69a4cb854.jpg?v=1670448113&width=900", "srcset": "//hiholden.com/cdn/shop/products/Domed_3mm_RG_Mirror_4007fe95-2671-4ce2-8660-bfa69a4cb854.jpg?v=1670448113&width=352 352w, //hiholden.com/cdn/shop/products/Domed_3mm_RG_Mirror_4007fe95-2671-4ce2-8660-bfa69a4cb854.jpg?v=1670448113&width=832 832w, //hiholden.com/cdn/shop/products/Domed_3mm_RG_Mirror_4007fe95-2671-4ce2-8660-bfa69a4cb854.jpg?v=1670448113&width=900 900w", "width": 900, "height": 720 } }, { "id": 12973735510098, "options": ["4.5mm","Rose Gold","10k"], "url": "\/products\/dome-profile?variant=12973735510098", "image": {"src": "//hiholden.com/cdn/shop/products/Domed_4.5mm_RG_Mirror_854962c0-71b4-4c71-90e4-22b862509d11.jpg?v=1670448113&width=900", "srcset": "//hiholden.com/cdn/shop/products/Domed_4.5mm_RG_Mirror_854962c0-71b4-4c71-90e4-22b862509d11.jpg?v=1670448113&width=352 352w, //hiholden.com/cdn/shop/products/Domed_4.5mm_RG_Mirror_854962c0-71b4-4c71-90e4-22b862509d11.jpg?v=1670448113&width=832 832w, //hiholden.com/cdn/shop/products/Domed_4.5mm_RG_Mirror_854962c0-71b4-4c71-90e4-22b862509d11.jpg?v=1670448113&width=900 900w", "width": 900, "height": 720 } }, { "id": 12800799768658, "options": ["4.5mm","Rose Gold","14k"], "url": "\/products\/dome-profile?variant=12800799768658", "image": {"src": "//hiholden.com/cdn/shop/products/Domed_4.5mm_RG_Mirror_854962c0-71b4-4c71-90e4-22b862509d11.jpg?v=1670448113&width=900", "srcset": "//hiholden.com/cdn/shop/products/Domed_4.5mm_RG_Mirror_854962c0-71b4-4c71-90e4-22b862509d11.jpg?v=1670448113&width=352 352w, //hiholden.com/cdn/shop/products/Domed_4.5mm_RG_Mirror_854962c0-71b4-4c71-90e4-22b862509d11.jpg?v=1670448113&width=832 832w, //hiholden.com/cdn/shop/products/Domed_4.5mm_RG_Mirror_854962c0-71b4-4c71-90e4-22b862509d11.jpg?v=1670448113&width=900 900w", "width": 900, "height": 720 } }, { "id": 12800800129106, "options": ["4.5mm","Rose Gold","18k"], "url": "\/products\/dome-profile?variant=12800800129106", "image": {"src": "//hiholden.com/cdn/shop/products/Domed_4.5mm_RG_Mirror_854962c0-71b4-4c71-90e4-22b862509d11.jpg?v=1670448113&width=900", "srcset": "//hiholden.com/cdn/shop/products/Domed_4.5mm_RG_Mirror_854962c0-71b4-4c71-90e4-22b862509d11.jpg?v=1670448113&width=352 352w, //hiholden.com/cdn/shop/products/Domed_4.5mm_RG_Mirror_854962c0-71b4-4c71-90e4-22b862509d11.jpg?v=1670448113&width=832 832w, //hiholden.com/cdn/shop/products/Domed_4.5mm_RG_Mirror_854962c0-71b4-4c71-90e4-22b862509d11.jpg?v=1670448113&width=900 900w", "width": 900, "height": 720 } }, { "id": 12973736689746, "options": ["6mm","Rose Gold","10k"], "url": "\/products\/dome-profile?variant=12973736689746", "image": {"src": "//hiholden.com/cdn/shop/products/Domed_6mm_RG_Mirror_a6fbec47-2874-41e6-8f8e-db3e9d373b81.jpg?v=1669060574&width=900", "srcset": "//hiholden.com/cdn/shop/products/Domed_6mm_RG_Mirror_a6fbec47-2874-41e6-8f8e-db3e9d373b81.jpg?v=1669060574&width=352 352w, //hiholden.com/cdn/shop/products/Domed_6mm_RG_Mirror_a6fbec47-2874-41e6-8f8e-db3e9d373b81.jpg?v=1669060574&width=832 832w, //hiholden.com/cdn/shop/products/Domed_6mm_RG_Mirror_a6fbec47-2874-41e6-8f8e-db3e9d373b81.jpg?v=1669060574&width=900 900w", "width": 900, "height": 720 } }, { "id": 1632686080018, "options": ["6mm","Rose Gold","14k"], "url": "\/products\/dome-profile?variant=1632686080018", "image": {"src": "//hiholden.com/cdn/shop/products/Domed_6mm_RG_Mirror_a6fbec47-2874-41e6-8f8e-db3e9d373b81.jpg?v=1669060574&width=900", "srcset": "//hiholden.com/cdn/shop/products/Domed_6mm_RG_Mirror_a6fbec47-2874-41e6-8f8e-db3e9d373b81.jpg?v=1669060574&width=352 352w, //hiholden.com/cdn/shop/products/Domed_6mm_RG_Mirror_a6fbec47-2874-41e6-8f8e-db3e9d373b81.jpg?v=1669060574&width=832 832w, //hiholden.com/cdn/shop/products/Domed_6mm_RG_Mirror_a6fbec47-2874-41e6-8f8e-db3e9d373b81.jpg?v=1669060574&width=900 900w", "width": 900, "height": 720 } }, { "id": 1632686112786, "options": ["6mm","Rose Gold","18k"], "url": "\/products\/dome-profile?variant=1632686112786", "image": {"src": "//hiholden.com/cdn/shop/products/Domed_6mm_RG_Mirror_a6fbec47-2874-41e6-8f8e-db3e9d373b81.jpg?v=1669060574&width=900", "srcset": "//hiholden.com/cdn/shop/products/Domed_6mm_RG_Mirror_a6fbec47-2874-41e6-8f8e-db3e9d373b81.jpg?v=1669060574&width=352 352w, //hiholden.com/cdn/shop/products/Domed_6mm_RG_Mirror_a6fbec47-2874-41e6-8f8e-db3e9d373b81.jpg?v=1669060574&width=832 832w, //hiholden.com/cdn/shop/products/Domed_6mm_RG_Mirror_a6fbec47-2874-41e6-8f8e-db3e9d373b81.jpg?v=1669060574&width=900 900w", "width": 900, "height": 720 } } ], "title": "Rose Gold" }, { "variants": [ { "id": 12482724036690, "options": ["1.5mm","Platinum","NA"], "url": "\/products\/dome-profile?variant=12482724036690", "image": {"src": "//hiholden.com/cdn/shop/products/Domed_1.5mm_WG_Mirror.jpg?v=1670448113&width=900", "srcset": "//hiholden.com/cdn/shop/products/Domed_1.5mm_WG_Mirror.jpg?v=1670448113&width=352 352w, //hiholden.com/cdn/shop/products/Domed_1.5mm_WG_Mirror.jpg?v=1670448113&width=832 832w, //hiholden.com/cdn/shop/products/Domed_1.5mm_WG_Mirror.jpg?v=1670448113&width=900 900w", "width": 900, "height": 720 } }, { "id": 1632685850642, "options": ["3mm","Platinum","NA"], "url": "\/products\/dome-profile?variant=1632685850642", "image": {"src": "//hiholden.com/cdn/shop/products/Domed_3mm_WG_Mirror.jpg?v=1670448113&width=900", "srcset": "//hiholden.com/cdn/shop/products/Domed_3mm_WG_Mirror.jpg?v=1670448113&width=352 352w, //hiholden.com/cdn/shop/products/Domed_3mm_WG_Mirror.jpg?v=1670448113&width=832 832w, //hiholden.com/cdn/shop/products/Domed_3mm_WG_Mirror.jpg?v=1670448113&width=900 900w", "width": 900, "height": 720 } }, { "id": 12800791216210, "options": ["4.5mm","Platinum","NA"], "url": "\/products\/dome-profile?variant=12800791216210", "image": {"src": "//hiholden.com/cdn/shop/products/Domed_4.5mm_WG_Mirror.jpg?v=1670448113&width=900", "srcset": "//hiholden.com/cdn/shop/products/Domed_4.5mm_WG_Mirror.jpg?v=1670448113&width=352 352w, //hiholden.com/cdn/shop/products/Domed_4.5mm_WG_Mirror.jpg?v=1670448113&width=832 832w, //hiholden.com/cdn/shop/products/Domed_4.5mm_WG_Mirror.jpg?v=1670448113&width=900 900w", "width": 900, "height": 720 } }, { "id": 1632686342162, "options": ["6mm","Platinum","NA"], "url": "\/products\/dome-profile?variant=1632686342162", "image": {"src": "//hiholden.com/cdn/shop/products/Domed_6mm_WG_Mirror.jpg?v=1669060572&width=900", "srcset": "//hiholden.com/cdn/shop/products/Domed_6mm_WG_Mirror.jpg?v=1669060572&width=352 352w, //hiholden.com/cdn/shop/products/Domed_6mm_WG_Mirror.jpg?v=1669060572&width=832 832w, //hiholden.com/cdn/shop/products/Domed_6mm_WG_Mirror.jpg?v=1669060572&width=900 900w", "width": 900, "height": 720 } } ], "title": "Platinum" } ] }, "productOne": { "firstVariant": 29899852709970, "defaultVariant": 29899852709970, "id": 4045192560722, "url": "\/products\/curved-half-eternity-profile", "tags": "[\"14 karat\", \"18 karat\", \"band\", \"bands\", \"contour\", \"contour band\", \"contoured\", \"contoured bands\", \"design studio\", \"eternity\", \"eternity band\", \"eternity bands\", \"eternity ring\", \"eternity rings\", \"fits around\", \"fits around engagement ring\", \"fits around half of engagement ring\", \"high polish\", \"infinity\", \"infinity band\", \"infinity ring\", \"men\", \"men's\", \"men's wedding band\", \"men's wedding ring\", \"mens band\", \"mens profile\", \"mens ring\", \"mens rings\", \"mirror\", \"mirror finish\", \"mirrored\", \"platinum\", \"polish\", \"polished\", \"profile\", \"profiles\", \"ring\", \"ring that fits around solitaire\", \"ring that fits around stone\", \"rings\", \"rose-gold\", \"shiny\", \"small-widths\", \"stone-round\", \"style\", \"styles\", \"wedding\", \"wedding band\", \"wedding ring\", \"white-gold\", \"women\", \"women's\", \"women's band\", \"women's ring\", \"women's wedding band\", \"women's wedding ring\", \"womens profile\", \"womens rings\", \"yellow-gold\"]", "title": "The Curved Half Eternity", "price": "$599", "image": {"src": "//hiholden.com/cdn/shop/products/Curved_Eternity_Half_1.5mm_YG_Mirror.jpg?v=1670456549&width=900", "srcset": "//hiholden.com/cdn/shop/products/Curved_Eternity_Half_1.5mm_YG_Mirror.jpg?v=1670456549&width=352 352w, //hiholden.com/cdn/shop/products/Curved_Eternity_Half_1.5mm_YG_Mirror.jpg?v=1670456549&width=832 832w, //hiholden.com/cdn/shop/products/Curved_Eternity_Half_1.5mm_YG_Mirror.jpg?v=1670456549&width=900 900w", "width": 900, "height": 720, "offset": -10 }, "image_secondary": { "src": "https://cdn.accentuate.io/4045192560722/1668712729979/Curved-Eternity_01.jpg?v=1668712729979", "width": 2000, "height": 1600, "alt": "\\ alt : Model wearing Holden's Curved Eternity wedding band. \\ light \\ \\ width : 2.5mm" }, "options": [ { "variants": [ { "id": 29899852709970, "options": ["1.5mm","Yellow Gold","14k"], "url": "\/products\/curved-half-eternity-profile?variant=29899852709970", "image": {"src": "//hiholden.com/cdn/shop/products/Curved_Eternity_Half_1.5mm_YG_Mirror.jpg?v=1670456549&width=900", "srcset": "//hiholden.com/cdn/shop/products/Curved_Eternity_Half_1.5mm_YG_Mirror.jpg?v=1670456549&width=352 352w, //hiholden.com/cdn/shop/products/Curved_Eternity_Half_1.5mm_YG_Mirror.jpg?v=1670456549&width=832 832w, //hiholden.com/cdn/shop/products/Curved_Eternity_Half_1.5mm_YG_Mirror.jpg?v=1670456549&width=900 900w", "width": 900, "height": 720 } }, { "id": 29899852742738, "options": ["1.5mm","Yellow Gold","18k"], "url": "\/products\/curved-half-eternity-profile?variant=29899852742738", "image": {"src": "//hiholden.com/cdn/shop/products/Curved_Eternity_Half_1.5mm_YG_Mirror.jpg?v=1670456549&width=900", "srcset": "//hiholden.com/cdn/shop/products/Curved_Eternity_Half_1.5mm_YG_Mirror.jpg?v=1670456549&width=352 352w, //hiholden.com/cdn/shop/products/Curved_Eternity_Half_1.5mm_YG_Mirror.jpg?v=1670456549&width=832 832w, //hiholden.com/cdn/shop/products/Curved_Eternity_Half_1.5mm_YG_Mirror.jpg?v=1670456549&width=900 900w", "width": 900, "height": 720 } }, { "id": 29899853103186, "options": ["2.5mm","Yellow Gold","14k"], "url": "\/products\/curved-half-eternity-profile?variant=29899853103186", "image": {"src": "//hiholden.com/cdn/shop/products/Curved_Eternity_Half_2.5mm_YG_Mirror.jpg?v=1669060525&width=900", "srcset": "//hiholden.com/cdn/shop/products/Curved_Eternity_Half_2.5mm_YG_Mirror.jpg?v=1669060525&width=352 352w, //hiholden.com/cdn/shop/products/Curved_Eternity_Half_2.5mm_YG_Mirror.jpg?v=1669060525&width=832 832w, //hiholden.com/cdn/shop/products/Curved_Eternity_Half_2.5mm_YG_Mirror.jpg?v=1669060525&width=900 900w", "width": 900, "height": 720 } }, { "id": 29899853168722, "options": ["2.5mm","Yellow Gold","18k"], "url": "\/products\/curved-half-eternity-profile?variant=29899853168722", "image": {"src": "//hiholden.com/cdn/shop/products/Curved_Eternity_Half_2.5mm_YG_Mirror.jpg?v=1669060525&width=900", "srcset": "//hiholden.com/cdn/shop/products/Curved_Eternity_Half_2.5mm_YG_Mirror.jpg?v=1669060525&width=352 352w, //hiholden.com/cdn/shop/products/Curved_Eternity_Half_2.5mm_YG_Mirror.jpg?v=1669060525&width=832 832w, //hiholden.com/cdn/shop/products/Curved_Eternity_Half_2.5mm_YG_Mirror.jpg?v=1669060525&width=900 900w", "width": 900, "height": 720 } } ], "title": "Yellow Gold" }, { "variants": [ { "id": 29899852906578, "options": ["1.5mm","White Gold","14k"], "url": "\/products\/curved-half-eternity-profile?variant=29899852906578", "image": {"src": "//hiholden.com/cdn/shop/products/Curved_Eternity_Half_1.5mm_WG_Mirror.jpg?v=1670456549&width=900", "srcset": "//hiholden.com/cdn/shop/products/Curved_Eternity_Half_1.5mm_WG_Mirror.jpg?v=1670456549&width=352 352w, //hiholden.com/cdn/shop/products/Curved_Eternity_Half_1.5mm_WG_Mirror.jpg?v=1670456549&width=832 832w, //hiholden.com/cdn/shop/products/Curved_Eternity_Half_1.5mm_WG_Mirror.jpg?v=1670456549&width=900 900w", "width": 900, "height": 720 } }, { "id": 29899852939346, "options": ["1.5mm","White Gold","18k"], "url": "\/products\/curved-half-eternity-profile?variant=29899852939346", "image": {"src": "//hiholden.com/cdn/shop/products/Curved_Eternity_Half_1.5mm_WG_Mirror.jpg?v=1670456549&width=900", "srcset": "//hiholden.com/cdn/shop/products/Curved_Eternity_Half_1.5mm_WG_Mirror.jpg?v=1670456549&width=352 352w, //hiholden.com/cdn/shop/products/Curved_Eternity_Half_1.5mm_WG_Mirror.jpg?v=1670456549&width=832 832w, //hiholden.com/cdn/shop/products/Curved_Eternity_Half_1.5mm_WG_Mirror.jpg?v=1670456549&width=900 900w", "width": 900, "height": 720 } }, { "id": 29899853430866, "options": ["2.5mm","White Gold","14k"], "url": "\/products\/curved-half-eternity-profile?variant=29899853430866", "image": {"src": "//hiholden.com/cdn/shop/products/Curved_Eternity_Half_2.5mm_WG_Mirror.jpg?v=1669060524&width=900", "srcset": "//hiholden.com/cdn/shop/products/Curved_Eternity_Half_2.5mm_WG_Mirror.jpg?v=1669060524&width=352 352w, //hiholden.com/cdn/shop/products/Curved_Eternity_Half_2.5mm_WG_Mirror.jpg?v=1669060524&width=832 832w, //hiholden.com/cdn/shop/products/Curved_Eternity_Half_2.5mm_WG_Mirror.jpg?v=1669060524&width=900 900w", "width": 900, "height": 720 } }, { "id": 29899853496402, "options": ["2.5mm","White Gold","18k"], "url": "\/products\/curved-half-eternity-profile?variant=29899853496402", "image": {"src": "//hiholden.com/cdn/shop/products/Curved_Eternity_Half_2.5mm_WG_Mirror.jpg?v=1669060524&width=900", "srcset": "//hiholden.com/cdn/shop/products/Curved_Eternity_Half_2.5mm_WG_Mirror.jpg?v=1669060524&width=352 352w, //hiholden.com/cdn/shop/products/Curved_Eternity_Half_2.5mm_WG_Mirror.jpg?v=1669060524&width=832 832w, //hiholden.com/cdn/shop/products/Curved_Eternity_Half_2.5mm_WG_Mirror.jpg?v=1669060524&width=900 900w", "width": 900, "height": 720 } } ], "title": "White Gold" }, { "variants": [ { "id": 29899852808274, "options": ["1.5mm","Rose Gold","14k"], "url": "\/products\/curved-half-eternity-profile?variant=29899852808274", "image": {"src": "//hiholden.com/cdn/shop/products/Curved_Eternity_Half_1.5mm_RG_Mirror.jpg?v=1670456549&width=900", "srcset": "//hiholden.com/cdn/shop/products/Curved_Eternity_Half_1.5mm_RG_Mirror.jpg?v=1670456549&width=352 352w, //hiholden.com/cdn/shop/products/Curved_Eternity_Half_1.5mm_RG_Mirror.jpg?v=1670456549&width=832 832w, //hiholden.com/cdn/shop/products/Curved_Eternity_Half_1.5mm_RG_Mirror.jpg?v=1670456549&width=900 900w", "width": 900, "height": 720 } }, { "id": 29899852841042, "options": ["1.5mm","Rose Gold","18k"], "url": "\/products\/curved-half-eternity-profile?variant=29899852841042", "image": {"src": "//hiholden.com/cdn/shop/products/Curved_Eternity_Half_1.5mm_RG_Mirror.jpg?v=1670456549&width=900", "srcset": "//hiholden.com/cdn/shop/products/Curved_Eternity_Half_1.5mm_RG_Mirror.jpg?v=1670456549&width=352 352w, //hiholden.com/cdn/shop/products/Curved_Eternity_Half_1.5mm_RG_Mirror.jpg?v=1670456549&width=832 832w, //hiholden.com/cdn/shop/products/Curved_Eternity_Half_1.5mm_RG_Mirror.jpg?v=1670456549&width=900 900w", "width": 900, "height": 720 } }, { "id": 29899853234258, "options": ["2.5mm","Rose Gold","14k"], "url": "\/products\/curved-half-eternity-profile?variant=29899853234258", "image": {"src": "//hiholden.com/cdn/shop/products/Curved_Eternity_Half_2.5mm_RG_Mirror.jpg?v=1669060524&width=900", "srcset": "//hiholden.com/cdn/shop/products/Curved_Eternity_Half_2.5mm_RG_Mirror.jpg?v=1669060524&width=352 352w, //hiholden.com/cdn/shop/products/Curved_Eternity_Half_2.5mm_RG_Mirror.jpg?v=1669060524&width=832 832w, //hiholden.com/cdn/shop/products/Curved_Eternity_Half_2.5mm_RG_Mirror.jpg?v=1669060524&width=900 900w", "width": 900, "height": 720 } }, { "id": 29899853332562, "options": ["2.5mm","Rose Gold","18k"], "url": "\/products\/curved-half-eternity-profile?variant=29899853332562", "image": {"src": "//hiholden.com/cdn/shop/products/Curved_Eternity_Half_2.5mm_RG_Mirror.jpg?v=1669060524&width=900", "srcset": "//hiholden.com/cdn/shop/products/Curved_Eternity_Half_2.5mm_RG_Mirror.jpg?v=1669060524&width=352 352w, //hiholden.com/cdn/shop/products/Curved_Eternity_Half_2.5mm_RG_Mirror.jpg?v=1669060524&width=832 832w, //hiholden.com/cdn/shop/products/Curved_Eternity_Half_2.5mm_RG_Mirror.jpg?v=1669060524&width=900 900w", "width": 900, "height": 720 } } ], "title": "Rose Gold" }, { "variants": [ { "id": 29899852972114, "options": ["1.5mm","Platinum","NA"], "url": "\/products\/curved-half-eternity-profile?variant=29899852972114", "image": {"src": "//hiholden.com/cdn/shop/products/Curved_Eternity_Half_1.5mm_WG_Mirror.jpg?v=1670456549&width=900", "srcset": "//hiholden.com/cdn/shop/products/Curved_Eternity_Half_1.5mm_WG_Mirror.jpg?v=1670456549&width=352 352w, //hiholden.com/cdn/shop/products/Curved_Eternity_Half_1.5mm_WG_Mirror.jpg?v=1670456549&width=832 832w, //hiholden.com/cdn/shop/products/Curved_Eternity_Half_1.5mm_WG_Mirror.jpg?v=1670456549&width=900 900w", "width": 900, "height": 720 } }, { "id": 29899853561938, "options": ["2.5mm","Platinum","NA"], "url": "\/products\/curved-half-eternity-profile?variant=29899853561938", "image": {"src": "//hiholden.com/cdn/shop/products/Curved_Eternity_Half_2.5mm_WG_Mirror.jpg?v=1669060524&width=900", "srcset": "//hiholden.com/cdn/shop/products/Curved_Eternity_Half_2.5mm_WG_Mirror.jpg?v=1669060524&width=352 352w, //hiholden.com/cdn/shop/products/Curved_Eternity_Half_2.5mm_WG_Mirror.jpg?v=1669060524&width=832 832w, //hiholden.com/cdn/shop/products/Curved_Eternity_Half_2.5mm_WG_Mirror.jpg?v=1669060524&width=900 900w", "width": 900, "height": 720 } } ], "title": "Platinum" } ] } }, { "names": "Wendan \u0026 Yufei", "image": {"src": "//hiholden.com/cdn/shop/files/Wendan_Yufei.jpg?v=1668461523&width=900", "srcset": "//hiholden.com/cdn/shop/files/Wendan_Yufei.jpg?v=1668461523&width=352 352w, //hiholden.com/cdn/shop/files/Wendan_Yufei.jpg?v=1668461523&width=832 832w, //hiholden.com/cdn/shop/files/Wendan_Yufei.jpg?v=1668461523&width=900 900w", "width": 900, "height": 1171 }, "productTwo": { "firstVariant": 12973894697042, "defaultVariant": 12800860422226, "id": 193433337874, "url": "\/products\/faceted-profile", "tags": "[\"10 karat\", \"14 karat\", \"18 karat\", \"anniversary\", \"anniversary ring\", \"anniversary rings\", \"anniversary stack\", \"band\", \"bands\", \"brushed\", \"brushed finish\", \"brushed polish\", \"design studio\", \"engravable\", \"engrave\", \"engraveable\", \"engraved\", \"engraving\", \"engravings\", \"high polish\", \"large-widths\", \"matte\", \"matte finish\", \"matte polish\", \"matted\", \"men\", \"men's\", \"men's wedding band\", \"men's wedding ring\", \"mens band\", \"mens profile\", \"mens ring\", \"mens rings\", \"mirror\", \"mirror finish\", \"mirrored\", \"personalization\", \"personalized\", \"platinum\", \"polish\", \"polished\", \"profile\", \"profiles\", \"promise ring\", \"promise rings\", \"ring\", \"rings\", \"rose-gold\", \"satin\", \"satin finish\", \"satin polish\", \"shiny\", \"small-widths\", \"stone-none\", \"style\", \"styles\", \"wedding\", \"wedding band\", \"wedding ring\", \"white-gold\", \"women\", \"women's\", \"women's band\", \"women's ring\", \"women's wedding band\", \"women's wedding ring\", \"womens profile\", \"womens rings\", \"yellow-gold\"]", "title": "The Faceted", "price": "$449", "image": {"src": "//hiholden.com/cdn/shop/products/Faceted_4.5mm_YG_Mirror_8b707bb2-7752-45a0-907a-52c46e492e66.jpg?v=1670456629&width=900", "srcset": "//hiholden.com/cdn/shop/products/Faceted_4.5mm_YG_Mirror_8b707bb2-7752-45a0-907a-52c46e492e66.jpg?v=1670456629&width=352 352w, //hiholden.com/cdn/shop/products/Faceted_4.5mm_YG_Mirror_8b707bb2-7752-45a0-907a-52c46e492e66.jpg?v=1670456629&width=832 832w, //hiholden.com/cdn/shop/products/Faceted_4.5mm_YG_Mirror_8b707bb2-7752-45a0-907a-52c46e492e66.jpg?v=1670456629&width=900 900w", "width": 900, "height": 720, "offset": -10 }, "image_secondary": { "src": "https://cdn.accentuate.io/193433337874/1668141673101/Faceted_01.jpg?v=1668141673102", "width": 2000, "height": 1600, "alt": "\\ alt : Model wearing Holden's Faceted wedding ring. \\ light \\ \\ width : 6mm" }, "options": [ { "variants": [ { "id": 12973894697042, "options": ["3mm","Yellow Gold","10k"], "url": "\/products\/faceted-profile?variant=12973894697042", "image": {"src": "//hiholden.com/cdn/shop/products/Faceted_3mm_YG_Mirror_caf5b021-de1d-4336-9884-7ee438ed1735.jpg?v=1670456629&width=900", "srcset": "//hiholden.com/cdn/shop/products/Faceted_3mm_YG_Mirror_caf5b021-de1d-4336-9884-7ee438ed1735.jpg?v=1670456629&width=352 352w, //hiholden.com/cdn/shop/products/Faceted_3mm_YG_Mirror_caf5b021-de1d-4336-9884-7ee438ed1735.jpg?v=1670456629&width=832 832w, //hiholden.com/cdn/shop/products/Faceted_3mm_YG_Mirror_caf5b021-de1d-4336-9884-7ee438ed1735.jpg?v=1670456629&width=900 900w", "width": 900, "height": 720 } }, { "id": 1772031377426, "options": ["3mm","Yellow Gold","14k"], "url": "\/products\/faceted-profile?variant=1772031377426", "image": {"src": "//hiholden.com/cdn/shop/products/Faceted_3mm_YG_Mirror_caf5b021-de1d-4336-9884-7ee438ed1735.jpg?v=1670456629&width=900", "srcset": "//hiholden.com/cdn/shop/products/Faceted_3mm_YG_Mirror_caf5b021-de1d-4336-9884-7ee438ed1735.jpg?v=1670456629&width=352 352w, //hiholden.com/cdn/shop/products/Faceted_3mm_YG_Mirror_caf5b021-de1d-4336-9884-7ee438ed1735.jpg?v=1670456629&width=832 832w, //hiholden.com/cdn/shop/products/Faceted_3mm_YG_Mirror_caf5b021-de1d-4336-9884-7ee438ed1735.jpg?v=1670456629&width=900 900w", "width": 900, "height": 720 } }, { "id": 1772031410194, "options": ["3mm","Yellow Gold","18k"], "url": "\/products\/faceted-profile?variant=1772031410194", "image": {"src": "//hiholden.com/cdn/shop/products/Faceted_3mm_YG_Mirror_caf5b021-de1d-4336-9884-7ee438ed1735.jpg?v=1670456629&width=900", "srcset": "//hiholden.com/cdn/shop/products/Faceted_3mm_YG_Mirror_caf5b021-de1d-4336-9884-7ee438ed1735.jpg?v=1670456629&width=352 352w, //hiholden.com/cdn/shop/products/Faceted_3mm_YG_Mirror_caf5b021-de1d-4336-9884-7ee438ed1735.jpg?v=1670456629&width=832 832w, //hiholden.com/cdn/shop/products/Faceted_3mm_YG_Mirror_caf5b021-de1d-4336-9884-7ee438ed1735.jpg?v=1670456629&width=900 900w", "width": 900, "height": 720 } }, { "id": 12973894729810, "options": ["4.5mm","Yellow Gold","10k"], "url": "\/products\/faceted-profile?variant=12973894729810", "image": {"src": "//hiholden.com/cdn/shop/products/Faceted_4.5mm_YG_Mirror_8b707bb2-7752-45a0-907a-52c46e492e66.jpg?v=1670456629&width=900", "srcset": "//hiholden.com/cdn/shop/products/Faceted_4.5mm_YG_Mirror_8b707bb2-7752-45a0-907a-52c46e492e66.jpg?v=1670456629&width=352 352w, //hiholden.com/cdn/shop/products/Faceted_4.5mm_YG_Mirror_8b707bb2-7752-45a0-907a-52c46e492e66.jpg?v=1670456629&width=832 832w, //hiholden.com/cdn/shop/products/Faceted_4.5mm_YG_Mirror_8b707bb2-7752-45a0-907a-52c46e492e66.jpg?v=1670456629&width=900 900w", "width": 900, "height": 720 } }, { "id": 12800860422226, "options": ["4.5mm","Yellow Gold","14k"], "url": "\/products\/faceted-profile?variant=12800860422226", "image": {"src": "//hiholden.com/cdn/shop/products/Faceted_4.5mm_YG_Mirror_8b707bb2-7752-45a0-907a-52c46e492e66.jpg?v=1670456629&width=900", "srcset": "//hiholden.com/cdn/shop/products/Faceted_4.5mm_YG_Mirror_8b707bb2-7752-45a0-907a-52c46e492e66.jpg?v=1670456629&width=352 352w, //hiholden.com/cdn/shop/products/Faceted_4.5mm_YG_Mirror_8b707bb2-7752-45a0-907a-52c46e492e66.jpg?v=1670456629&width=832 832w, //hiholden.com/cdn/shop/products/Faceted_4.5mm_YG_Mirror_8b707bb2-7752-45a0-907a-52c46e492e66.jpg?v=1670456629&width=900 900w", "width": 900, "height": 720 } }, { "id": 12800861798482, "options": ["4.5mm","Yellow Gold","18k"], "url": "\/products\/faceted-profile?variant=12800861798482", "image": {"src": "//hiholden.com/cdn/shop/products/Faceted_4.5mm_YG_Mirror_8b707bb2-7752-45a0-907a-52c46e492e66.jpg?v=1670456629&width=900", "srcset": "//hiholden.com/cdn/shop/products/Faceted_4.5mm_YG_Mirror_8b707bb2-7752-45a0-907a-52c46e492e66.jpg?v=1670456629&width=352 352w, //hiholden.com/cdn/shop/products/Faceted_4.5mm_YG_Mirror_8b707bb2-7752-45a0-907a-52c46e492e66.jpg?v=1670456629&width=832 832w, //hiholden.com/cdn/shop/products/Faceted_4.5mm_YG_Mirror_8b707bb2-7752-45a0-907a-52c46e492e66.jpg?v=1670456629&width=900 900w", "width": 900, "height": 720 } }, { "id": 12973894959186, "options": ["6mm","Yellow Gold","10k"], "url": "\/products\/faceted-profile?variant=12973894959186", "image": {"src": "//hiholden.com/cdn/shop/products/Faceted_6mm_YG_Mirror_507f365f-0db8-44a1-ba5e-7a1ecc0b6246.jpg?v=1669063133&width=900", "srcset": "//hiholden.com/cdn/shop/products/Faceted_6mm_YG_Mirror_507f365f-0db8-44a1-ba5e-7a1ecc0b6246.jpg?v=1669063133&width=352 352w, //hiholden.com/cdn/shop/products/Faceted_6mm_YG_Mirror_507f365f-0db8-44a1-ba5e-7a1ecc0b6246.jpg?v=1669063133&width=832 832w, //hiholden.com/cdn/shop/products/Faceted_6mm_YG_Mirror_507f365f-0db8-44a1-ba5e-7a1ecc0b6246.jpg?v=1669063133&width=900 900w", "width": 900, "height": 720 } }, { "id": 1772031639570, "options": ["6mm","Yellow Gold","14k"], "url": "\/products\/faceted-profile?variant=1772031639570", "image": {"src": "//hiholden.com/cdn/shop/products/Faceted_6mm_YG_Mirror_507f365f-0db8-44a1-ba5e-7a1ecc0b6246.jpg?v=1669063133&width=900", "srcset": "//hiholden.com/cdn/shop/products/Faceted_6mm_YG_Mirror_507f365f-0db8-44a1-ba5e-7a1ecc0b6246.jpg?v=1669063133&width=352 352w, //hiholden.com/cdn/shop/products/Faceted_6mm_YG_Mirror_507f365f-0db8-44a1-ba5e-7a1ecc0b6246.jpg?v=1669063133&width=832 832w, //hiholden.com/cdn/shop/products/Faceted_6mm_YG_Mirror_507f365f-0db8-44a1-ba5e-7a1ecc0b6246.jpg?v=1669063133&width=900 900w", "width": 900, "height": 720 } }, { "id": 1772031672338, "options": ["6mm","Yellow Gold","18k"], "url": "\/products\/faceted-profile?variant=1772031672338", "image": {"src": "//hiholden.com/cdn/shop/products/Faceted_6mm_YG_Mirror_507f365f-0db8-44a1-ba5e-7a1ecc0b6246.jpg?v=1669063133&width=900", "srcset": "//hiholden.com/cdn/shop/products/Faceted_6mm_YG_Mirror_507f365f-0db8-44a1-ba5e-7a1ecc0b6246.jpg?v=1669063133&width=352 352w, //hiholden.com/cdn/shop/products/Faceted_6mm_YG_Mirror_507f365f-0db8-44a1-ba5e-7a1ecc0b6246.jpg?v=1669063133&width=832 832w, //hiholden.com/cdn/shop/products/Faceted_6mm_YG_Mirror_507f365f-0db8-44a1-ba5e-7a1ecc0b6246.jpg?v=1669063133&width=900 900w", "width": 900, "height": 720 } } ], "title": "Yellow Gold" }, { "variants": [ { "id": 12973895123026, "options": ["3mm","White Gold","10k"], "url": "\/products\/faceted-profile?variant=12973895123026", "image": {"src": "//hiholden.com/cdn/shop/products/Faceted_3mm_WG_Mirror.jpg?v=1670456629&width=900", "srcset": "//hiholden.com/cdn/shop/products/Faceted_3mm_WG_Mirror.jpg?v=1670456629&width=352 352w, //hiholden.com/cdn/shop/products/Faceted_3mm_WG_Mirror.jpg?v=1670456629&width=832 832w, //hiholden.com/cdn/shop/products/Faceted_3mm_WG_Mirror.jpg?v=1670456629&width=900 900w", "width": 900, "height": 720 } }, { "id": 1772031508498, "options": ["3mm","White Gold","14k"], "url": "\/products\/faceted-profile?variant=1772031508498", "image": {"src": "//hiholden.com/cdn/shop/products/Faceted_3mm_WG_Mirror.jpg?v=1670456629&width=900", "srcset": "//hiholden.com/cdn/shop/products/Faceted_3mm_WG_Mirror.jpg?v=1670456629&width=352 352w, //hiholden.com/cdn/shop/products/Faceted_3mm_WG_Mirror.jpg?v=1670456629&width=832 832w, //hiholden.com/cdn/shop/products/Faceted_3mm_WG_Mirror.jpg?v=1670456629&width=900 900w", "width": 900, "height": 720 } }, { "id": 1772031541266, "options": ["3mm","White Gold","18k"], "url": "\/products\/faceted-profile?variant=1772031541266", "image": {"src": "//hiholden.com/cdn/shop/products/Faceted_3mm_WG_Mirror.jpg?v=1670456629&width=900", "srcset": "//hiholden.com/cdn/shop/products/Faceted_3mm_WG_Mirror.jpg?v=1670456629&width=352 352w, //hiholden.com/cdn/shop/products/Faceted_3mm_WG_Mirror.jpg?v=1670456629&width=832 832w, //hiholden.com/cdn/shop/products/Faceted_3mm_WG_Mirror.jpg?v=1670456629&width=900 900w", "width": 900, "height": 720 } }, { "id": 12973896630354, "options": ["4.5mm","White Gold","10k"], "url": "\/products\/faceted-profile?variant=12973896630354", "image": {"src": "//hiholden.com/cdn/shop/products/Faceted_4.5mm_WG_Mirror.jpg?v=1670456629&width=900", "srcset": "//hiholden.com/cdn/shop/products/Faceted_4.5mm_WG_Mirror.jpg?v=1670456629&width=352 352w, //hiholden.com/cdn/shop/products/Faceted_4.5mm_WG_Mirror.jpg?v=1670456629&width=832 832w, //hiholden.com/cdn/shop/products/Faceted_4.5mm_WG_Mirror.jpg?v=1670456629&width=900 900w", "width": 900, "height": 720 } }, { "id": 12800863862866, "options": ["4.5mm","White Gold","14k"], "url": "\/products\/faceted-profile?variant=12800863862866", "image": {"src": "//hiholden.com/cdn/shop/products/Faceted_4.5mm_WG_Mirror.jpg?v=1670456629&width=900", "srcset": "//hiholden.com/cdn/shop/products/Faceted_4.5mm_WG_Mirror.jpg?v=1670456629&width=352 352w, //hiholden.com/cdn/shop/products/Faceted_4.5mm_WG_Mirror.jpg?v=1670456629&width=832 832w, //hiholden.com/cdn/shop/products/Faceted_4.5mm_WG_Mirror.jpg?v=1670456629&width=900 900w", "width": 900, "height": 720 } }, { "id": 12800864223314, "options": ["4.5mm","White Gold","18k"], "url": "\/products\/faceted-profile?variant=12800864223314", "image": {"src": "//hiholden.com/cdn/shop/products/Faceted_4.5mm_WG_Mirror.jpg?v=1670456629&width=900", "srcset": "//hiholden.com/cdn/shop/products/Faceted_4.5mm_WG_Mirror.jpg?v=1670456629&width=352 352w, //hiholden.com/cdn/shop/products/Faceted_4.5mm_WG_Mirror.jpg?v=1670456629&width=832 832w, //hiholden.com/cdn/shop/products/Faceted_4.5mm_WG_Mirror.jpg?v=1670456629&width=900 900w", "width": 900, "height": 720 } }, { "id": 12973896892498, "options": ["6mm","White Gold","10k"], "url": "\/products\/faceted-profile?variant=12973896892498", "image": {"src": "//hiholden.com/cdn/shop/products/Faceted_6mm_WG_Mirror.jpg?v=1669063131&width=900", "srcset": "//hiholden.com/cdn/shop/products/Faceted_6mm_WG_Mirror.jpg?v=1669063131&width=352 352w, //hiholden.com/cdn/shop/products/Faceted_6mm_WG_Mirror.jpg?v=1669063131&width=832 832w, //hiholden.com/cdn/shop/products/Faceted_6mm_WG_Mirror.jpg?v=1669063131&width=900 900w", "width": 900, "height": 720 } }, { "id": 1772031770642, "options": ["6mm","White Gold","14k"], "url": "\/products\/faceted-profile?variant=1772031770642", "image": {"src": "//hiholden.com/cdn/shop/products/Faceted_6mm_WG_Mirror.jpg?v=1669063131&width=900", "srcset": "//hiholden.com/cdn/shop/products/Faceted_6mm_WG_Mirror.jpg?v=1669063131&width=352 352w, //hiholden.com/cdn/shop/products/Faceted_6mm_WG_Mirror.jpg?v=1669063131&width=832 832w, //hiholden.com/cdn/shop/products/Faceted_6mm_WG_Mirror.jpg?v=1669063131&width=900 900w", "width": 900, "height": 720 } }, { "id": 1772031803410, "options": ["6mm","White Gold","18k"], "url": "\/products\/faceted-profile?variant=1772031803410", "image": {"src": "//hiholden.com/cdn/shop/products/Faceted_6mm_WG_Mirror.jpg?v=1669063131&width=900", "srcset": "//hiholden.com/cdn/shop/products/Faceted_6mm_WG_Mirror.jpg?v=1669063131&width=352 352w, //hiholden.com/cdn/shop/products/Faceted_6mm_WG_Mirror.jpg?v=1669063131&width=832 832w, //hiholden.com/cdn/shop/products/Faceted_6mm_WG_Mirror.jpg?v=1669063131&width=900 900w", "width": 900, "height": 720 } } ], "title": "White Gold" }, { "variants": [ { "id": 12973897252946, "options": ["3mm","Rose Gold","10k"], "url": "\/products\/faceted-profile?variant=12973897252946", "image": {"src": "//hiholden.com/cdn/shop/products/Faceted_3mm_RG_Mirror_25bbf4c5-4a10-4956-9357-0144190cee68.jpg?v=1670456629&width=900", "srcset": "//hiholden.com/cdn/shop/products/Faceted_3mm_RG_Mirror_25bbf4c5-4a10-4956-9357-0144190cee68.jpg?v=1670456629&width=352 352w, //hiholden.com/cdn/shop/products/Faceted_3mm_RG_Mirror_25bbf4c5-4a10-4956-9357-0144190cee68.jpg?v=1670456629&width=832 832w, //hiholden.com/cdn/shop/products/Faceted_3mm_RG_Mirror_25bbf4c5-4a10-4956-9357-0144190cee68.jpg?v=1670456629&width=900 900w", "width": 900, "height": 720 } }, { "id": 1772031442962, "options": ["3mm","Rose Gold","14k"], "url": "\/products\/faceted-profile?variant=1772031442962", "image": {"src": "//hiholden.com/cdn/shop/products/Faceted_3mm_RG_Mirror_25bbf4c5-4a10-4956-9357-0144190cee68.jpg?v=1670456629&width=900", "srcset": "//hiholden.com/cdn/shop/products/Faceted_3mm_RG_Mirror_25bbf4c5-4a10-4956-9357-0144190cee68.jpg?v=1670456629&width=352 352w, //hiholden.com/cdn/shop/products/Faceted_3mm_RG_Mirror_25bbf4c5-4a10-4956-9357-0144190cee68.jpg?v=1670456629&width=832 832w, //hiholden.com/cdn/shop/products/Faceted_3mm_RG_Mirror_25bbf4c5-4a10-4956-9357-0144190cee68.jpg?v=1670456629&width=900 900w", "width": 900, "height": 720 } }, { "id": 1772031475730, "options": ["3mm","Rose Gold","18k"], "url": "\/products\/faceted-profile?variant=1772031475730", "image": {"src": "//hiholden.com/cdn/shop/products/Faceted_3mm_RG_Mirror_25bbf4c5-4a10-4956-9357-0144190cee68.jpg?v=1670456629&width=900", "srcset": "//hiholden.com/cdn/shop/products/Faceted_3mm_RG_Mirror_25bbf4c5-4a10-4956-9357-0144190cee68.jpg?v=1670456629&width=352 352w, //hiholden.com/cdn/shop/products/Faceted_3mm_RG_Mirror_25bbf4c5-4a10-4956-9357-0144190cee68.jpg?v=1670456629&width=832 832w, //hiholden.com/cdn/shop/products/Faceted_3mm_RG_Mirror_25bbf4c5-4a10-4956-9357-0144190cee68.jpg?v=1670456629&width=900 900w", "width": 900, "height": 720 } }, { "id": 12973897908306, "options": ["4.5mm","Rose Gold","10k"], "url": "\/products\/faceted-profile?variant=12973897908306", "image": {"src": "//hiholden.com/cdn/shop/products/Faceted_4.5mm_RG_Mirror_f0841567-1b04-4b8a-abd5-d4925d2e6f11.jpg?v=1670456629&width=900", "srcset": "//hiholden.com/cdn/shop/products/Faceted_4.5mm_RG_Mirror_f0841567-1b04-4b8a-abd5-d4925d2e6f11.jpg?v=1670456629&width=352 352w, //hiholden.com/cdn/shop/products/Faceted_4.5mm_RG_Mirror_f0841567-1b04-4b8a-abd5-d4925d2e6f11.jpg?v=1670456629&width=832 832w, //hiholden.com/cdn/shop/products/Faceted_4.5mm_RG_Mirror_f0841567-1b04-4b8a-abd5-d4925d2e6f11.jpg?v=1670456629&width=900 900w", "width": 900, "height": 720 } }, { "id": 12800862715986, "options": ["4.5mm","Rose Gold","14k"], "url": "\/products\/faceted-profile?variant=12800862715986", "image": {"src": "//hiholden.com/cdn/shop/products/Faceted_4.5mm_RG_Mirror_f0841567-1b04-4b8a-abd5-d4925d2e6f11.jpg?v=1670456629&width=900", "srcset": "//hiholden.com/cdn/shop/products/Faceted_4.5mm_RG_Mirror_f0841567-1b04-4b8a-abd5-d4925d2e6f11.jpg?v=1670456629&width=352 352w, //hiholden.com/cdn/shop/products/Faceted_4.5mm_RG_Mirror_f0841567-1b04-4b8a-abd5-d4925d2e6f11.jpg?v=1670456629&width=832 832w, //hiholden.com/cdn/shop/products/Faceted_4.5mm_RG_Mirror_f0841567-1b04-4b8a-abd5-d4925d2e6f11.jpg?v=1670456629&width=900 900w", "width": 900, "height": 720 } }, { "id": 12800863764562, "options": ["4.5mm","Rose Gold","18k"], "url": "\/products\/faceted-profile?variant=12800863764562", "image": {"src": "//hiholden.com/cdn/shop/products/Faceted_4.5mm_RG_Mirror_f0841567-1b04-4b8a-abd5-d4925d2e6f11.jpg?v=1670456629&width=900", "srcset": "//hiholden.com/cdn/shop/products/Faceted_4.5mm_RG_Mirror_f0841567-1b04-4b8a-abd5-d4925d2e6f11.jpg?v=1670456629&width=352 352w, //hiholden.com/cdn/shop/products/Faceted_4.5mm_RG_Mirror_f0841567-1b04-4b8a-abd5-d4925d2e6f11.jpg?v=1670456629&width=832 832w, //hiholden.com/cdn/shop/products/Faceted_4.5mm_RG_Mirror_f0841567-1b04-4b8a-abd5-d4925d2e6f11.jpg?v=1670456629&width=900 900w", "width": 900, "height": 720 } }, { "id": 12973898465362, "options": ["6mm","Rose Gold","10k"], "url": "\/products\/faceted-profile?variant=12973898465362", "image": {"src": "//hiholden.com/cdn/shop/products/Faceted_6mm_RG_Mirror_bc7e5e43-36de-4fb6-9d36-7b5d3c0bdeb5.jpg?v=1669063133&width=900", "srcset": "//hiholden.com/cdn/shop/products/Faceted_6mm_RG_Mirror_bc7e5e43-36de-4fb6-9d36-7b5d3c0bdeb5.jpg?v=1669063133&width=352 352w, //hiholden.com/cdn/shop/products/Faceted_6mm_RG_Mirror_bc7e5e43-36de-4fb6-9d36-7b5d3c0bdeb5.jpg?v=1669063133&width=832 832w, //hiholden.com/cdn/shop/products/Faceted_6mm_RG_Mirror_bc7e5e43-36de-4fb6-9d36-7b5d3c0bdeb5.jpg?v=1669063133&width=900 900w", "width": 900, "height": 720 } }, { "id": 1772031705106, "options": ["6mm","Rose Gold","14k"], "url": "\/products\/faceted-profile?variant=1772031705106", "image": {"src": "//hiholden.com/cdn/shop/products/Faceted_6mm_RG_Mirror_bc7e5e43-36de-4fb6-9d36-7b5d3c0bdeb5.jpg?v=1669063133&width=900", "srcset": "//hiholden.com/cdn/shop/products/Faceted_6mm_RG_Mirror_bc7e5e43-36de-4fb6-9d36-7b5d3c0bdeb5.jpg?v=1669063133&width=352 352w, //hiholden.com/cdn/shop/products/Faceted_6mm_RG_Mirror_bc7e5e43-36de-4fb6-9d36-7b5d3c0bdeb5.jpg?v=1669063133&width=832 832w, //hiholden.com/cdn/shop/products/Faceted_6mm_RG_Mirror_bc7e5e43-36de-4fb6-9d36-7b5d3c0bdeb5.jpg?v=1669063133&width=900 900w", "width": 900, "height": 720 } }, { "id": 1772031737874, "options": ["6mm","Rose Gold","18k"], "url": "\/products\/faceted-profile?variant=1772031737874", "image": {"src": "//hiholden.com/cdn/shop/products/Faceted_6mm_RG_Mirror_bc7e5e43-36de-4fb6-9d36-7b5d3c0bdeb5.jpg?v=1669063133&width=900", "srcset": "//hiholden.com/cdn/shop/products/Faceted_6mm_RG_Mirror_bc7e5e43-36de-4fb6-9d36-7b5d3c0bdeb5.jpg?v=1669063133&width=352 352w, //hiholden.com/cdn/shop/products/Faceted_6mm_RG_Mirror_bc7e5e43-36de-4fb6-9d36-7b5d3c0bdeb5.jpg?v=1669063133&width=832 832w, //hiholden.com/cdn/shop/products/Faceted_6mm_RG_Mirror_bc7e5e43-36de-4fb6-9d36-7b5d3c0bdeb5.jpg?v=1669063133&width=900 900w", "width": 900, "height": 720 } } ], "title": "Rose Gold" }, { "variants": [ { "id": 1772031574034, "options": ["3mm","Platinum","NA"], "url": "\/products\/faceted-profile?variant=1772031574034", "image": {"src": "//hiholden.com/cdn/shop/products/Faceted_3mm_WG_Mirror.jpg?v=1670456629&width=900", "srcset": "//hiholden.com/cdn/shop/products/Faceted_3mm_WG_Mirror.jpg?v=1670456629&width=352 352w, //hiholden.com/cdn/shop/products/Faceted_3mm_WG_Mirror.jpg?v=1670456629&width=832 832w, //hiholden.com/cdn/shop/products/Faceted_3mm_WG_Mirror.jpg?v=1670456629&width=900 900w", "width": 900, "height": 720 } }, { "id": 12800857833554, "options": ["4.5mm","Platinum","NA"], "url": "\/products\/faceted-profile?variant=12800857833554", "image": {"src": "//hiholden.com/cdn/shop/products/Faceted_4.5mm_WG_Mirror.jpg?v=1670456629&width=900", "srcset": "//hiholden.com/cdn/shop/products/Faceted_4.5mm_WG_Mirror.jpg?v=1670456629&width=352 352w, //hiholden.com/cdn/shop/products/Faceted_4.5mm_WG_Mirror.jpg?v=1670456629&width=832 832w, //hiholden.com/cdn/shop/products/Faceted_4.5mm_WG_Mirror.jpg?v=1670456629&width=900 900w", "width": 900, "height": 720 } }, { "id": 1772031836178, "options": ["6mm","Platinum","NA"], "url": "\/products\/faceted-profile?variant=1772031836178", "image": {"src": "//hiholden.com/cdn/shop/products/Faceted_6mm_WG_Mirror.jpg?v=1669063131&width=900", "srcset": "//hiholden.com/cdn/shop/products/Faceted_6mm_WG_Mirror.jpg?v=1669063131&width=352 352w, //hiholden.com/cdn/shop/products/Faceted_6mm_WG_Mirror.jpg?v=1669063131&width=832 832w, //hiholden.com/cdn/shop/products/Faceted_6mm_WG_Mirror.jpg?v=1669063131&width=900 900w", "width": 900, "height": 720 } } ], "title": "Platinum" } ] }, "productOne": { "firstVariant": 21613437714514, "defaultVariant": 21613437714514, "id": 2418786074706, "url": "\/products\/half-eternity-profile", "tags": "[\"14 karat\", \"18 karat\", \"anniversary\", \"anniversary ring\", \"anniversary rings\", \"anniversary stack\", \"band\", \"bands\", \"design studio\", \"engagement rings\", \"engravable\", \"engrave\", \"engraveable\", \"engraved\", \"engraving\", \"engravings\", \"eternity\", \"eternity band\", \"eternity bands\", \"eternity ring\", \"eternity rings\", \"half eternity\", \"half eternity band\", \"half eternity profile\", \"high polish\", \"infinity\", \"infinity band\", \"infinity ring\", \"large-widths\", \"men\", \"men's\", \"men's wedding band\", \"men's wedding ring\", \"mens band\", \"mens profile\", \"mens ring\", \"mens rings\", \"mirror\", \"mirror finish\", \"mirrored\", \"personalization\", \"personalized\", \"platinum\", \"polish\", \"polished\", \"profile\", \"profiles\", \"promise ring\", \"promise rings\", \"ring\", \"rings\", \"rose-gold\", \"shiny\", \"small-widths\", \"stone-round\", \"style\", \"styles\", \"wedding\", \"wedding band\", \"wedding ring\", \"white-gold\", \"women\", \"women's\", \"women's band\", \"women's ring\", \"women's wedding band\", \"women's wedding ring\", \"womens profile\", \"womens rings\", \"yellow-gold\"]", "title": "The Half Eternity", "price": "$599", "image": {"src": "//hiholden.com/cdn/shop/products/Eternity_Half_1.5mm_YG_Mirror.jpg?v=1670457403&width=900", "srcset": "//hiholden.com/cdn/shop/products/Eternity_Half_1.5mm_YG_Mirror.jpg?v=1670457403&width=352 352w, //hiholden.com/cdn/shop/products/Eternity_Half_1.5mm_YG_Mirror.jpg?v=1670457403&width=832 832w, //hiholden.com/cdn/shop/products/Eternity_Half_1.5mm_YG_Mirror.jpg?v=1670457403&width=900 900w", "width": 900, "height": 720, "offset": -10 }, "image_secondary": { "src": "https://cdn.accentuate.io/2418786074706/1668708016172/Eternity_01.jpg?v=1668708016173", "width": 2000, "height": 1600, "alt": "\\ alt : Model wearing Holden's Eternity wedding ring. \\ light \\ \\ width : 1.5mm" }, "options": [ { "variants": [ { "id": 21613437714514, "options": ["1.5mm","Yellow Gold","14k"], "url": "\/products\/half-eternity-profile?variant=21613437714514", "image": {"src": "//hiholden.com/cdn/shop/products/Eternity_Half_1.5mm_YG_Mirror.jpg?v=1670457403&width=900", "srcset": "//hiholden.com/cdn/shop/products/Eternity_Half_1.5mm_YG_Mirror.jpg?v=1670457403&width=352 352w, //hiholden.com/cdn/shop/products/Eternity_Half_1.5mm_YG_Mirror.jpg?v=1670457403&width=832 832w, //hiholden.com/cdn/shop/products/Eternity_Half_1.5mm_YG_Mirror.jpg?v=1670457403&width=900 900w", "width": 900, "height": 720 } }, { "id": 21613437747282, "options": ["1.5mm","Yellow Gold","18k"], "url": "\/products\/half-eternity-profile?variant=21613437747282", "image": {"src": "//hiholden.com/cdn/shop/products/Eternity_Half_1.5mm_YG_Mirror.jpg?v=1670457403&width=900", "srcset": "//hiholden.com/cdn/shop/products/Eternity_Half_1.5mm_YG_Mirror.jpg?v=1670457403&width=352 352w, //hiholden.com/cdn/shop/products/Eternity_Half_1.5mm_YG_Mirror.jpg?v=1670457403&width=832 832w, //hiholden.com/cdn/shop/products/Eternity_Half_1.5mm_YG_Mirror.jpg?v=1670457403&width=900 900w", "width": 900, "height": 720 } }, { "id": 21613468811346, "options": ["2.5mm","Yellow Gold","14k"], "url": "\/products\/half-eternity-profile?variant=21613468811346", "image": {"src": "//hiholden.com/cdn/shop/products/Eternity_Half_2.5mm_YG_Mirror.jpg?v=1669064418&width=900", "srcset": "//hiholden.com/cdn/shop/products/Eternity_Half_2.5mm_YG_Mirror.jpg?v=1669064418&width=352 352w, //hiholden.com/cdn/shop/products/Eternity_Half_2.5mm_YG_Mirror.jpg?v=1669064418&width=832 832w, //hiholden.com/cdn/shop/products/Eternity_Half_2.5mm_YG_Mirror.jpg?v=1669064418&width=900 900w", "width": 900, "height": 720 } }, { "id": 21613468844114, "options": ["2.5mm","Yellow Gold","18k"], "url": "\/products\/half-eternity-profile?variant=21613468844114", "image": {"src": "//hiholden.com/cdn/shop/products/Eternity_Half_2.5mm_YG_Mirror.jpg?v=1669064418&width=900", "srcset": "//hiholden.com/cdn/shop/products/Eternity_Half_2.5mm_YG_Mirror.jpg?v=1669064418&width=352 352w, //hiholden.com/cdn/shop/products/Eternity_Half_2.5mm_YG_Mirror.jpg?v=1669064418&width=832 832w, //hiholden.com/cdn/shop/products/Eternity_Half_2.5mm_YG_Mirror.jpg?v=1669064418&width=900 900w", "width": 900, "height": 720 } }, { "id": 39515786870866, "options": ["3.5mm","Yellow Gold","14k"], "url": "\/products\/half-eternity-profile?variant=39515786870866", "image": {"src": "//hiholden.com/cdn/shop/products/Eternity_Half_3.5mm_YG_Mirror.jpg?v=1669064416&width=900", "srcset": "//hiholden.com/cdn/shop/products/Eternity_Half_3.5mm_YG_Mirror.jpg?v=1669064416&width=352 352w, //hiholden.com/cdn/shop/products/Eternity_Half_3.5mm_YG_Mirror.jpg?v=1669064416&width=832 832w, //hiholden.com/cdn/shop/products/Eternity_Half_3.5mm_YG_Mirror.jpg?v=1669064416&width=900 900w", "width": 900, "height": 720 } }, { "id": 39515787329618, "options": ["3.5mm","Yellow Gold","18k"], "url": "\/products\/half-eternity-profile?variant=39515787329618", "image": {"src": "//hiholden.com/cdn/shop/products/Eternity_Half_3.5mm_YG_Mirror.jpg?v=1669064416&width=900", "srcset": "//hiholden.com/cdn/shop/products/Eternity_Half_3.5mm_YG_Mirror.jpg?v=1669064416&width=352 352w, //hiholden.com/cdn/shop/products/Eternity_Half_3.5mm_YG_Mirror.jpg?v=1669064416&width=832 832w, //hiholden.com/cdn/shop/products/Eternity_Half_3.5mm_YG_Mirror.jpg?v=1669064416&width=900 900w", "width": 900, "height": 720 } } ], "title": "Yellow Gold" }, { "variants": [ { "id": 21613437845586, "options": ["1.5mm","White Gold","14k"], "url": "\/products\/half-eternity-profile?variant=21613437845586", "image": {"src": "//hiholden.com/cdn/shop/products/Eternity_Half_1.5mm_WG_Mirror.jpg?v=1670457403&width=900", "srcset": "//hiholden.com/cdn/shop/products/Eternity_Half_1.5mm_WG_Mirror.jpg?v=1670457403&width=352 352w, //hiholden.com/cdn/shop/products/Eternity_Half_1.5mm_WG_Mirror.jpg?v=1670457403&width=832 832w, //hiholden.com/cdn/shop/products/Eternity_Half_1.5mm_WG_Mirror.jpg?v=1670457403&width=900 900w", "width": 900, "height": 720 } }, { "id": 21613437878354, "options": ["1.5mm","White Gold","18k"], "url": "\/products\/half-eternity-profile?variant=21613437878354", "image": {"src": "//hiholden.com/cdn/shop/products/Eternity_Half_1.5mm_WG_Mirror.jpg?v=1670457403&width=900", "srcset": "//hiholden.com/cdn/shop/products/Eternity_Half_1.5mm_WG_Mirror.jpg?v=1670457403&width=352 352w, //hiholden.com/cdn/shop/products/Eternity_Half_1.5mm_WG_Mirror.jpg?v=1670457403&width=832 832w, //hiholden.com/cdn/shop/products/Eternity_Half_1.5mm_WG_Mirror.jpg?v=1670457403&width=900 900w", "width": 900, "height": 720 } }, { "id": 21613469204562, "options": ["2.5mm","White Gold","14k"], "url": "\/products\/half-eternity-profile?variant=21613469204562", "image": {"src": "//hiholden.com/cdn/shop/products/Eternity_Half_2.5mm_WG_Mirror.jpg?v=1669064417&width=900", "srcset": "//hiholden.com/cdn/shop/products/Eternity_Half_2.5mm_WG_Mirror.jpg?v=1669064417&width=352 352w, //hiholden.com/cdn/shop/products/Eternity_Half_2.5mm_WG_Mirror.jpg?v=1669064417&width=832 832w, //hiholden.com/cdn/shop/products/Eternity_Half_2.5mm_WG_Mirror.jpg?v=1669064417&width=900 900w", "width": 900, "height": 720 } }, { "id": 21613469696082, "options": ["2.5mm","White Gold","18k"], "url": "\/products\/half-eternity-profile?variant=21613469696082", "image": {"src": "//hiholden.com/cdn/shop/products/Eternity_Half_2.5mm_WG_Mirror.jpg?v=1669064417&width=900", "srcset": "//hiholden.com/cdn/shop/products/Eternity_Half_2.5mm_WG_Mirror.jpg?v=1669064417&width=352 352w, //hiholden.com/cdn/shop/products/Eternity_Half_2.5mm_WG_Mirror.jpg?v=1669064417&width=832 832w, //hiholden.com/cdn/shop/products/Eternity_Half_2.5mm_WG_Mirror.jpg?v=1669064417&width=900 900w", "width": 900, "height": 720 } }, { "id": 39515788968018, "options": ["3.5mm","White Gold","14k"], "url": "\/products\/half-eternity-profile?variant=39515788968018", "image": {"src": "//hiholden.com/cdn/shop/products/Eternity_Half_3.5mm_WG_Mirror.jpg?v=1669064417&width=900", "srcset": "//hiholden.com/cdn/shop/products/Eternity_Half_3.5mm_WG_Mirror.jpg?v=1669064417&width=352 352w, //hiholden.com/cdn/shop/products/Eternity_Half_3.5mm_WG_Mirror.jpg?v=1669064417&width=832 832w, //hiholden.com/cdn/shop/products/Eternity_Half_3.5mm_WG_Mirror.jpg?v=1669064417&width=900 900w", "width": 900, "height": 720 } }, { "id": 39515787493458, "options": ["3.5mm","White Gold","18k"], "url": "\/products\/half-eternity-profile?variant=39515787493458", "image": {"src": "//hiholden.com/cdn/shop/products/Eternity_Half_3.5mm_WG_Mirror.jpg?v=1669064417&width=900", "srcset": "//hiholden.com/cdn/shop/products/Eternity_Half_3.5mm_WG_Mirror.jpg?v=1669064417&width=352 352w, //hiholden.com/cdn/shop/products/Eternity_Half_3.5mm_WG_Mirror.jpg?v=1669064417&width=832 832w, //hiholden.com/cdn/shop/products/Eternity_Half_3.5mm_WG_Mirror.jpg?v=1669064417&width=900 900w", "width": 900, "height": 720 } } ], "title": "White Gold" }, { "variants": [ { "id": 21613437780050, "options": ["1.5mm","Rose Gold","14k"], "url": "\/products\/half-eternity-profile?variant=21613437780050", "image": {"src": "//hiholden.com/cdn/shop/products/Eternity_Half_1.5mm_RG_Mirror.jpg?v=1670457403&width=900", "srcset": "//hiholden.com/cdn/shop/products/Eternity_Half_1.5mm_RG_Mirror.jpg?v=1670457403&width=352 352w, //hiholden.com/cdn/shop/products/Eternity_Half_1.5mm_RG_Mirror.jpg?v=1670457403&width=832 832w, //hiholden.com/cdn/shop/products/Eternity_Half_1.5mm_RG_Mirror.jpg?v=1670457403&width=900 900w", "width": 900, "height": 720 } }, { "id": 21613437812818, "options": ["1.5mm","Rose Gold","18k"], "url": "\/products\/half-eternity-profile?variant=21613437812818", "image": {"src": "//hiholden.com/cdn/shop/products/Eternity_Half_1.5mm_RG_Mirror.jpg?v=1670457403&width=900", "srcset": "//hiholden.com/cdn/shop/products/Eternity_Half_1.5mm_RG_Mirror.jpg?v=1670457403&width=352 352w, //hiholden.com/cdn/shop/products/Eternity_Half_1.5mm_RG_Mirror.jpg?v=1670457403&width=832 832w, //hiholden.com/cdn/shop/products/Eternity_Half_1.5mm_RG_Mirror.jpg?v=1670457403&width=900 900w", "width": 900, "height": 720 } }, { "id": 21613468876882, "options": ["2.5mm","Rose Gold","14k"], "url": "\/products\/half-eternity-profile?variant=21613468876882", "image": {"src": "//hiholden.com/cdn/shop/products/Eternity_Half_2.5mm_RG_Mirror.jpg?v=1669064418&width=900", "srcset": "//hiholden.com/cdn/shop/products/Eternity_Half_2.5mm_RG_Mirror.jpg?v=1669064418&width=352 352w, //hiholden.com/cdn/shop/products/Eternity_Half_2.5mm_RG_Mirror.jpg?v=1669064418&width=832 832w, //hiholden.com/cdn/shop/products/Eternity_Half_2.5mm_RG_Mirror.jpg?v=1669064418&width=900 900w", "width": 900, "height": 720 } }, { "id": 21613468909650, "options": ["2.5mm","Rose Gold","18k"], "url": "\/products\/half-eternity-profile?variant=21613468909650", "image": {"src": "//hiholden.com/cdn/shop/products/Eternity_Half_2.5mm_RG_Mirror.jpg?v=1669064418&width=900", "srcset": "//hiholden.com/cdn/shop/products/Eternity_Half_2.5mm_RG_Mirror.jpg?v=1669064418&width=352 352w, //hiholden.com/cdn/shop/products/Eternity_Half_2.5mm_RG_Mirror.jpg?v=1669064418&width=832 832w, //hiholden.com/cdn/shop/products/Eternity_Half_2.5mm_RG_Mirror.jpg?v=1669064418&width=900 900w", "width": 900, "height": 720 } }, { "id": 39515787362386, "options": ["3.5mm","Rose Gold","14k"], "url": "\/products\/half-eternity-profile?variant=39515787362386", "image": {"src": "//hiholden.com/cdn/shop/products/Eternity_Half_3.5mm_RG_Mirror.jpg?v=1669064415&width=900", "srcset": "//hiholden.com/cdn/shop/products/Eternity_Half_3.5mm_RG_Mirror.jpg?v=1669064415&width=352 352w, //hiholden.com/cdn/shop/products/Eternity_Half_3.5mm_RG_Mirror.jpg?v=1669064415&width=832 832w, //hiholden.com/cdn/shop/products/Eternity_Half_3.5mm_RG_Mirror.jpg?v=1669064415&width=900 900w", "width": 900, "height": 720 } }, { "id": 39515787427922, "options": ["3.5mm","Rose Gold","18k"], "url": "\/products\/half-eternity-profile?variant=39515787427922", "image": {"src": "//hiholden.com/cdn/shop/products/Eternity_Half_3.5mm_RG_Mirror.jpg?v=1669064415&width=900", "srcset": "//hiholden.com/cdn/shop/products/Eternity_Half_3.5mm_RG_Mirror.jpg?v=1669064415&width=352 352w, //hiholden.com/cdn/shop/products/Eternity_Half_3.5mm_RG_Mirror.jpg?v=1669064415&width=832 832w, //hiholden.com/cdn/shop/products/Eternity_Half_3.5mm_RG_Mirror.jpg?v=1669064415&width=900 900w", "width": 900, "height": 720 } } ], "title": "Rose Gold" }, { "variants": [ { "id": 21613437648978, "options": ["1.5mm","Platinum","NA"], "url": "\/products\/half-eternity-profile?variant=21613437648978", "image": {"src": "//hiholden.com/cdn/shop/products/Eternity_Half_1.5mm_WG_Mirror.jpg?v=1670457403&width=900", "srcset": "//hiholden.com/cdn/shop/products/Eternity_Half_1.5mm_WG_Mirror.jpg?v=1670457403&width=352 352w, //hiholden.com/cdn/shop/products/Eternity_Half_1.5mm_WG_Mirror.jpg?v=1670457403&width=832 832w, //hiholden.com/cdn/shop/products/Eternity_Half_1.5mm_WG_Mirror.jpg?v=1670457403&width=900 900w", "width": 900, "height": 720 } }, { "id": 21613468713042, "options": ["2.5mm","Platinum","NA"], "url": "\/products\/half-eternity-profile?variant=21613468713042", "image": {"src": "//hiholden.com/cdn/shop/products/Eternity_Half_2.5mm_WG_Mirror.jpg?v=1669064417&width=900", "srcset": "//hiholden.com/cdn/shop/products/Eternity_Half_2.5mm_WG_Mirror.jpg?v=1669064417&width=352 352w, //hiholden.com/cdn/shop/products/Eternity_Half_2.5mm_WG_Mirror.jpg?v=1669064417&width=832 832w, //hiholden.com/cdn/shop/products/Eternity_Half_2.5mm_WG_Mirror.jpg?v=1669064417&width=900 900w", "width": 900, "height": 720 } }, { "id": 39515788771410, "options": ["3.5mm","Platinum","NA"], "url": "\/products\/half-eternity-profile?variant=39515788771410", "image": {"src": "//hiholden.com/cdn/shop/products/Eternity_Half_3.5mm_WG_Mirror.jpg?v=1669064417&width=900", "srcset": "//hiholden.com/cdn/shop/products/Eternity_Half_3.5mm_WG_Mirror.jpg?v=1669064417&width=352 352w, //hiholden.com/cdn/shop/products/Eternity_Half_3.5mm_WG_Mirror.jpg?v=1669064417&width=832 832w, //hiholden.com/cdn/shop/products/Eternity_Half_3.5mm_WG_Mirror.jpg?v=1669064417&width=900 900w", "width": 900, "height": 720 } } ], "title": "Platinum" } ] } }, { "names": "Beau \u0026 Jason", "image": {"src": "//hiholden.com/cdn/shop/files/Beau_Jason.jpg?v=1668462084&width=900", "srcset": "//hiholden.com/cdn/shop/files/Beau_Jason.jpg?v=1668462084&width=352 352w, //hiholden.com/cdn/shop/files/Beau_Jason.jpg?v=1668462084&width=832 832w, //hiholden.com/cdn/shop/files/Beau_Jason.jpg?v=1668462084&width=900 900w", "width": 900, "height": 1171 }, "productTwo": { "firstVariant": 21291596480594, "defaultVariant": 21291596283986, "id": 2370556461138, "url": "\/products\/hammered-profile", "tags": "[\"10 karat\", \"14 karat\", \"18 karat\", \"anniversary\", \"anniversary ring\", \"anniversary rings\", \"anniversary stack\", \"band\", \"bands\", \"brushed\", \"brushed finish\", \"brushed polish\", \"design studio\", \"engravable\", \"engrave\", \"engraveable\", \"engraved\", \"engraving\", \"engravings\", \"high polish\", \"large-widths\", \"matte\", \"matte finish\", \"matte polish\", \"matted\", \"men\", \"men's\", \"men's wedding band\", \"men's wedding ring\", \"mens band\", \"mens profile\", \"mens ring\", \"mens rings\", \"mirror\", \"mirror finish\", \"mirrored\", \"personalization\", \"personalized\", \"platinum\", \"polish\", \"polished\", \"profile\", \"profiles\", \"promise ring\", \"promise rings\", \"ring\", \"rings\", \"rose-gold\", \"satin\", \"satin finish\", \"satin polish\", \"shiny\", \"small-widths\", \"stone-none\", \"style\", \"styles\", \"wedding\", \"wedding band\", \"wedding ring\", \"white-gold\", \"women\", \"women's\", \"women's band\", \"women's ring\", \"women's wedding band\", \"women's wedding ring\", \"womens profile\", \"womens rings\", \"yellow-gold\"]", "title": "The Hammered", "price": "$299", "image": {"src": "//hiholden.com/cdn/shop/products/Hammered_Domed_4.5mm_YG_Mirror_08eb594f-6d02-41f4-96de-4bb9ff75534c.jpg?v=1670447120&width=900", "srcset": "//hiholden.com/cdn/shop/products/Hammered_Domed_4.5mm_YG_Mirror_08eb594f-6d02-41f4-96de-4bb9ff75534c.jpg?v=1670447120&width=352 352w, //hiholden.com/cdn/shop/products/Hammered_Domed_4.5mm_YG_Mirror_08eb594f-6d02-41f4-96de-4bb9ff75534c.jpg?v=1670447120&width=832 832w, //hiholden.com/cdn/shop/products/Hammered_Domed_4.5mm_YG_Mirror_08eb594f-6d02-41f4-96de-4bb9ff75534c.jpg?v=1670447120&width=900 900w", "width": 900, "height": 720, "offset": -10 }, "image_secondary": { "src": "https://cdn.accentuate.io/2370556461138/1668705856313/Hammered_01.jpg?v=1668705856313", "width": 2000, "height": 1600, "alt": "\\ alt : Model wearing Holden's Hammered wedding ring. \\ light \\ \\ width : 6mm" }, "options": [ { "variants": [ { "id": 21291596480594, "options": ["1.5mm","Yellow Gold","10k"], "url": "\/products\/hammered-profile?variant=21291596480594", "image": {"src": "//hiholden.com/cdn/shop/products/Hammered_Domed_1.5mm_YG_Mirror_c0d22936-33d1-4364-b076-0fc511c86a3e.jpg?v=1670447120&width=900", "srcset": "//hiholden.com/cdn/shop/products/Hammered_Domed_1.5mm_YG_Mirror_c0d22936-33d1-4364-b076-0fc511c86a3e.jpg?v=1670447120&width=352 352w, //hiholden.com/cdn/shop/products/Hammered_Domed_1.5mm_YG_Mirror_c0d22936-33d1-4364-b076-0fc511c86a3e.jpg?v=1670447120&width=832 832w, //hiholden.com/cdn/shop/products/Hammered_Domed_1.5mm_YG_Mirror_c0d22936-33d1-4364-b076-0fc511c86a3e.jpg?v=1670447120&width=900 900w", "width": 900, "height": 720 } }, { "id": 21291596021842, "options": ["1.5mm","Yellow Gold","14k"], "url": "\/products\/hammered-profile?variant=21291596021842", "image": {"src": "//hiholden.com/cdn/shop/products/Hammered_Domed_1.5mm_YG_Mirror_c0d22936-33d1-4364-b076-0fc511c86a3e.jpg?v=1670447120&width=900", "srcset": "//hiholden.com/cdn/shop/products/Hammered_Domed_1.5mm_YG_Mirror_c0d22936-33d1-4364-b076-0fc511c86a3e.jpg?v=1670447120&width=352 352w, //hiholden.com/cdn/shop/products/Hammered_Domed_1.5mm_YG_Mirror_c0d22936-33d1-4364-b076-0fc511c86a3e.jpg?v=1670447120&width=832 832w, //hiholden.com/cdn/shop/products/Hammered_Domed_1.5mm_YG_Mirror_c0d22936-33d1-4364-b076-0fc511c86a3e.jpg?v=1670447120&width=900 900w", "width": 900, "height": 720 } }, { "id": 21291596054610, "options": ["1.5mm","Yellow Gold","18k"], "url": "\/products\/hammered-profile?variant=21291596054610", "image": {"src": "//hiholden.com/cdn/shop/products/Hammered_Domed_1.5mm_YG_Mirror_c0d22936-33d1-4364-b076-0fc511c86a3e.jpg?v=1670447120&width=900", "srcset": "//hiholden.com/cdn/shop/products/Hammered_Domed_1.5mm_YG_Mirror_c0d22936-33d1-4364-b076-0fc511c86a3e.jpg?v=1670447120&width=352 352w, //hiholden.com/cdn/shop/products/Hammered_Domed_1.5mm_YG_Mirror_c0d22936-33d1-4364-b076-0fc511c86a3e.jpg?v=1670447120&width=832 832w, //hiholden.com/cdn/shop/products/Hammered_Domed_1.5mm_YG_Mirror_c0d22936-33d1-4364-b076-0fc511c86a3e.jpg?v=1670447120&width=900 900w", "width": 900, "height": 720 } }, { "id": 21291596513362, "options": ["3mm","Yellow Gold","10k"], "url": "\/products\/hammered-profile?variant=21291596513362", "image": {"src": "//hiholden.com/cdn/shop/products/Hammered_Domed_3mm_YG_Mirror_0e264482-9783-43f4-9941-3665e420f1dc.jpg?v=1670447120&width=900", "srcset": "//hiholden.com/cdn/shop/products/Hammered_Domed_3mm_YG_Mirror_0e264482-9783-43f4-9941-3665e420f1dc.jpg?v=1670447120&width=352 352w, //hiholden.com/cdn/shop/products/Hammered_Domed_3mm_YG_Mirror_0e264482-9783-43f4-9941-3665e420f1dc.jpg?v=1670447120&width=832 832w, //hiholden.com/cdn/shop/products/Hammered_Domed_3mm_YG_Mirror_0e264482-9783-43f4-9941-3665e420f1dc.jpg?v=1670447120&width=900 900w", "width": 900, "height": 720 } }, { "id": 21291595464786, "options": ["3mm","Yellow Gold","14k"], "url": "\/products\/hammered-profile?variant=21291595464786", "image": {"src": "//hiholden.com/cdn/shop/products/Hammered_Domed_3mm_YG_Mirror_0e264482-9783-43f4-9941-3665e420f1dc.jpg?v=1670447120&width=900", "srcset": "//hiholden.com/cdn/shop/products/Hammered_Domed_3mm_YG_Mirror_0e264482-9783-43f4-9941-3665e420f1dc.jpg?v=1670447120&width=352 352w, //hiholden.com/cdn/shop/products/Hammered_Domed_3mm_YG_Mirror_0e264482-9783-43f4-9941-3665e420f1dc.jpg?v=1670447120&width=832 832w, //hiholden.com/cdn/shop/products/Hammered_Domed_3mm_YG_Mirror_0e264482-9783-43f4-9941-3665e420f1dc.jpg?v=1670447120&width=900 900w", "width": 900, "height": 720 } }, { "id": 21291595497554, "options": ["3mm","Yellow Gold","18k"], "url": "\/products\/hammered-profile?variant=21291595497554", "image": {"src": "//hiholden.com/cdn/shop/products/Hammered_Domed_3mm_YG_Mirror_0e264482-9783-43f4-9941-3665e420f1dc.jpg?v=1670447120&width=900", "srcset": "//hiholden.com/cdn/shop/products/Hammered_Domed_3mm_YG_Mirror_0e264482-9783-43f4-9941-3665e420f1dc.jpg?v=1670447120&width=352 352w, //hiholden.com/cdn/shop/products/Hammered_Domed_3mm_YG_Mirror_0e264482-9783-43f4-9941-3665e420f1dc.jpg?v=1670447120&width=832 832w, //hiholden.com/cdn/shop/products/Hammered_Domed_3mm_YG_Mirror_0e264482-9783-43f4-9941-3665e420f1dc.jpg?v=1670447120&width=900 900w", "width": 900, "height": 720 } }, { "id": 21291596546130, "options": ["4.5mm","Yellow Gold","10k"], "url": "\/products\/hammered-profile?variant=21291596546130", "image": {"src": "//hiholden.com/cdn/shop/products/Hammered_Domed_4.5mm_YG_Mirror_08eb594f-6d02-41f4-96de-4bb9ff75534c.jpg?v=1670447120&width=900", "srcset": "//hiholden.com/cdn/shop/products/Hammered_Domed_4.5mm_YG_Mirror_08eb594f-6d02-41f4-96de-4bb9ff75534c.jpg?v=1670447120&width=352 352w, //hiholden.com/cdn/shop/products/Hammered_Domed_4.5mm_YG_Mirror_08eb594f-6d02-41f4-96de-4bb9ff75534c.jpg?v=1670447120&width=832 832w, //hiholden.com/cdn/shop/products/Hammered_Domed_4.5mm_YG_Mirror_08eb594f-6d02-41f4-96de-4bb9ff75534c.jpg?v=1670447120&width=900 900w", "width": 900, "height": 720 } }, { "id": 21291596283986, "options": ["4.5mm","Yellow Gold","14k"], "url": "\/products\/hammered-profile?variant=21291596283986", "image": {"src": "//hiholden.com/cdn/shop/products/Hammered_Domed_4.5mm_YG_Mirror_08eb594f-6d02-41f4-96de-4bb9ff75534c.jpg?v=1670447120&width=900", "srcset": "//hiholden.com/cdn/shop/products/Hammered_Domed_4.5mm_YG_Mirror_08eb594f-6d02-41f4-96de-4bb9ff75534c.jpg?v=1670447120&width=352 352w, //hiholden.com/cdn/shop/products/Hammered_Domed_4.5mm_YG_Mirror_08eb594f-6d02-41f4-96de-4bb9ff75534c.jpg?v=1670447120&width=832 832w, //hiholden.com/cdn/shop/products/Hammered_Domed_4.5mm_YG_Mirror_08eb594f-6d02-41f4-96de-4bb9ff75534c.jpg?v=1670447120&width=900 900w", "width": 900, "height": 720 } }, { "id": 21291596316754, "options": ["4.5mm","Yellow Gold","18k"], "url": "\/products\/hammered-profile?variant=21291596316754", "image": {"src": "//hiholden.com/cdn/shop/products/Hammered_Domed_4.5mm_YG_Mirror_08eb594f-6d02-41f4-96de-4bb9ff75534c.jpg?v=1670447120&width=900", "srcset": "//hiholden.com/cdn/shop/products/Hammered_Domed_4.5mm_YG_Mirror_08eb594f-6d02-41f4-96de-4bb9ff75534c.jpg?v=1670447120&width=352 352w, //hiholden.com/cdn/shop/products/Hammered_Domed_4.5mm_YG_Mirror_08eb594f-6d02-41f4-96de-4bb9ff75534c.jpg?v=1670447120&width=832 832w, //hiholden.com/cdn/shop/products/Hammered_Domed_4.5mm_YG_Mirror_08eb594f-6d02-41f4-96de-4bb9ff75534c.jpg?v=1670447120&width=900 900w", "width": 900, "height": 720 } }, { "id": 21291596578898, "options": ["6mm","Yellow Gold","10k"], "url": "\/products\/hammered-profile?variant=21291596578898", "image": {"src": "//hiholden.com/cdn/shop/products/Hammered_Domed_6mm_YG_Mirror_733e0cc0-6d19-40d2-b371-228af27e66cb.jpg?v=1669758739&width=900", "srcset": "//hiholden.com/cdn/shop/products/Hammered_Domed_6mm_YG_Mirror_733e0cc0-6d19-40d2-b371-228af27e66cb.jpg?v=1669758739&width=352 352w, //hiholden.com/cdn/shop/products/Hammered_Domed_6mm_YG_Mirror_733e0cc0-6d19-40d2-b371-228af27e66cb.jpg?v=1669758739&width=832 832w, //hiholden.com/cdn/shop/products/Hammered_Domed_6mm_YG_Mirror_733e0cc0-6d19-40d2-b371-228af27e66cb.jpg?v=1669758739&width=900 900w", "width": 900, "height": 720 } }, { "id": 21291595726930, "options": ["6mm","Yellow Gold","14k"], "url": "\/products\/hammered-profile?variant=21291595726930", "image": {"src": "//hiholden.com/cdn/shop/products/Hammered_Domed_6mm_YG_Mirror_733e0cc0-6d19-40d2-b371-228af27e66cb.jpg?v=1669758739&width=900", "srcset": "//hiholden.com/cdn/shop/products/Hammered_Domed_6mm_YG_Mirror_733e0cc0-6d19-40d2-b371-228af27e66cb.jpg?v=1669758739&width=352 352w, //hiholden.com/cdn/shop/products/Hammered_Domed_6mm_YG_Mirror_733e0cc0-6d19-40d2-b371-228af27e66cb.jpg?v=1669758739&width=832 832w, //hiholden.com/cdn/shop/products/Hammered_Domed_6mm_YG_Mirror_733e0cc0-6d19-40d2-b371-228af27e66cb.jpg?v=1669758739&width=900 900w", "width": 900, "height": 720 } }, { "id": 21291595759698, "options": ["6mm","Yellow Gold","18k"], "url": "\/products\/hammered-profile?variant=21291595759698", "image": {"src": "//hiholden.com/cdn/shop/products/Hammered_Domed_6mm_YG_Mirror_733e0cc0-6d19-40d2-b371-228af27e66cb.jpg?v=1669758739&width=900", "srcset": "//hiholden.com/cdn/shop/products/Hammered_Domed_6mm_YG_Mirror_733e0cc0-6d19-40d2-b371-228af27e66cb.jpg?v=1669758739&width=352 352w, //hiholden.com/cdn/shop/products/Hammered_Domed_6mm_YG_Mirror_733e0cc0-6d19-40d2-b371-228af27e66cb.jpg?v=1669758739&width=832 832w, //hiholden.com/cdn/shop/products/Hammered_Domed_6mm_YG_Mirror_733e0cc0-6d19-40d2-b371-228af27e66cb.jpg?v=1669758739&width=900 900w", "width": 900, "height": 720 } } ], "title": "Yellow Gold" }, { "variants": [ { "id": 21291596611666, "options": ["1.5mm","White Gold","10k"], "url": "\/products\/hammered-profile?variant=21291596611666", "image": {"src": "//hiholden.com/cdn/shop/products/Hammered_Domed_1.5mm_WG_Mirror.jpg?v=1670447120&width=900", "srcset": "//hiholden.com/cdn/shop/products/Hammered_Domed_1.5mm_WG_Mirror.jpg?v=1670447120&width=352 352w, //hiholden.com/cdn/shop/products/Hammered_Domed_1.5mm_WG_Mirror.jpg?v=1670447120&width=832 832w, //hiholden.com/cdn/shop/products/Hammered_Domed_1.5mm_WG_Mirror.jpg?v=1670447120&width=900 900w", "width": 900, "height": 720 } }, { "id": 21291596152914, "options": ["1.5mm","White Gold","14k"], "url": "\/products\/hammered-profile?variant=21291596152914", "image": {"src": "//hiholden.com/cdn/shop/products/Hammered_Domed_1.5mm_WG_Mirror.jpg?v=1670447120&width=900", "srcset": "//hiholden.com/cdn/shop/products/Hammered_Domed_1.5mm_WG_Mirror.jpg?v=1670447120&width=352 352w, //hiholden.com/cdn/shop/products/Hammered_Domed_1.5mm_WG_Mirror.jpg?v=1670447120&width=832 832w, //hiholden.com/cdn/shop/products/Hammered_Domed_1.5mm_WG_Mirror.jpg?v=1670447120&width=900 900w", "width": 900, "height": 720 } }, { "id": 21291596185682, "options": ["1.5mm","White Gold","18k"], "url": "\/products\/hammered-profile?variant=21291596185682", "image": {"src": "//hiholden.com/cdn/shop/products/Hammered_Domed_1.5mm_WG_Mirror.jpg?v=1670447120&width=900", "srcset": "//hiholden.com/cdn/shop/products/Hammered_Domed_1.5mm_WG_Mirror.jpg?v=1670447120&width=352 352w, //hiholden.com/cdn/shop/products/Hammered_Domed_1.5mm_WG_Mirror.jpg?v=1670447120&width=832 832w, //hiholden.com/cdn/shop/products/Hammered_Domed_1.5mm_WG_Mirror.jpg?v=1670447120&width=900 900w", "width": 900, "height": 720 } }, { "id": 21291596644434, "options": ["3mm","White Gold","10k"], "url": "\/products\/hammered-profile?variant=21291596644434", "image": {"src": "//hiholden.com/cdn/shop/products/Hammered_Domed_3mm_WG_Mirror.jpg?v=1670447120&width=900", "srcset": "//hiholden.com/cdn/shop/products/Hammered_Domed_3mm_WG_Mirror.jpg?v=1670447120&width=352 352w, //hiholden.com/cdn/shop/products/Hammered_Domed_3mm_WG_Mirror.jpg?v=1670447120&width=832 832w, //hiholden.com/cdn/shop/products/Hammered_Domed_3mm_WG_Mirror.jpg?v=1670447120&width=900 900w", "width": 900, "height": 720 } }, { "id": 21291595595858, "options": ["3mm","White Gold","14k"], "url": "\/products\/hammered-profile?variant=21291595595858", "image": {"src": "//hiholden.com/cdn/shop/products/Hammered_Domed_3mm_WG_Mirror.jpg?v=1670447120&width=900", "srcset": "//hiholden.com/cdn/shop/products/Hammered_Domed_3mm_WG_Mirror.jpg?v=1670447120&width=352 352w, //hiholden.com/cdn/shop/products/Hammered_Domed_3mm_WG_Mirror.jpg?v=1670447120&width=832 832w, //hiholden.com/cdn/shop/products/Hammered_Domed_3mm_WG_Mirror.jpg?v=1670447120&width=900 900w", "width": 900, "height": 720 } }, { "id": 21291595628626, "options": ["3mm","White Gold","18k"], "url": "\/products\/hammered-profile?variant=21291595628626", "image": {"src": "//hiholden.com/cdn/shop/products/Hammered_Domed_3mm_WG_Mirror.jpg?v=1670447120&width=900", "srcset": "//hiholden.com/cdn/shop/products/Hammered_Domed_3mm_WG_Mirror.jpg?v=1670447120&width=352 352w, //hiholden.com/cdn/shop/products/Hammered_Domed_3mm_WG_Mirror.jpg?v=1670447120&width=832 832w, //hiholden.com/cdn/shop/products/Hammered_Domed_3mm_WG_Mirror.jpg?v=1670447120&width=900 900w", "width": 900, "height": 720 } }, { "id": 21291596677202, "options": ["4.5mm","White Gold","10k"], "url": "\/products\/hammered-profile?variant=21291596677202", "image": {"src": "//hiholden.com/cdn/shop/products/Hammered_Domed_4.5mm_WG_Mirror.jpg?v=1670447120&width=900", "srcset": "//hiholden.com/cdn/shop/products/Hammered_Domed_4.5mm_WG_Mirror.jpg?v=1670447120&width=352 352w, //hiholden.com/cdn/shop/products/Hammered_Domed_4.5mm_WG_Mirror.jpg?v=1670447120&width=832 832w, //hiholden.com/cdn/shop/products/Hammered_Domed_4.5mm_WG_Mirror.jpg?v=1670447120&width=900 900w", "width": 900, "height": 720 } }, { "id": 21291596415058, "options": ["4.5mm","White Gold","14k"], "url": "\/products\/hammered-profile?variant=21291596415058", "image": {"src": "//hiholden.com/cdn/shop/products/Hammered_Domed_4.5mm_WG_Mirror.jpg?v=1670447120&width=900", "srcset": "//hiholden.com/cdn/shop/products/Hammered_Domed_4.5mm_WG_Mirror.jpg?v=1670447120&width=352 352w, //hiholden.com/cdn/shop/products/Hammered_Domed_4.5mm_WG_Mirror.jpg?v=1670447120&width=832 832w, //hiholden.com/cdn/shop/products/Hammered_Domed_4.5mm_WG_Mirror.jpg?v=1670447120&width=900 900w", "width": 900, "height": 720 } }, { "id": 21291596447826, "options": ["4.5mm","White Gold","18k"], "url": "\/products\/hammered-profile?variant=21291596447826", "image": {"src": "//hiholden.com/cdn/shop/products/Hammered_Domed_4.5mm_WG_Mirror.jpg?v=1670447120&width=900", "srcset": "//hiholden.com/cdn/shop/products/Hammered_Domed_4.5mm_WG_Mirror.jpg?v=1670447120&width=352 352w, //hiholden.com/cdn/shop/products/Hammered_Domed_4.5mm_WG_Mirror.jpg?v=1670447120&width=832 832w, //hiholden.com/cdn/shop/products/Hammered_Domed_4.5mm_WG_Mirror.jpg?v=1670447120&width=900 900w", "width": 900, "height": 720 } }, { "id": 21291596709970, "options": ["6mm","White Gold","10k"], "url": "\/products\/hammered-profile?variant=21291596709970", "image": {"src": "//hiholden.com/cdn/shop/products/Hammered_Domed_6mm_WG_Mirror.jpg?v=1669758738&width=900", "srcset": "//hiholden.com/cdn/shop/products/Hammered_Domed_6mm_WG_Mirror.jpg?v=1669758738&width=352 352w, //hiholden.com/cdn/shop/products/Hammered_Domed_6mm_WG_Mirror.jpg?v=1669758738&width=832 832w, //hiholden.com/cdn/shop/products/Hammered_Domed_6mm_WG_Mirror.jpg?v=1669758738&width=900 900w", "width": 900, "height": 720 } }, { "id": 21291595858002, "options": ["6mm","White Gold","14k"], "url": "\/products\/hammered-profile?variant=21291595858002", "image": {"src": "//hiholden.com/cdn/shop/products/Hammered_Domed_6mm_WG_Mirror.jpg?v=1669758738&width=900", "srcset": "//hiholden.com/cdn/shop/products/Hammered_Domed_6mm_WG_Mirror.jpg?v=1669758738&width=352 352w, //hiholden.com/cdn/shop/products/Hammered_Domed_6mm_WG_Mirror.jpg?v=1669758738&width=832 832w, //hiholden.com/cdn/shop/products/Hammered_Domed_6mm_WG_Mirror.jpg?v=1669758738&width=900 900w", "width": 900, "height": 720 } }, { "id": 21291595890770, "options": ["6mm","White Gold","18k"], "url": "\/products\/hammered-profile?variant=21291595890770", "image": {"src": "//hiholden.com/cdn/shop/products/Hammered_Domed_6mm_WG_Mirror.jpg?v=1669758738&width=900", "srcset": "//hiholden.com/cdn/shop/products/Hammered_Domed_6mm_WG_Mirror.jpg?v=1669758738&width=352 352w, //hiholden.com/cdn/shop/products/Hammered_Domed_6mm_WG_Mirror.jpg?v=1669758738&width=832 832w, //hiholden.com/cdn/shop/products/Hammered_Domed_6mm_WG_Mirror.jpg?v=1669758738&width=900 900w", "width": 900, "height": 720 } } ], "title": "White Gold" }, { "variants": [ { "id": 21291596742738, "options": ["1.5mm","Rose Gold","10k"], "url": "\/products\/hammered-profile?variant=21291596742738", "image": {"src": "//hiholden.com/cdn/shop/products/Hammered_Domed_1.5mm_RG_Mirror_2839bec7-439c-4a7d-b91a-3ad057a8e5a8.jpg?v=1670447120&width=900", "srcset": "//hiholden.com/cdn/shop/products/Hammered_Domed_1.5mm_RG_Mirror_2839bec7-439c-4a7d-b91a-3ad057a8e5a8.jpg?v=1670447120&width=352 352w, //hiholden.com/cdn/shop/products/Hammered_Domed_1.5mm_RG_Mirror_2839bec7-439c-4a7d-b91a-3ad057a8e5a8.jpg?v=1670447120&width=832 832w, //hiholden.com/cdn/shop/products/Hammered_Domed_1.5mm_RG_Mirror_2839bec7-439c-4a7d-b91a-3ad057a8e5a8.jpg?v=1670447120&width=900 900w", "width": 900, "height": 720 } }, { "id": 21291596087378, "options": ["1.5mm","Rose Gold","14k"], "url": "\/products\/hammered-profile?variant=21291596087378", "image": {"src": "//hiholden.com/cdn/shop/products/Hammered_Domed_1.5mm_RG_Mirror_2839bec7-439c-4a7d-b91a-3ad057a8e5a8.jpg?v=1670447120&width=900", "srcset": "//hiholden.com/cdn/shop/products/Hammered_Domed_1.5mm_RG_Mirror_2839bec7-439c-4a7d-b91a-3ad057a8e5a8.jpg?v=1670447120&width=352 352w, //hiholden.com/cdn/shop/products/Hammered_Domed_1.5mm_RG_Mirror_2839bec7-439c-4a7d-b91a-3ad057a8e5a8.jpg?v=1670447120&width=832 832w, //hiholden.com/cdn/shop/products/Hammered_Domed_1.5mm_RG_Mirror_2839bec7-439c-4a7d-b91a-3ad057a8e5a8.jpg?v=1670447120&width=900 900w", "width": 900, "height": 720 } }, { "id": 21291596120146, "options": ["1.5mm","Rose Gold","18k"], "url": "\/products\/hammered-profile?variant=21291596120146", "image": {"src": "//hiholden.com/cdn/shop/products/Hammered_Domed_1.5mm_RG_Mirror_2839bec7-439c-4a7d-b91a-3ad057a8e5a8.jpg?v=1670447120&width=900", "srcset": "//hiholden.com/cdn/shop/products/Hammered_Domed_1.5mm_RG_Mirror_2839bec7-439c-4a7d-b91a-3ad057a8e5a8.jpg?v=1670447120&width=352 352w, //hiholden.com/cdn/shop/products/Hammered_Domed_1.5mm_RG_Mirror_2839bec7-439c-4a7d-b91a-3ad057a8e5a8.jpg?v=1670447120&width=832 832w, //hiholden.com/cdn/shop/products/Hammered_Domed_1.5mm_RG_Mirror_2839bec7-439c-4a7d-b91a-3ad057a8e5a8.jpg?v=1670447120&width=900 900w", "width": 900, "height": 720 } }, { "id": 21291596775506, "options": ["3mm","Rose Gold","10k"], "url": "\/products\/hammered-profile?variant=21291596775506", "image": {"src": "//hiholden.com/cdn/shop/products/Hammered_Domed_3mm_RG_Mirror_8f53445e-607f-42bf-81be-a065785cc997.jpg?v=1670447120&width=900", "srcset": "//hiholden.com/cdn/shop/products/Hammered_Domed_3mm_RG_Mirror_8f53445e-607f-42bf-81be-a065785cc997.jpg?v=1670447120&width=352 352w, //hiholden.com/cdn/shop/products/Hammered_Domed_3mm_RG_Mirror_8f53445e-607f-42bf-81be-a065785cc997.jpg?v=1670447120&width=832 832w, //hiholden.com/cdn/shop/products/Hammered_Domed_3mm_RG_Mirror_8f53445e-607f-42bf-81be-a065785cc997.jpg?v=1670447120&width=900 900w", "width": 900, "height": 720 } }, { "id": 21291595530322, "options": ["3mm","Rose Gold","14k"], "url": "\/products\/hammered-profile?variant=21291595530322", "image": {"src": "//hiholden.com/cdn/shop/products/Hammered_Domed_3mm_RG_Mirror_8f53445e-607f-42bf-81be-a065785cc997.jpg?v=1670447120&width=900", "srcset": "//hiholden.com/cdn/shop/products/Hammered_Domed_3mm_RG_Mirror_8f53445e-607f-42bf-81be-a065785cc997.jpg?v=1670447120&width=352 352w, //hiholden.com/cdn/shop/products/Hammered_Domed_3mm_RG_Mirror_8f53445e-607f-42bf-81be-a065785cc997.jpg?v=1670447120&width=832 832w, //hiholden.com/cdn/shop/products/Hammered_Domed_3mm_RG_Mirror_8f53445e-607f-42bf-81be-a065785cc997.jpg?v=1670447120&width=900 900w", "width": 900, "height": 720 } }, { "id": 21291595563090, "options": ["3mm","Rose Gold","18k"], "url": "\/products\/hammered-profile?variant=21291595563090", "image": {"src": "//hiholden.com/cdn/shop/products/Hammered_Domed_3mm_RG_Mirror_8f53445e-607f-42bf-81be-a065785cc997.jpg?v=1670447120&width=900", "srcset": "//hiholden.com/cdn/shop/products/Hammered_Domed_3mm_RG_Mirror_8f53445e-607f-42bf-81be-a065785cc997.jpg?v=1670447120&width=352 352w, //hiholden.com/cdn/shop/products/Hammered_Domed_3mm_RG_Mirror_8f53445e-607f-42bf-81be-a065785cc997.jpg?v=1670447120&width=832 832w, //hiholden.com/cdn/shop/products/Hammered_Domed_3mm_RG_Mirror_8f53445e-607f-42bf-81be-a065785cc997.jpg?v=1670447120&width=900 900w", "width": 900, "height": 720 } }, { "id": 21291596808274, "options": ["4.5mm","Rose Gold","10k"], "url": "\/products\/hammered-profile?variant=21291596808274", "image": {"src": "//hiholden.com/cdn/shop/products/Hammered_Domed_4.5mm_RG_Mirror_65ad92a5-8001-4e85-8fd3-2a5ba6c7e744.jpg?v=1670447120&width=900", "srcset": "//hiholden.com/cdn/shop/products/Hammered_Domed_4.5mm_RG_Mirror_65ad92a5-8001-4e85-8fd3-2a5ba6c7e744.jpg?v=1670447120&width=352 352w, //hiholden.com/cdn/shop/products/Hammered_Domed_4.5mm_RG_Mirror_65ad92a5-8001-4e85-8fd3-2a5ba6c7e744.jpg?v=1670447120&width=832 832w, //hiholden.com/cdn/shop/products/Hammered_Domed_4.5mm_RG_Mirror_65ad92a5-8001-4e85-8fd3-2a5ba6c7e744.jpg?v=1670447120&width=900 900w", "width": 900, "height": 720 } }, { "id": 21291596349522, "options": ["4.5mm","Rose Gold","14k"], "url": "\/products\/hammered-profile?variant=21291596349522", "image": {"src": "//hiholden.com/cdn/shop/products/Hammered_Domed_4.5mm_RG_Mirror_65ad92a5-8001-4e85-8fd3-2a5ba6c7e744.jpg?v=1670447120&width=900", "srcset": "//hiholden.com/cdn/shop/products/Hammered_Domed_4.5mm_RG_Mirror_65ad92a5-8001-4e85-8fd3-2a5ba6c7e744.jpg?v=1670447120&width=352 352w, //hiholden.com/cdn/shop/products/Hammered_Domed_4.5mm_RG_Mirror_65ad92a5-8001-4e85-8fd3-2a5ba6c7e744.jpg?v=1670447120&width=832 832w, //hiholden.com/cdn/shop/products/Hammered_Domed_4.5mm_RG_Mirror_65ad92a5-8001-4e85-8fd3-2a5ba6c7e744.jpg?v=1670447120&width=900 900w", "width": 900, "height": 720 } }, { "id": 21291596382290, "options": ["4.5mm","Rose Gold","18k"], "url": "\/products\/hammered-profile?variant=21291596382290", "image": {"src": "//hiholden.com/cdn/shop/products/Hammered_Domed_4.5mm_RG_Mirror_65ad92a5-8001-4e85-8fd3-2a5ba6c7e744.jpg?v=1670447120&width=900", "srcset": "//hiholden.com/cdn/shop/products/Hammered_Domed_4.5mm_RG_Mirror_65ad92a5-8001-4e85-8fd3-2a5ba6c7e744.jpg?v=1670447120&width=352 352w, //hiholden.com/cdn/shop/products/Hammered_Domed_4.5mm_RG_Mirror_65ad92a5-8001-4e85-8fd3-2a5ba6c7e744.jpg?v=1670447120&width=832 832w, //hiholden.com/cdn/shop/products/Hammered_Domed_4.5mm_RG_Mirror_65ad92a5-8001-4e85-8fd3-2a5ba6c7e744.jpg?v=1670447120&width=900 900w", "width": 900, "height": 720 } }, { "id": 21291596841042, "options": ["6mm","Rose Gold","10k"], "url": "\/products\/hammered-profile?variant=21291596841042", "image": {"src": "//hiholden.com/cdn/shop/products/Hammered_Domed_6mm_RG_Mirror_de6abf34-ecba-4bf8-b55b-29c4979625b9.jpg?v=1669758740&width=900", "srcset": "//hiholden.com/cdn/shop/products/Hammered_Domed_6mm_RG_Mirror_de6abf34-ecba-4bf8-b55b-29c4979625b9.jpg?v=1669758740&width=352 352w, //hiholden.com/cdn/shop/products/Hammered_Domed_6mm_RG_Mirror_de6abf34-ecba-4bf8-b55b-29c4979625b9.jpg?v=1669758740&width=832 832w, //hiholden.com/cdn/shop/products/Hammered_Domed_6mm_RG_Mirror_de6abf34-ecba-4bf8-b55b-29c4979625b9.jpg?v=1669758740&width=900 900w", "width": 900, "height": 720 } }, { "id": 21291595792466, "options": ["6mm","Rose Gold","14k"], "url": "\/products\/hammered-profile?variant=21291595792466", "image": {"src": "//hiholden.com/cdn/shop/products/Hammered_Domed_6mm_RG_Mirror_de6abf34-ecba-4bf8-b55b-29c4979625b9.jpg?v=1669758740&width=900", "srcset": "//hiholden.com/cdn/shop/products/Hammered_Domed_6mm_RG_Mirror_de6abf34-ecba-4bf8-b55b-29c4979625b9.jpg?v=1669758740&width=352 352w, //hiholden.com/cdn/shop/products/Hammered_Domed_6mm_RG_Mirror_de6abf34-ecba-4bf8-b55b-29c4979625b9.jpg?v=1669758740&width=832 832w, //hiholden.com/cdn/shop/products/Hammered_Domed_6mm_RG_Mirror_de6abf34-ecba-4bf8-b55b-29c4979625b9.jpg?v=1669758740&width=900 900w", "width": 900, "height": 720 } }, { "id": 21291595825234, "options": ["6mm","Rose Gold","18k"], "url": "\/products\/hammered-profile?variant=21291595825234", "image": {"src": "//hiholden.com/cdn/shop/products/Hammered_Domed_6mm_RG_Mirror_de6abf34-ecba-4bf8-b55b-29c4979625b9.jpg?v=1669758740&width=900", "srcset": "//hiholden.com/cdn/shop/products/Hammered_Domed_6mm_RG_Mirror_de6abf34-ecba-4bf8-b55b-29c4979625b9.jpg?v=1669758740&width=352 352w, //hiholden.com/cdn/shop/products/Hammered_Domed_6mm_RG_Mirror_de6abf34-ecba-4bf8-b55b-29c4979625b9.jpg?v=1669758740&width=832 832w, //hiholden.com/cdn/shop/products/Hammered_Domed_6mm_RG_Mirror_de6abf34-ecba-4bf8-b55b-29c4979625b9.jpg?v=1669758740&width=900 900w", "width": 900, "height": 720 } } ], "title": "Rose Gold" }, { "variants": [ { "id": 21291595956306, "options": ["1.5mm","Platinum","NA"], "url": "\/products\/hammered-profile?variant=21291595956306", "image": {"src": "//hiholden.com/cdn/shop/products/Hammered_Domed_1.5mm_WG_Mirror.jpg?v=1670447120&width=900", "srcset": "//hiholden.com/cdn/shop/products/Hammered_Domed_1.5mm_WG_Mirror.jpg?v=1670447120&width=352 352w, //hiholden.com/cdn/shop/products/Hammered_Domed_1.5mm_WG_Mirror.jpg?v=1670447120&width=832 832w, //hiholden.com/cdn/shop/products/Hammered_Domed_1.5mm_WG_Mirror.jpg?v=1670447120&width=900 900w", "width": 900, "height": 720 } }, { "id": 21291595661394, "options": ["3mm","Platinum","NA"], "url": "\/products\/hammered-profile?variant=21291595661394", "image": {"src": "//hiholden.com/cdn/shop/products/Hammered_Domed_3mm_WG_Mirror.jpg?v=1670447120&width=900", "srcset": "//hiholden.com/cdn/shop/products/Hammered_Domed_3mm_WG_Mirror.jpg?v=1670447120&width=352 352w, //hiholden.com/cdn/shop/products/Hammered_Domed_3mm_WG_Mirror.jpg?v=1670447120&width=832 832w, //hiholden.com/cdn/shop/products/Hammered_Domed_3mm_WG_Mirror.jpg?v=1670447120&width=900 900w", "width": 900, "height": 720 } }, { "id": 21291596218450, "options": ["4.5mm","Platinum","NA"], "url": "\/products\/hammered-profile?variant=21291596218450", "image": {"src": "//hiholden.com/cdn/shop/products/Hammered_Domed_4.5mm_WG_Mirror.jpg?v=1670447120&width=900", "srcset": "//hiholden.com/cdn/shop/products/Hammered_Domed_4.5mm_WG_Mirror.jpg?v=1670447120&width=352 352w, //hiholden.com/cdn/shop/products/Hammered_Domed_4.5mm_WG_Mirror.jpg?v=1670447120&width=832 832w, //hiholden.com/cdn/shop/products/Hammered_Domed_4.5mm_WG_Mirror.jpg?v=1670447120&width=900 900w", "width": 900, "height": 720 } }, { "id": 21291595923538, "options": ["6mm","Platinum","NA"], "url": "\/products\/hammered-profile?variant=21291595923538", "image": {"src": "//hiholden.com/cdn/shop/products/Hammered_Domed_6mm_WG_Mirror.jpg?v=1669758738&width=900", "srcset": "//hiholden.com/cdn/shop/products/Hammered_Domed_6mm_WG_Mirror.jpg?v=1669758738&width=352 352w, //hiholden.com/cdn/shop/products/Hammered_Domed_6mm_WG_Mirror.jpg?v=1669758738&width=832 832w, //hiholden.com/cdn/shop/products/Hammered_Domed_6mm_WG_Mirror.jpg?v=1669758738&width=900 900w", "width": 900, "height": 720 } } ], "title": "Platinum" } ] }, "productOne": { "firstVariant": 39501853720658, "defaultVariant": 39501853720658, "id": 6667506024530, "url": "\/products\/the-full-channel-baguette", "tags": "[\"14 karat\", \"18 karat\", \"anniversary\", \"anniversary ring\", \"anniversary rings\", \"anniversary stack\", \"band\", \"bands\", \"brushed\", \"brushed finish\", \"brushed polish\", \"channel set\", \"design studio\", \"engagement rings\", \"engravable\", \"engrave\", \"engraveable\", \"engraved\", \"engraving\", \"engravings\", \"eternity\", \"eternity band\", \"eternity bands\", \"eternity ring\", \"eternity rings\", \"half eternity\", \"half eternity band\", \"half eternity profile\", \"high polish\", \"infinity\", \"infinity band\", \"infinity ring\", \"large-widths\", \"matte\", \"matte finish\", \"matte polish\", \"matted\", \"men\", \"men's\", \"men's wedding band\", \"men's wedding ring\", \"mens band\", \"mens profile\", \"mens ring\", \"mens rings\", \"mirror\", \"mirror finish\", \"mirrored\", \"personalization\", \"personalized\", \"platinum\", \"polish\", \"polished\", \"profile\", \"profiles\", \"promise ring\", \"promise rings\", \"ring\", \"rings\", \"rose-gold\", \"satin\", \"satin finish\", \"satin polish\", \"shiny\", \"stone-baguette\", \"style\", \"styles\", \"wedding\", \"wedding band\", \"wedding ring\", \"white-gold\", \"women\", \"women's\", \"women's band\", \"women's ring\", \"women's wedding band\", \"women's wedding ring\", \"womens profile\", \"womens rings\", \"yellow-gold\"]", "title": "The Full Channel Baguette", "price": "$2,099", "image": {"src": "//hiholden.com/cdn/shop/products/Channel_Baguette_Full_4.5mm_YG_Mirror.jpg?v=1670456704&width=900", "srcset": "//hiholden.com/cdn/shop/products/Channel_Baguette_Full_4.5mm_YG_Mirror.jpg?v=1670456704&width=352 352w, //hiholden.com/cdn/shop/products/Channel_Baguette_Full_4.5mm_YG_Mirror.jpg?v=1670456704&width=832 832w, //hiholden.com/cdn/shop/products/Channel_Baguette_Full_4.5mm_YG_Mirror.jpg?v=1670456704&width=900 900w", "width": 900, "height": 720, "offset": -10 }, "image_secondary": { "src": "https://cdn.accentuate.io/6667506024530/1668711734004/Channel-Baguette_01.jpg?v=1668711734005", "width": 2000, "height": 1600, "alt": "\\ alt : Model wearing Holden's Channel Baguette wedding band. \\ light \\ \\ width : 4.5mm" }, "options": [ { "variants": [ { "id": 39501853720658, "options": ["4.5mm","Yellow Gold","14k"], "url": "\/products\/the-full-channel-baguette?variant=39501853720658", "image": {"src": "//hiholden.com/cdn/shop/products/Channel_Baguette_Full_4.5mm_YG_Mirror.jpg?v=1670456704&width=900", "srcset": "//hiholden.com/cdn/shop/products/Channel_Baguette_Full_4.5mm_YG_Mirror.jpg?v=1670456704&width=352 352w, //hiholden.com/cdn/shop/products/Channel_Baguette_Full_4.5mm_YG_Mirror.jpg?v=1670456704&width=832 832w, //hiholden.com/cdn/shop/products/Channel_Baguette_Full_4.5mm_YG_Mirror.jpg?v=1670456704&width=900 900w", "width": 900, "height": 720 } }, { "id": 39501853753426, "options": ["4.5mm","Yellow Gold","18k"], "url": "\/products\/the-full-channel-baguette?variant=39501853753426", "image": {"src": "//hiholden.com/cdn/shop/products/Channel_Baguette_Full_4.5mm_YG_Mirror.jpg?v=1670456704&width=900", "srcset": "//hiholden.com/cdn/shop/products/Channel_Baguette_Full_4.5mm_YG_Mirror.jpg?v=1670456704&width=352 352w, //hiholden.com/cdn/shop/products/Channel_Baguette_Full_4.5mm_YG_Mirror.jpg?v=1670456704&width=832 832w, //hiholden.com/cdn/shop/products/Channel_Baguette_Full_4.5mm_YG_Mirror.jpg?v=1670456704&width=900 900w", "width": 900, "height": 720 } }, { "id": 39501853950034, "options": ["6mm","Yellow Gold","14k"], "url": "\/products\/the-full-channel-baguette?variant=39501853950034", "image": {"src": "//hiholden.com/cdn/shop/products/Channel_Baguette_Full_6mm_YG_Mirror.jpg?v=1669063709&width=900", "srcset": "//hiholden.com/cdn/shop/products/Channel_Baguette_Full_6mm_YG_Mirror.jpg?v=1669063709&width=352 352w, //hiholden.com/cdn/shop/products/Channel_Baguette_Full_6mm_YG_Mirror.jpg?v=1669063709&width=832 832w, //hiholden.com/cdn/shop/products/Channel_Baguette_Full_6mm_YG_Mirror.jpg?v=1669063709&width=900 900w", "width": 900, "height": 720 } }, { "id": 39501853982802, "options": ["6mm","Yellow Gold","18k"], "url": "\/products\/the-full-channel-baguette?variant=39501853982802", "image": {"src": "//hiholden.com/cdn/shop/products/Channel_Baguette_Full_6mm_YG_Mirror.jpg?v=1669063709&width=900", "srcset": "//hiholden.com/cdn/shop/products/Channel_Baguette_Full_6mm_YG_Mirror.jpg?v=1669063709&width=352 352w, //hiholden.com/cdn/shop/products/Channel_Baguette_Full_6mm_YG_Mirror.jpg?v=1669063709&width=832 832w, //hiholden.com/cdn/shop/products/Channel_Baguette_Full_6mm_YG_Mirror.jpg?v=1669063709&width=900 900w", "width": 900, "height": 720 } } ], "title": "Yellow Gold" }, { "variants": [ { "id": 39501853851730, "options": ["4.5mm","White Gold","14k"], "url": "\/products\/the-full-channel-baguette?variant=39501853851730", "image": {"src": "//hiholden.com/cdn/shop/products/Channel_Baguette_Full_4.5mm_WG_Mirror.jpg?v=1670456704&width=900", "srcset": "//hiholden.com/cdn/shop/products/Channel_Baguette_Full_4.5mm_WG_Mirror.jpg?v=1670456704&width=352 352w, //hiholden.com/cdn/shop/products/Channel_Baguette_Full_4.5mm_WG_Mirror.jpg?v=1670456704&width=832 832w, //hiholden.com/cdn/shop/products/Channel_Baguette_Full_4.5mm_WG_Mirror.jpg?v=1670456704&width=900 900w", "width": 900, "height": 720 } }, { "id": 39501853884498, "options": ["4.5mm","White Gold","18k"], "url": "\/products\/the-full-channel-baguette?variant=39501853884498", "image": {"src": "//hiholden.com/cdn/shop/products/Channel_Baguette_Full_4.5mm_WG_Mirror.jpg?v=1670456704&width=900", "srcset": "//hiholden.com/cdn/shop/products/Channel_Baguette_Full_4.5mm_WG_Mirror.jpg?v=1670456704&width=352 352w, //hiholden.com/cdn/shop/products/Channel_Baguette_Full_4.5mm_WG_Mirror.jpg?v=1670456704&width=832 832w, //hiholden.com/cdn/shop/products/Channel_Baguette_Full_4.5mm_WG_Mirror.jpg?v=1670456704&width=900 900w", "width": 900, "height": 720 } }, { "id": 39501854081106, "options": ["6mm","White Gold","14k"], "url": "\/products\/the-full-channel-baguette?variant=39501854081106", "image": {"src": "//hiholden.com/cdn/shop/products/Channel_Baguette_Full_6mm_WG_Mirror.jpg?v=1669063710&width=900", "srcset": "//hiholden.com/cdn/shop/products/Channel_Baguette_Full_6mm_WG_Mirror.jpg?v=1669063710&width=352 352w, //hiholden.com/cdn/shop/products/Channel_Baguette_Full_6mm_WG_Mirror.jpg?v=1669063710&width=832 832w, //hiholden.com/cdn/shop/products/Channel_Baguette_Full_6mm_WG_Mirror.jpg?v=1669063710&width=900 900w", "width": 900, "height": 720 } }, { "id": 39501854113874, "options": ["6mm","White Gold","18k"], "url": "\/products\/the-full-channel-baguette?variant=39501854113874", "image": {"src": "//hiholden.com/cdn/shop/products/Channel_Baguette_Full_6mm_WG_Mirror.jpg?v=1669063710&width=900", "srcset": "//hiholden.com/cdn/shop/products/Channel_Baguette_Full_6mm_WG_Mirror.jpg?v=1669063710&width=352 352w, //hiholden.com/cdn/shop/products/Channel_Baguette_Full_6mm_WG_Mirror.jpg?v=1669063710&width=832 832w, //hiholden.com/cdn/shop/products/Channel_Baguette_Full_6mm_WG_Mirror.jpg?v=1669063710&width=900 900w", "width": 900, "height": 720 } } ], "title": "White Gold" }, { "variants": [ { "id": 39501853786194, "options": ["4.5mm","Rose Gold","14k"], "url": "\/products\/the-full-channel-baguette?variant=39501853786194", "image": {"src": "//hiholden.com/cdn/shop/products/Channel_Baguette_Full_4.5mm_RG_Mirror.jpg?v=1670456704&width=900", "srcset": "//hiholden.com/cdn/shop/products/Channel_Baguette_Full_4.5mm_RG_Mirror.jpg?v=1670456704&width=352 352w, //hiholden.com/cdn/shop/products/Channel_Baguette_Full_4.5mm_RG_Mirror.jpg?v=1670456704&width=832 832w, //hiholden.com/cdn/shop/products/Channel_Baguette_Full_4.5mm_RG_Mirror.jpg?v=1670456704&width=900 900w", "width": 900, "height": 720 } }, { "id": 39501853818962, "options": ["4.5mm","Rose Gold","18k"], "url": "\/products\/the-full-channel-baguette?variant=39501853818962", "image": {"src": "//hiholden.com/cdn/shop/products/Channel_Baguette_Full_4.5mm_RG_Mirror.jpg?v=1670456704&width=900", "srcset": "//hiholden.com/cdn/shop/products/Channel_Baguette_Full_4.5mm_RG_Mirror.jpg?v=1670456704&width=352 352w, //hiholden.com/cdn/shop/products/Channel_Baguette_Full_4.5mm_RG_Mirror.jpg?v=1670456704&width=832 832w, //hiholden.com/cdn/shop/products/Channel_Baguette_Full_4.5mm_RG_Mirror.jpg?v=1670456704&width=900 900w", "width": 900, "height": 720 } }, { "id": 39501854015570, "options": ["6mm","Rose Gold","14k"], "url": "\/products\/the-full-channel-baguette?variant=39501854015570", "image": {"src": "//hiholden.com/cdn/shop/products/Channel_Baguette_Full_6mm_RG_Mirror.jpg?v=1669063710&width=900", "srcset": "//hiholden.com/cdn/shop/products/Channel_Baguette_Full_6mm_RG_Mirror.jpg?v=1669063710&width=352 352w, //hiholden.com/cdn/shop/products/Channel_Baguette_Full_6mm_RG_Mirror.jpg?v=1669063710&width=832 832w, //hiholden.com/cdn/shop/products/Channel_Baguette_Full_6mm_RG_Mirror.jpg?v=1669063710&width=900 900w", "width": 900, "height": 720 } }, { "id": 39501854048338, "options": ["6mm","Rose Gold","18k"], "url": "\/products\/the-full-channel-baguette?variant=39501854048338", "image": {"src": "//hiholden.com/cdn/shop/products/Channel_Baguette_Full_6mm_RG_Mirror.jpg?v=1669063710&width=900", "srcset": "//hiholden.com/cdn/shop/products/Channel_Baguette_Full_6mm_RG_Mirror.jpg?v=1669063710&width=352 352w, //hiholden.com/cdn/shop/products/Channel_Baguette_Full_6mm_RG_Mirror.jpg?v=1669063710&width=832 832w, //hiholden.com/cdn/shop/products/Channel_Baguette_Full_6mm_RG_Mirror.jpg?v=1669063710&width=900 900w", "width": 900, "height": 720 } } ], "title": "Rose Gold" }, { "variants": [ { "id": 39501853917266, "options": ["4.5mm","Platinum","NA"], "url": "\/products\/the-full-channel-baguette?variant=39501853917266", "image": {"src": "//hiholden.com/cdn/shop/products/Channel_Baguette_Full_4.5mm_WG_Mirror.jpg?v=1670456704&width=900", "srcset": "//hiholden.com/cdn/shop/products/Channel_Baguette_Full_4.5mm_WG_Mirror.jpg?v=1670456704&width=352 352w, //hiholden.com/cdn/shop/products/Channel_Baguette_Full_4.5mm_WG_Mirror.jpg?v=1670456704&width=832 832w, //hiholden.com/cdn/shop/products/Channel_Baguette_Full_4.5mm_WG_Mirror.jpg?v=1670456704&width=900 900w", "width": 900, "height": 720 } }, { "id": 39501854146642, "options": ["6mm","Platinum","NA"], "url": "\/products\/the-full-channel-baguette?variant=39501854146642", "image": {"src": "//hiholden.com/cdn/shop/products/Channel_Baguette_Full_6mm_WG_Mirror.jpg?v=1669063710&width=900", "srcset": "//hiholden.com/cdn/shop/products/Channel_Baguette_Full_6mm_WG_Mirror.jpg?v=1669063710&width=352 352w, //hiholden.com/cdn/shop/products/Channel_Baguette_Full_6mm_WG_Mirror.jpg?v=1669063710&width=832 832w, //hiholden.com/cdn/shop/products/Channel_Baguette_Full_6mm_WG_Mirror.jpg?v=1669063710&width=900 900w", "width": 900, "height": 720 } } ], "title": "Platinum" } ] } } ]